Learn the fast and easy way to transfer images to furniture. Transfer images to wood DIY projects, or gorgeous image transfers to your painted furniture. Add graphics to your project because painted furniture is often more than just paint. 
Transfer Images to Furniture Like a Pro 
Are you feeling intimidated by image transfers? You don't have to! If you love painted furniture than you may have seen makeovers and projects with graphics on them. These image transfers add a gorgeous and unique touch to any painted furniture makeover or DIY project. If you aren't quite ready to transfer images to a piece of furniture then maybe you would feel more comfortable trying on something smaller. Check out this DIY image transfer sign where you learn to transfer images to wood. But, if you're ready to transfer images to furniture stick around as I walk you through the steps below.
Make sure to stick around to the bottom and check out my Furniture Fixer Upper friends projects!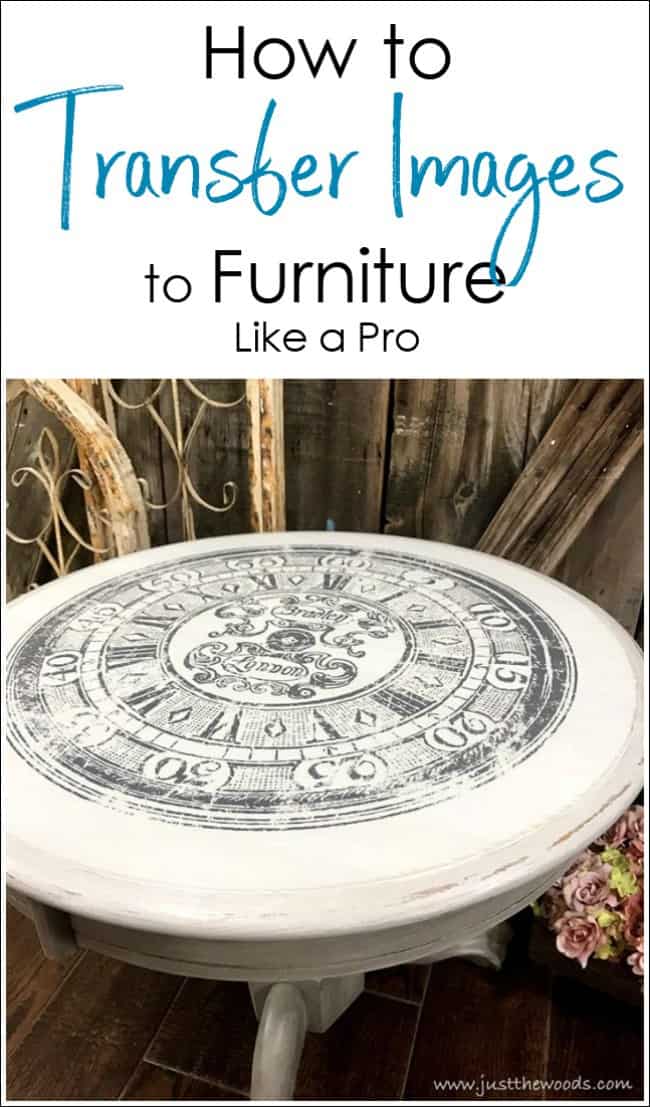 Disclosure: This post contains affiliate links for your convenience. Click here for my full disclosure policy. 
How to Transfer Images to Furniture Like a Pro
Materials Needed / Source List:
Vintage Claw Foot Table
This solid wood claw foot table has been sitting in my storage unit since I scooped it up during a family vacation to Florida over a year ago. We drove to Florida making it easy to bring this table back. *Note: we will NEVER drive to Florida again from NY with two young kids. Moving on.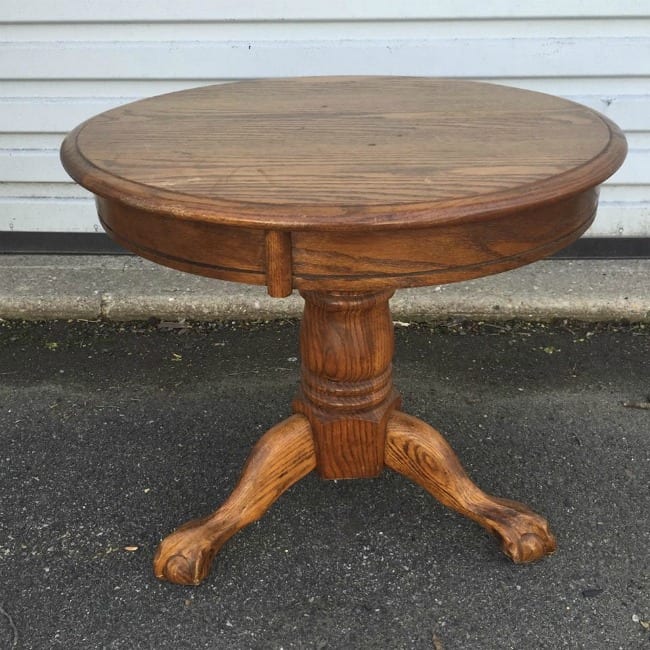 First, you will need to prep your furniture the same way you should prep all of your painted furniture projects. The table top has some wear and scratches that need sanding. My Dewalt orbital sander smooths out those scratches in no time.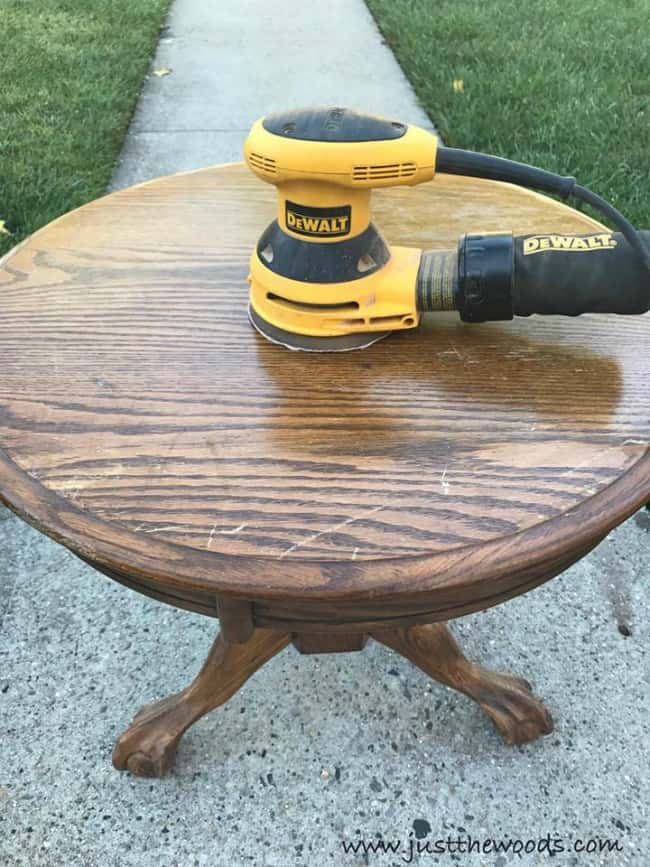 Once the table top is sanded smooth the rest of the table can be cleaned and prepped. This is How I Prep Painted Furniture.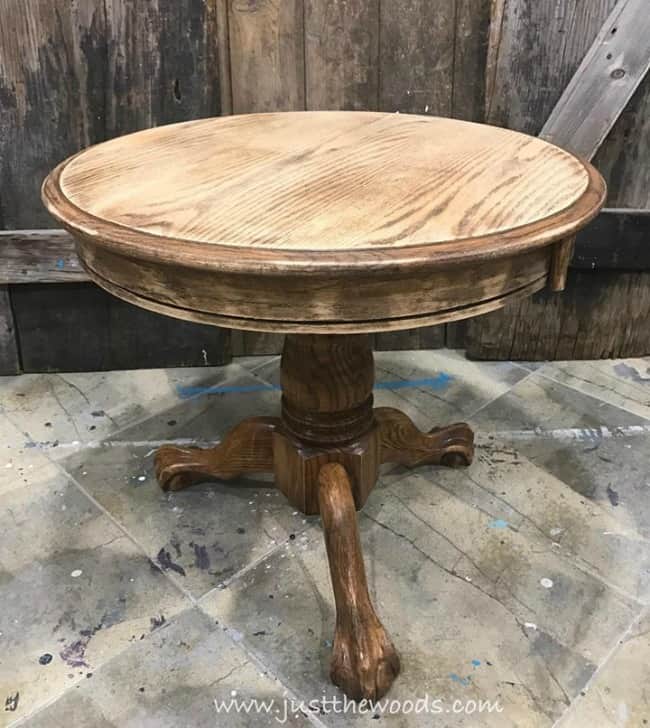 Painting a Wooden Table
Now, you can paint your table in your color of choice. When you're planning on transferring images to furniture it often makes sense to use a light paint color underneath.  Dixie Belle Paint Company was kind enough to send me a few products to try, including Driftwood paint, White Wash, and Black Glaze. They also sent me a smaller decor image transfer. Initially, that image transfer was intended for this table, but I soon realized that it was too small and better suited for a sign. You can find that image transfer to wood project here: DIY Image Transfer Sign. It all worked out for the better allowing for two separate image transfer tutorials.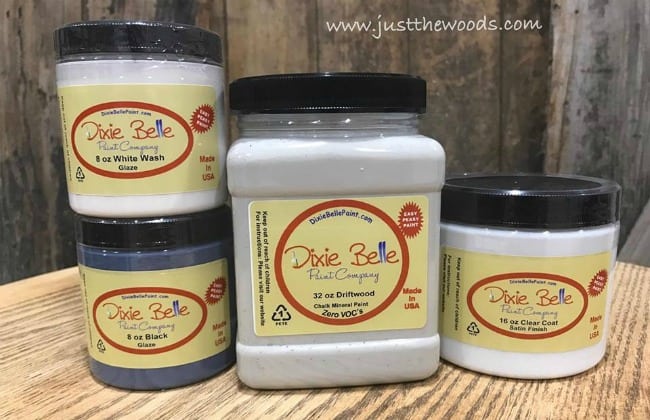 The round claw foot table is being painted in Driftwood (a light gray chalk type paint). You can find all of Dixie Belle Paint Company's paints and products here: (Dixie Belle Paint). Make sure to flip your table over to paint the feet first.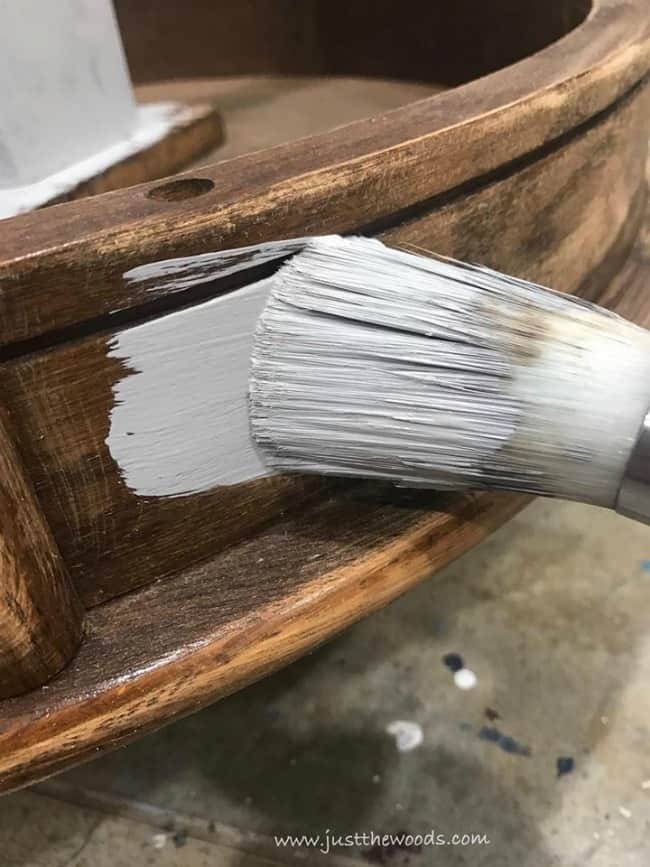 Next, flip the table over and paint the top as well. Lately, I'm loving my Zibra paintbrushes.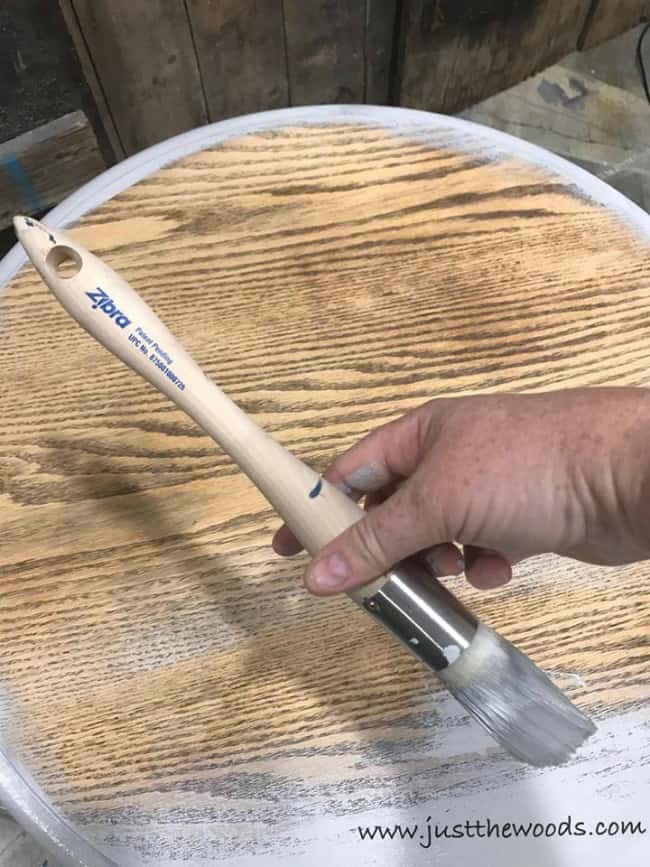 New to painting furniture and not sure where to start? Start at the beginning with How to Paint Furniture – a Beginners Guide.

Adding Glaze to the Painted Table
Adding black glaze to the chunky details and claw feet will add depth to the details.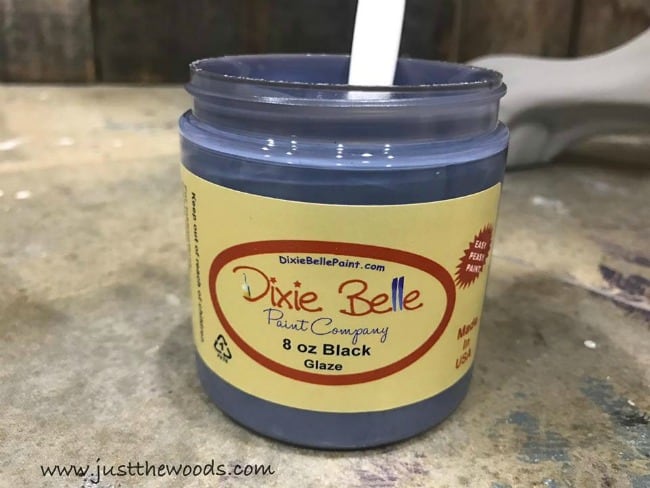 Apply the glaze to the bottom portion of the table, including the pedestal base, the legs, tabletop skirt, and claw feet. I use my Zibra paintbrush to paint the glaze on.  Do not apply the glaze to the table top. We have other plans for that.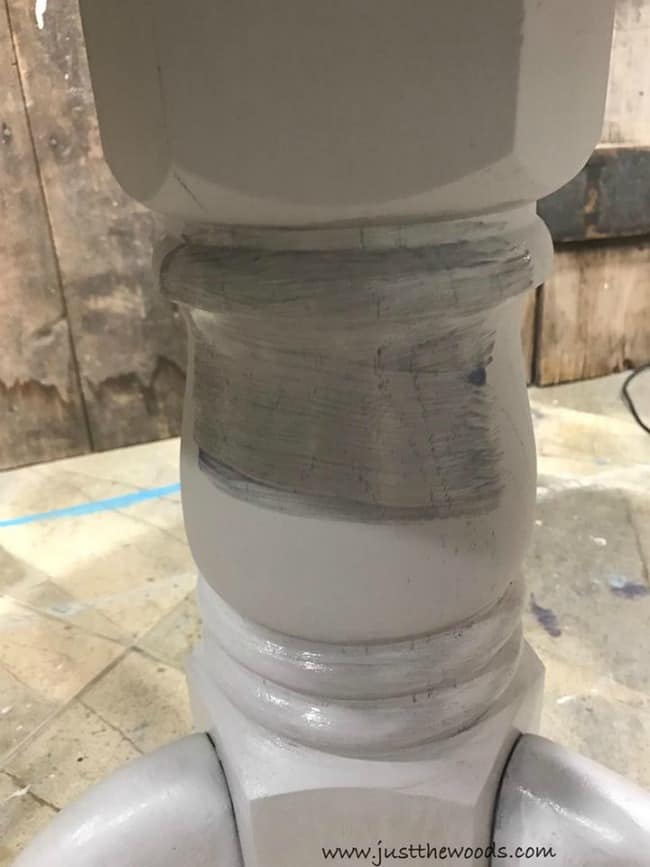 This is the table top skirt before glaze: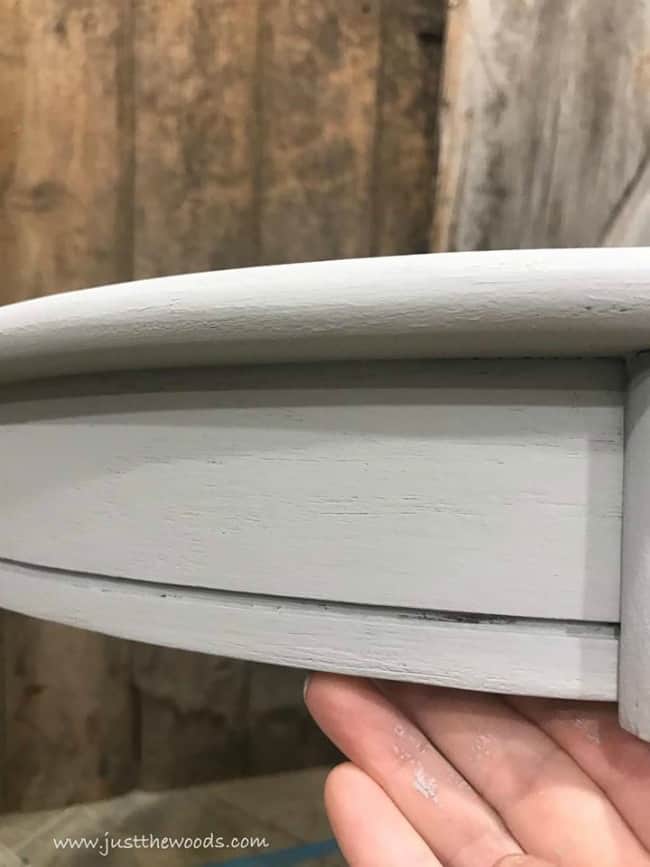 This is after applying black glaze: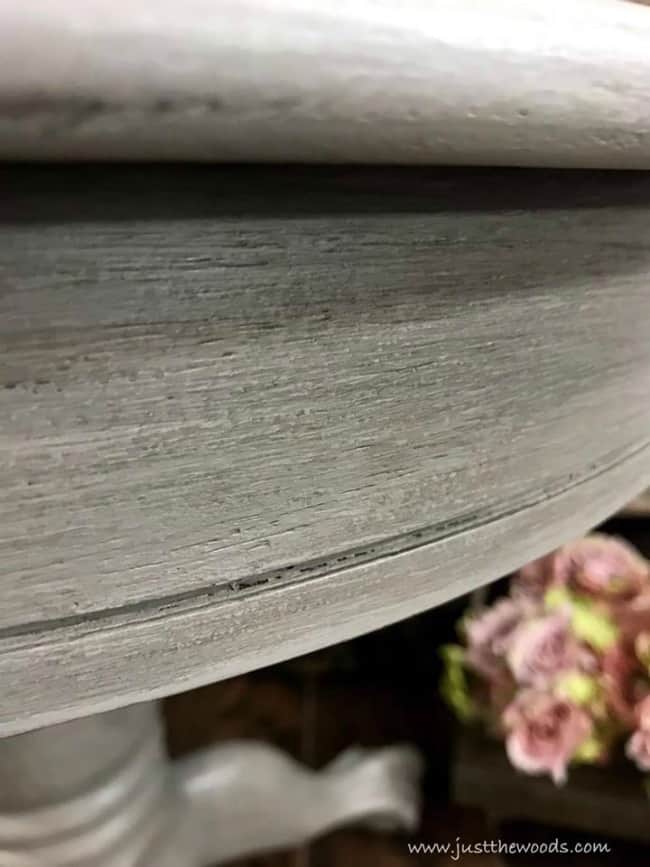 Adding White Wash to Table Top
Since this project is about how to transfer images to furniture we want to make sure that our image is the focal point of the project. Rather than add black glaze to the table top we will apply a whitewash instead. The whitewash will lighten the appearance of the tabletop making sure that the eye is drawn to the image.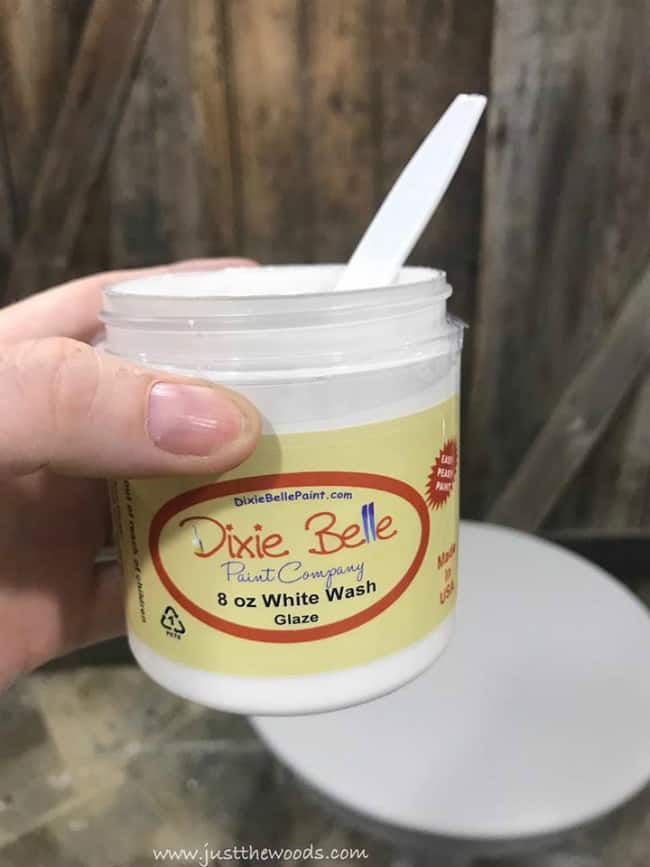 Use your yellow detailer sponge to apply the whitewash the same way that you would apply your clear sealer. If you don't have a yellow sponge then you can get one HERE.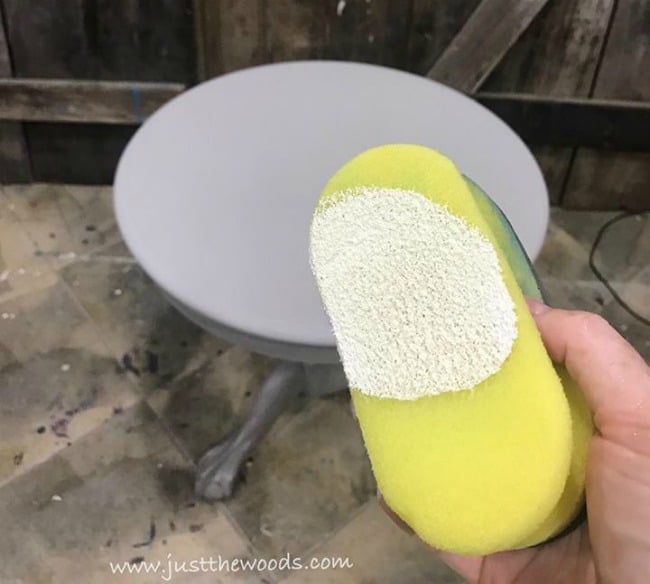 How to Transfer Images to Wood
Before you can start transferring images to your painted furniture you will need to line up the image first. Place your image on to the area where you want to apply and measure the distance all around to ensure that the image is centered on the piece.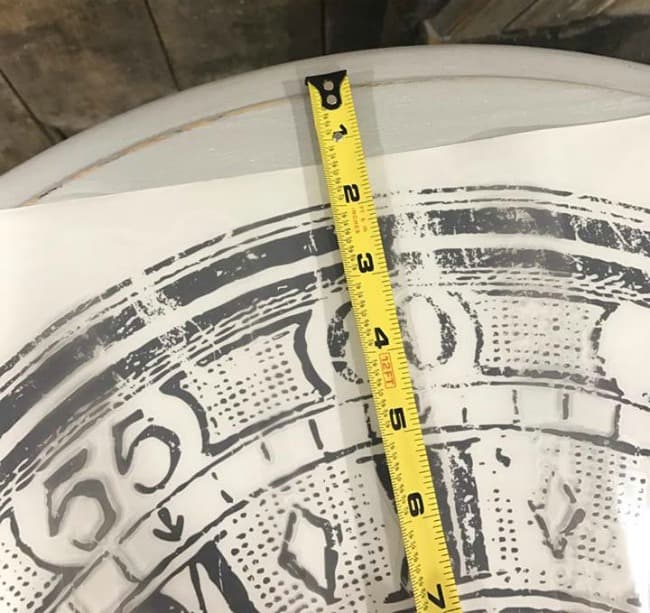 Next, use plain chalk to mark around all the sides of the image transfer. Doing this will allow for you to find your place once you remove the backing from the image. Also, using chalk works best because it will easily wipe off once you finish.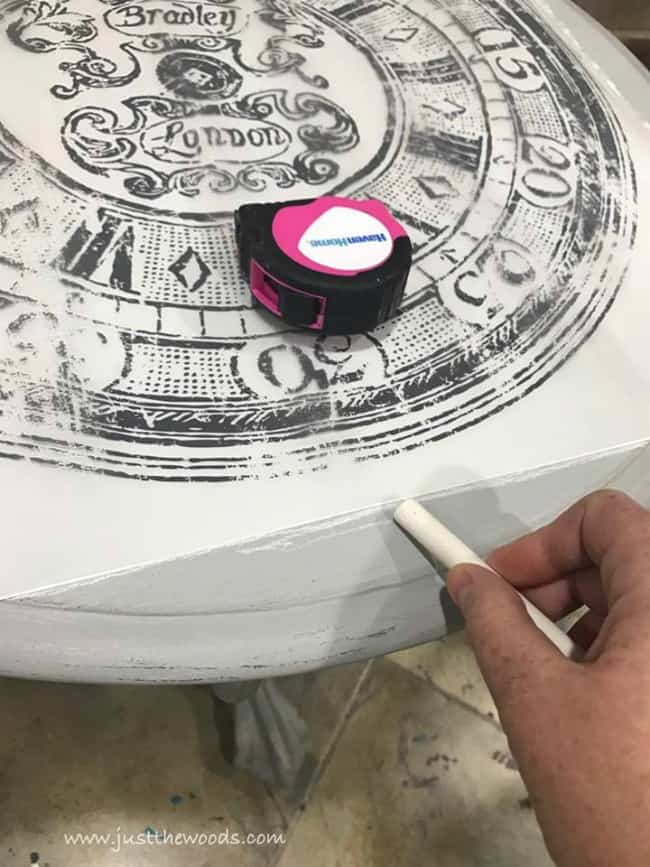 The entire process of transferring the image, from start to finish can be watched here in this time-lapse video. This step took me appx 30 minutes to complete, but I've managed to condense it to a 6-minute video for you. 😉

Sealing Your Image Transfers
Now that you have transferred your image to your project you need to seal it. This vintage image transfer table is distressed along all of the edges prior to sealing. Distressing adds to the worn and vintage feel of the piece.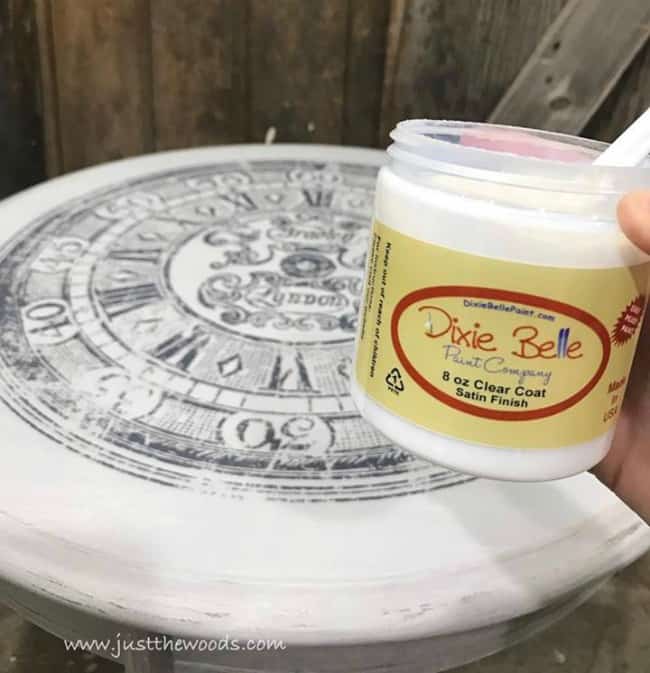 Using that same yellow detailer sponge go ahead and seal your finished piece.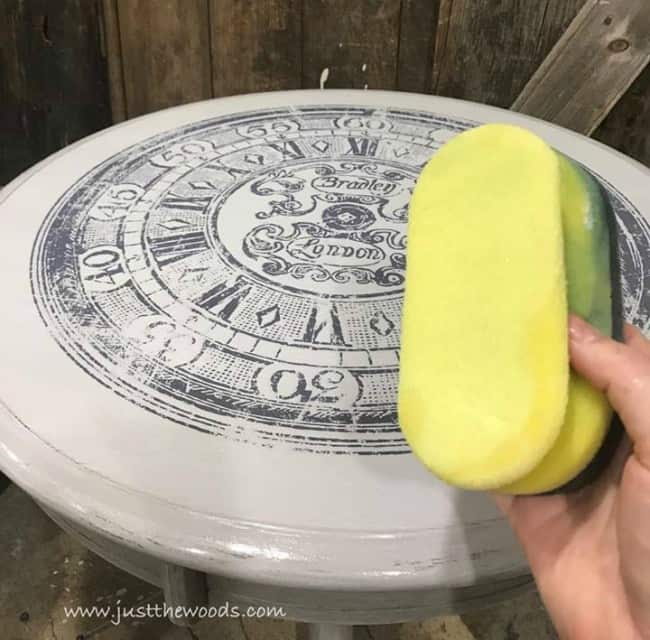 Here is a full tutorial with VIDEO showing how I seal my painted furniture projects: Sealing Painted Furniture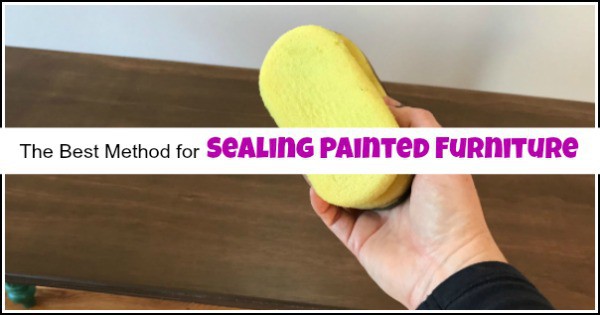 Vintage Clock Image Transfer on Painted Claw Foot Table
Do you feel like a pro? Because you just learned how to transfer images to furniture like one!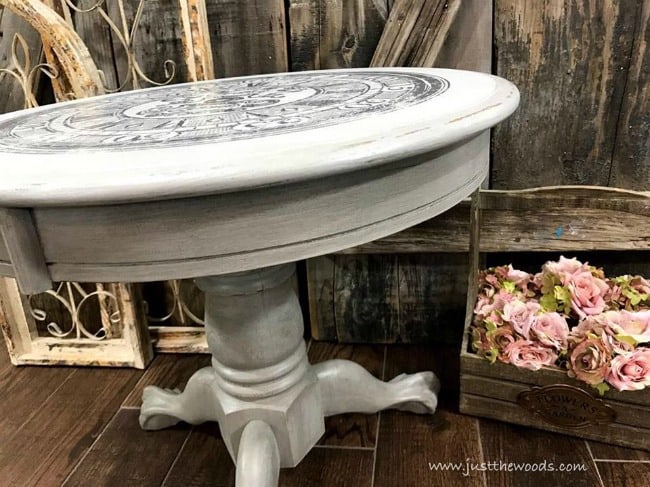 Close up!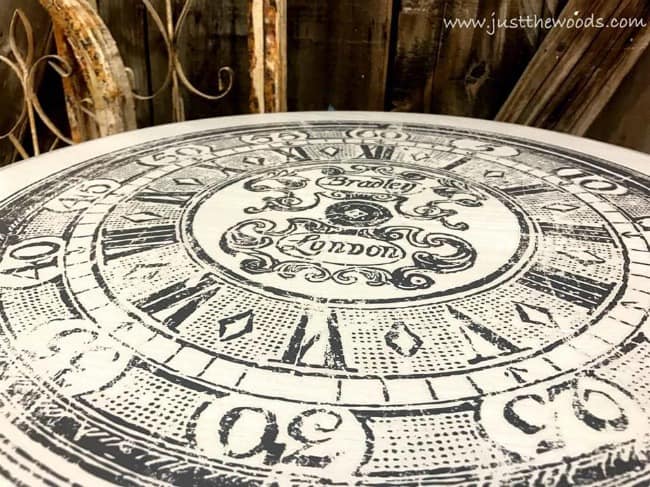 Those feet!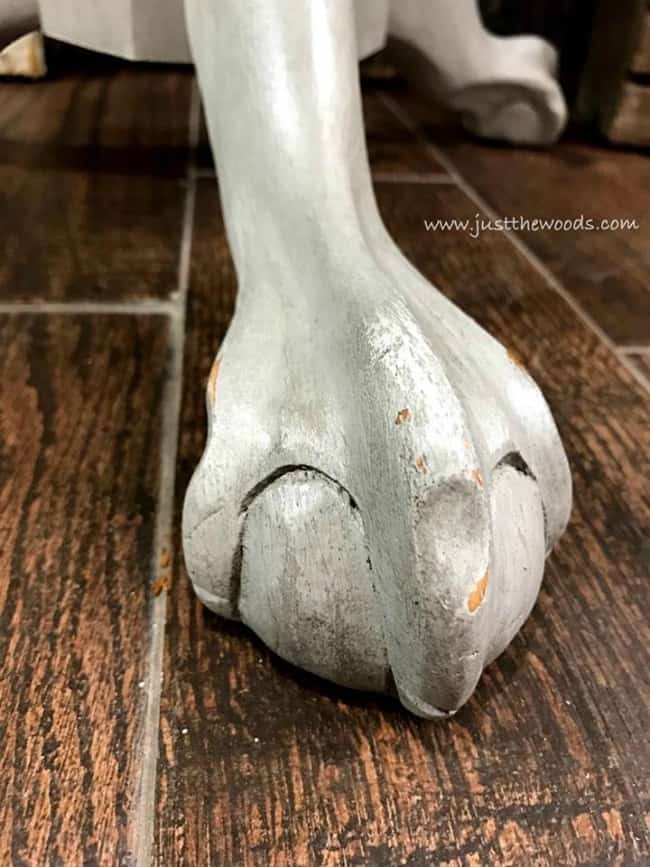 The clock image transfer painted table.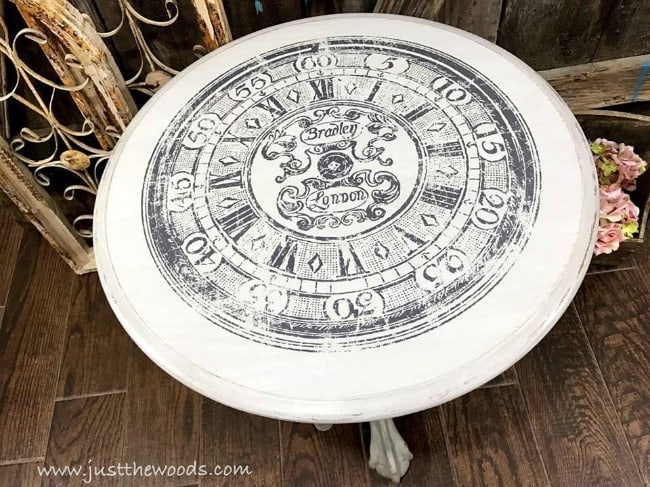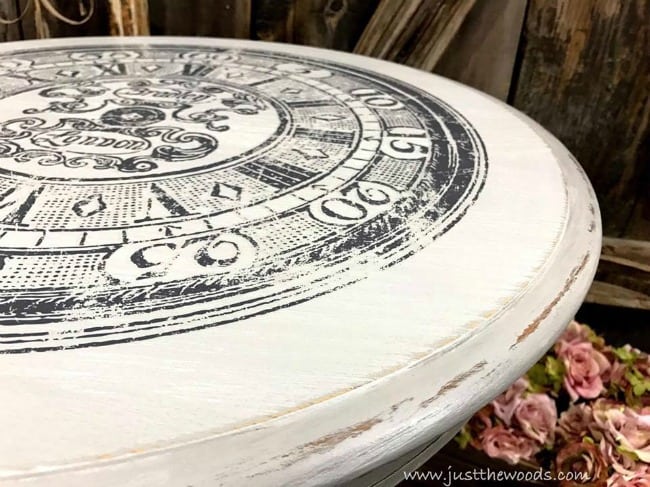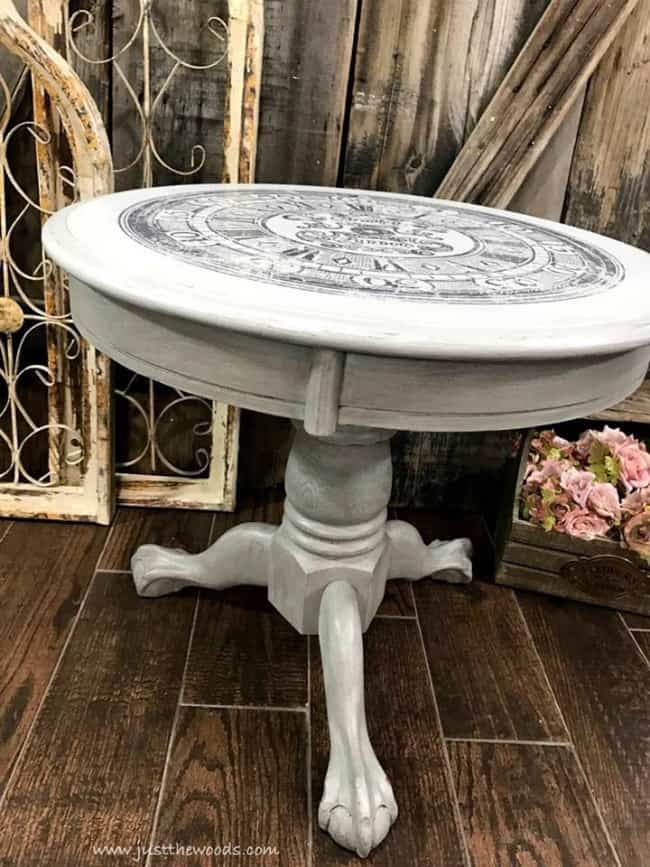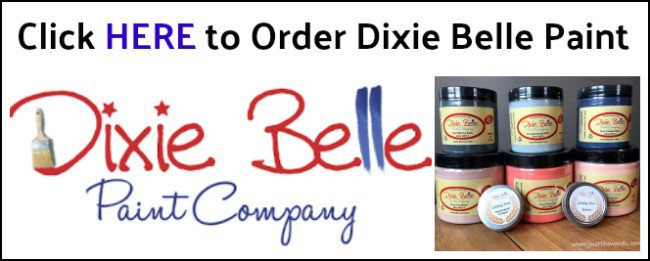 Not ready to tackle transferring images to painted furniture yet? Try on something smaller like this DIY Image Transfer Sign.
If you like this post make sure to check out all of the tips & secrets that I wish someone told me when I started painting furniture here: Painting Furniture Secrets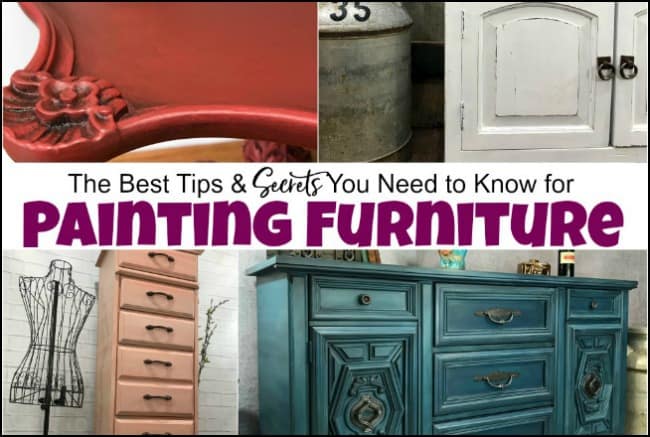 Wait! Don't Go!  It's that time of the month again for:
Furniture Fixer-Uppers
A few of my creative and talented blogger friends and I have joined together in our monthly Furniture Fixer Uppers share.  Let's see what my friends are up to! Make sure to click the links below the image to check out all the amazing projects that my bloggy girls are working on this month.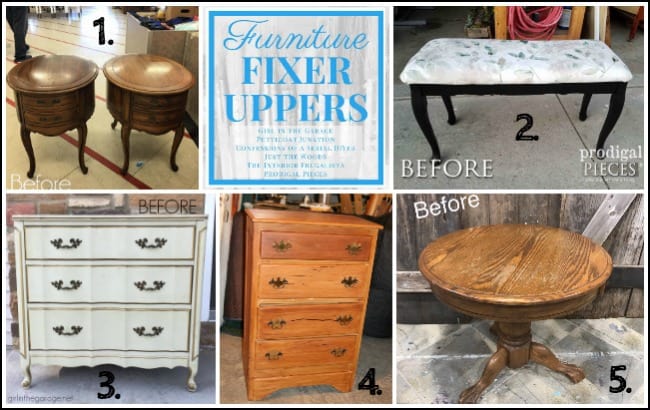 Just the Woods (you are here)
I'll be sharing this post at these fabulous link parties.
Don't Forget – Follow Just the Woods and Share this post to Inspire others:
FACEBOOK  *  INSTAGRAM  *  PINTEREST
 Stay connected! For more tips and tricks sign up here : 
Pin it!