This decoupaged lingerie chest actually had a bit of an Asian flair in the 'before' stage.  With its wider base and round dangle pulls it made me think of something in a geisha house (not that I've ever been in one to actually know). When I purchased this chest I confess that I actually bought two. There were two identical lingerie chests for sale. I decided to post one to be claimed for customization and the other for me to have creative freedom with.  Click here to see the other lingerie chest makeover. Stick around to see my creative freedom!
Disclosure: This post contains affiliate links for your convenience. Click here for my full disclosure policy.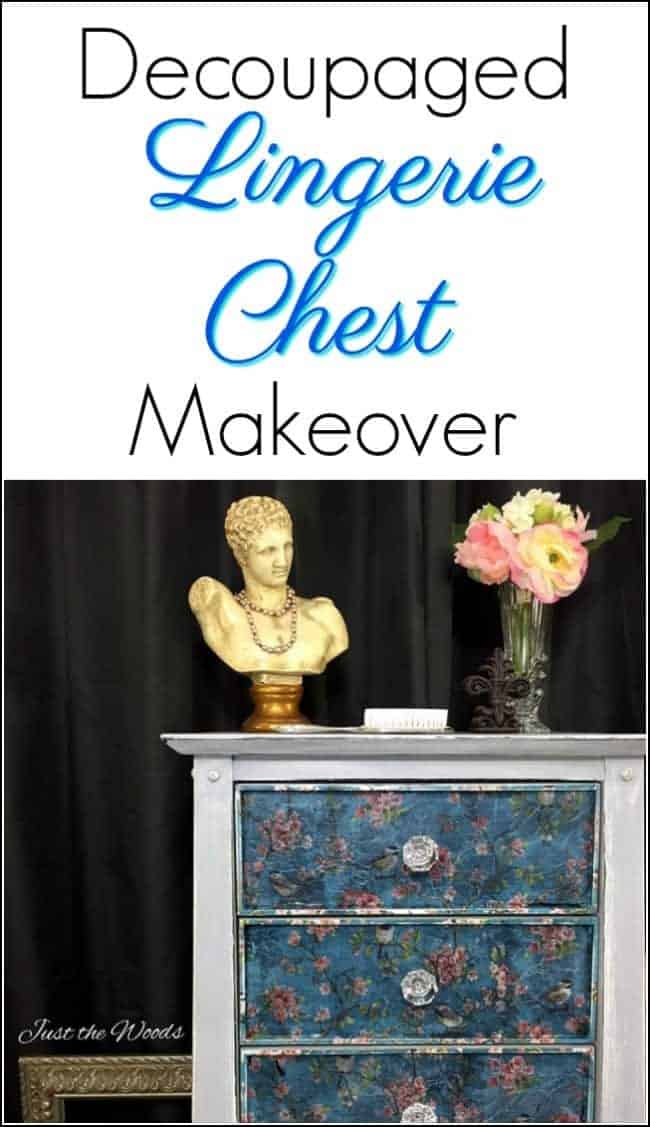 Decoupaged Lingerie Chest with Love Bird Drawers
Initially, the round pulls on this lingerie chest were a big deterrent for me, but the fact that the chest itself was in really nice shape with 8 clean dovetail drawers that open and close with ease made me see beyond the cosmetics. I was able to look beyond the hardware and see the great potential in this tall, dark and handsome beauty. Once finished, it will still be tall, but no longer dark or handsome.  I'm thinking a light and weathered yet elegant decoupaged lingerie chest.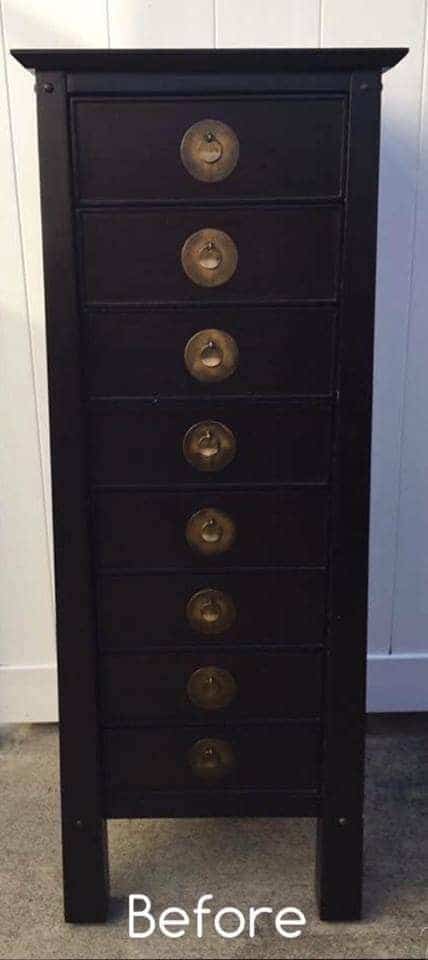 Materials Needed/ Source List:
Staging / Home Decor
Redesigning a Lingerie Chest
I removed the hardware and filled the holes. It's like it never happened!  I decided to paint the body of the chest white and pulled a gorgeous print from my stash with love birds and sweet blooms.  I applied the prints to the drawers in a less than perfect manner. I'm going for a weathered, shabby look with these.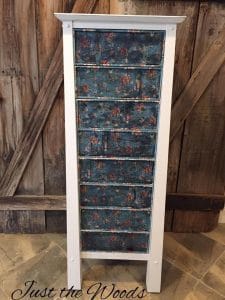 I soon realized that the white is too white, and the print is too dark creating too much contrast!!  It actually crossed my mind to remove the prints (which would have been a nightmare) and start over.  I'm so glad I didn't do that.

Adding Layers to Create a Weathered Look
Instead, I added a light gray over the white to tone it down.  I then sanded and distressed the entire chest, including the drawers.  This gave the weathered and worn look that I was going for.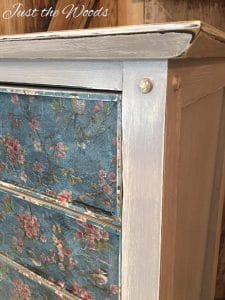 Not sure where to start? Start at the beginning with How to Paint Furniture.

My next step was to drill new holes for the gorgeous crystal knobs that will be adorning the drawers. I used my handy little template and marked the holes.  I'm not sure how I've gotten by so long without this thing!  With the holes marked I can now easily drill new holes without worrying if my placement is accurate or not.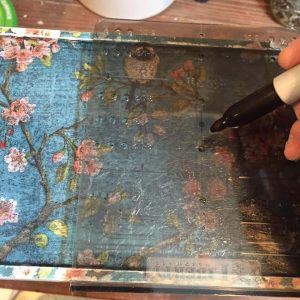 Lastly, I was able to add these gorgeous crystal knobs from D. Lawless Hardware.  They create a perfect balance of weathered and shabby with glitzy elegance.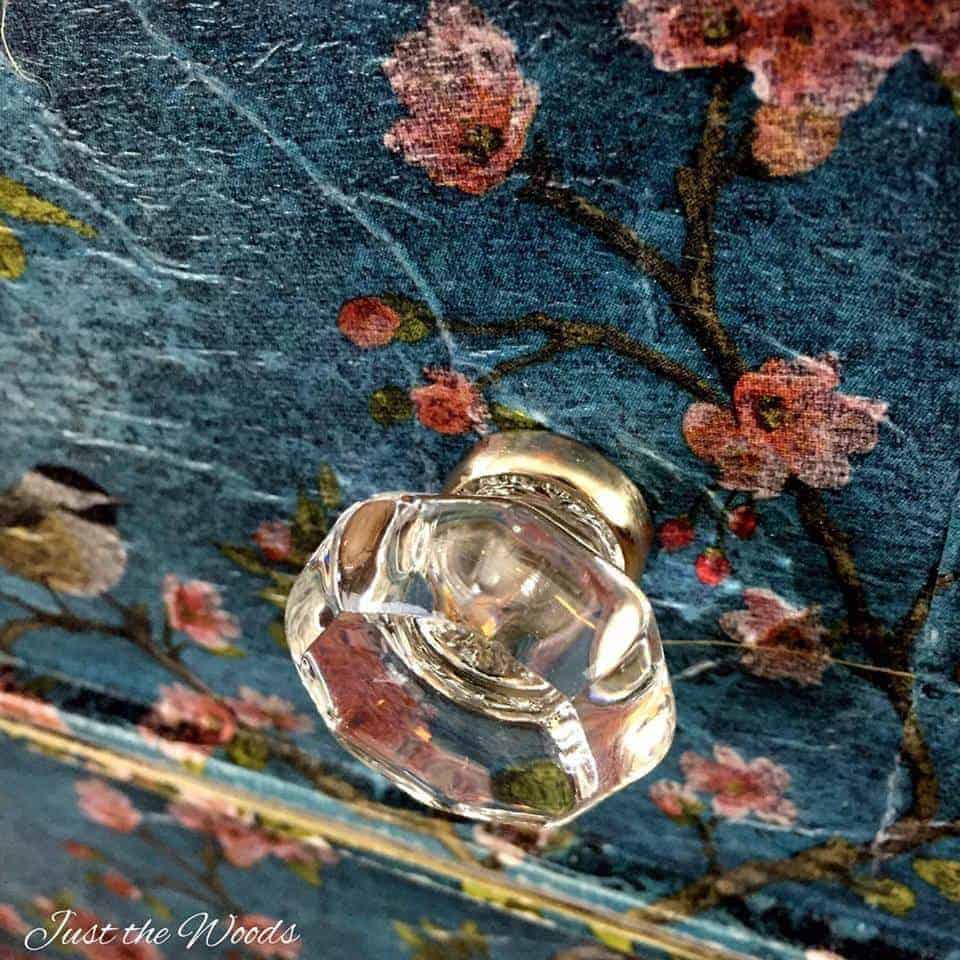 I think I'm in love with these knobs!
The Result – Weathered Gray and Decoupaged Lingerie Chest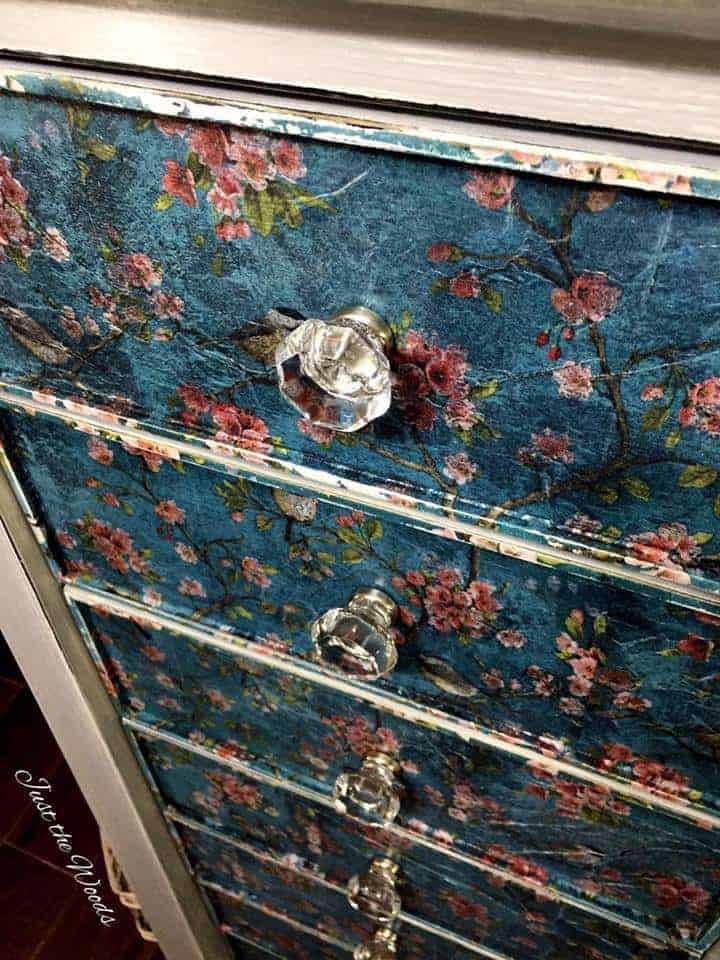 This bird and blooms beauty has so many drawers to store everything your heart desires!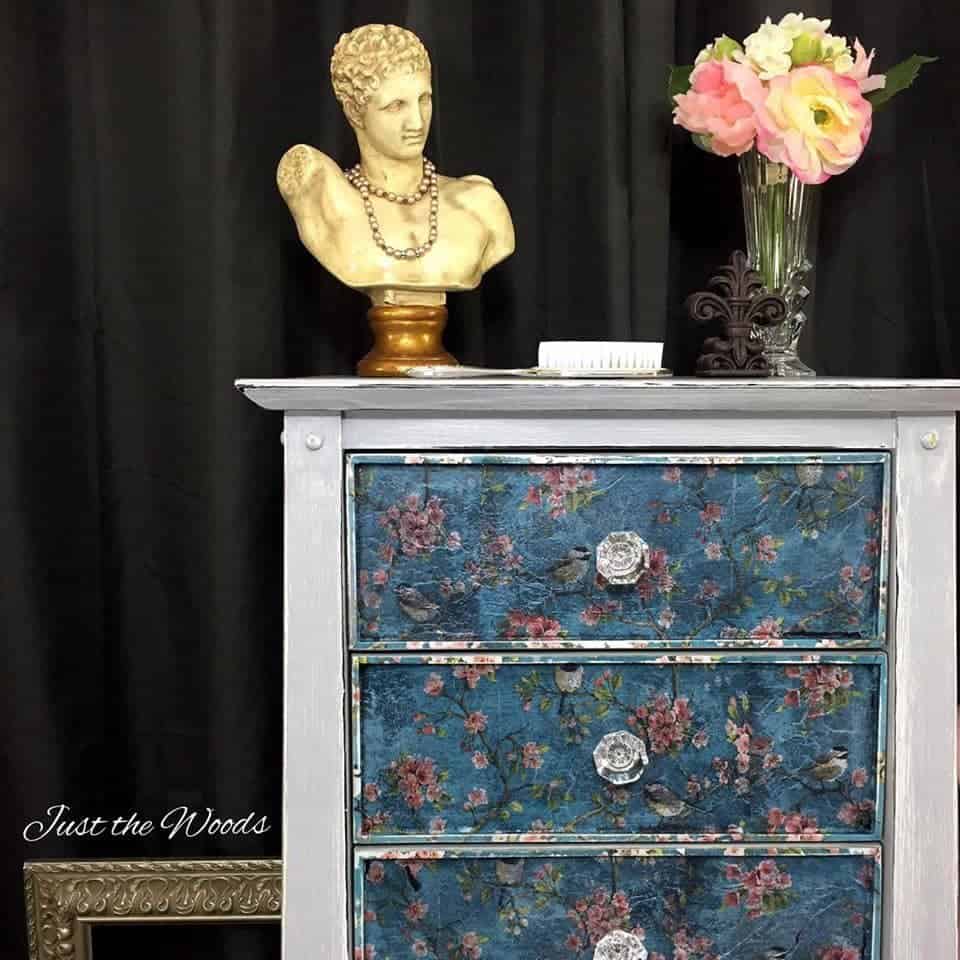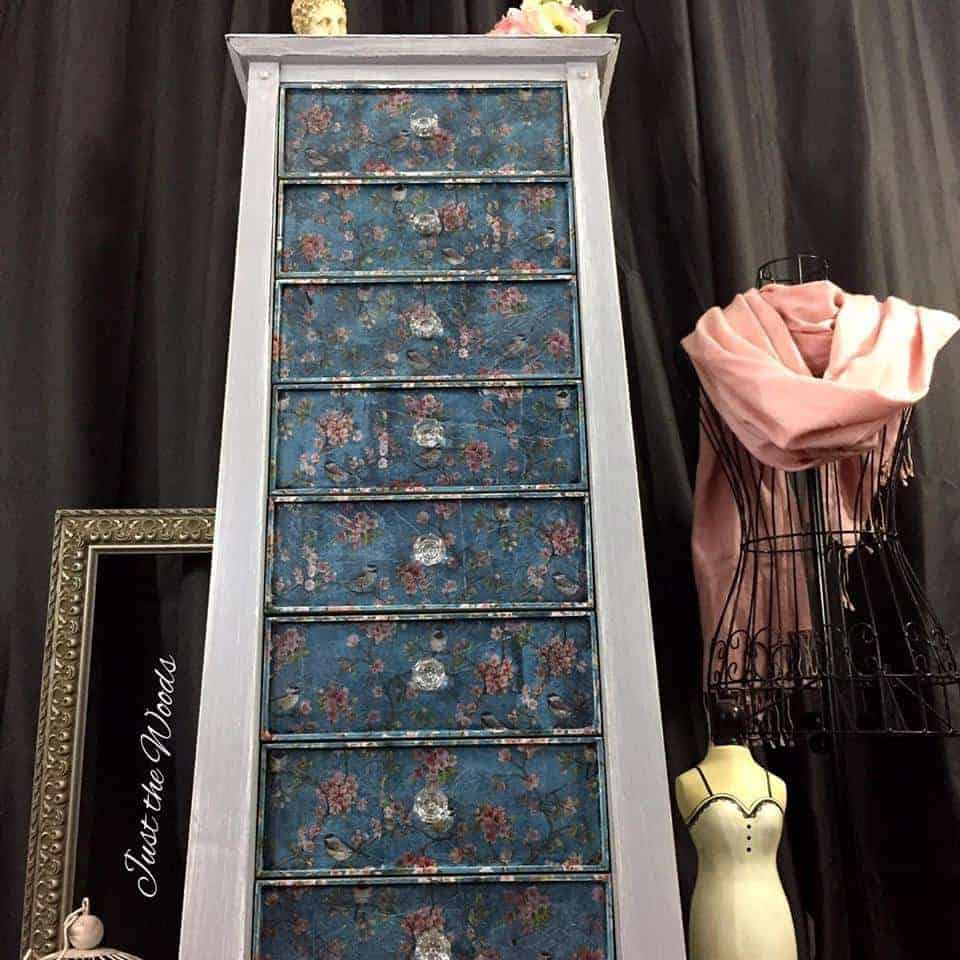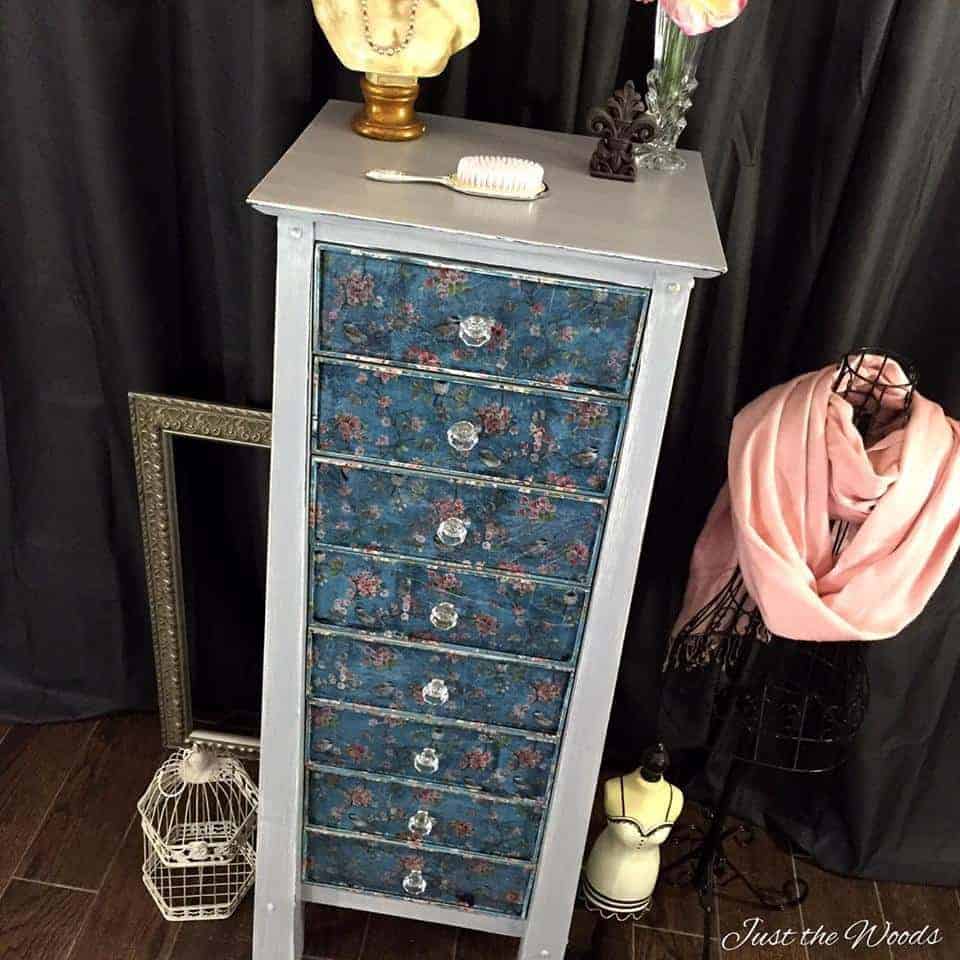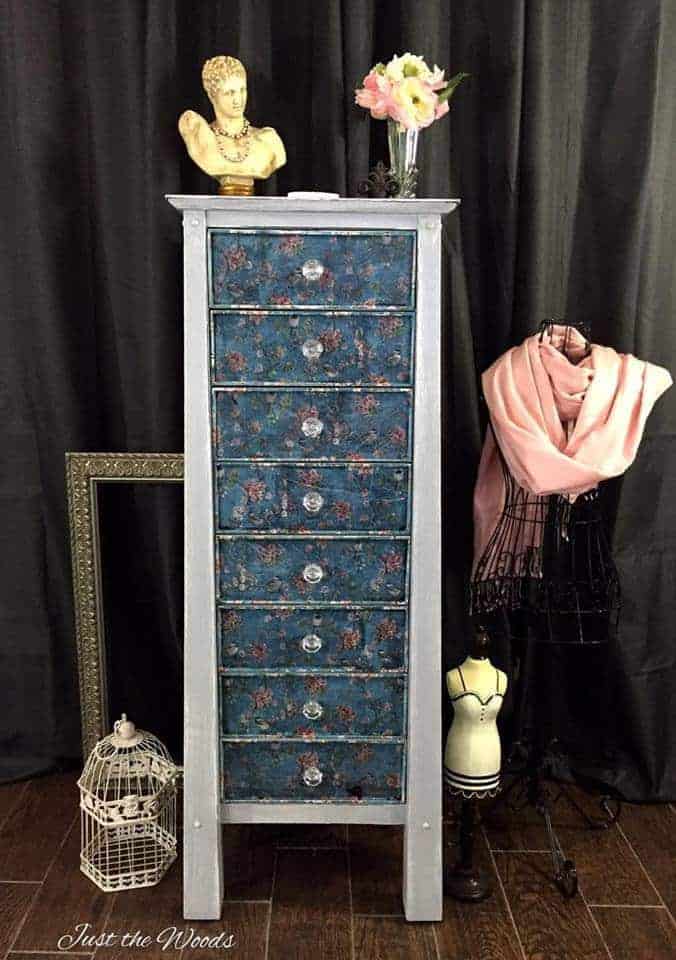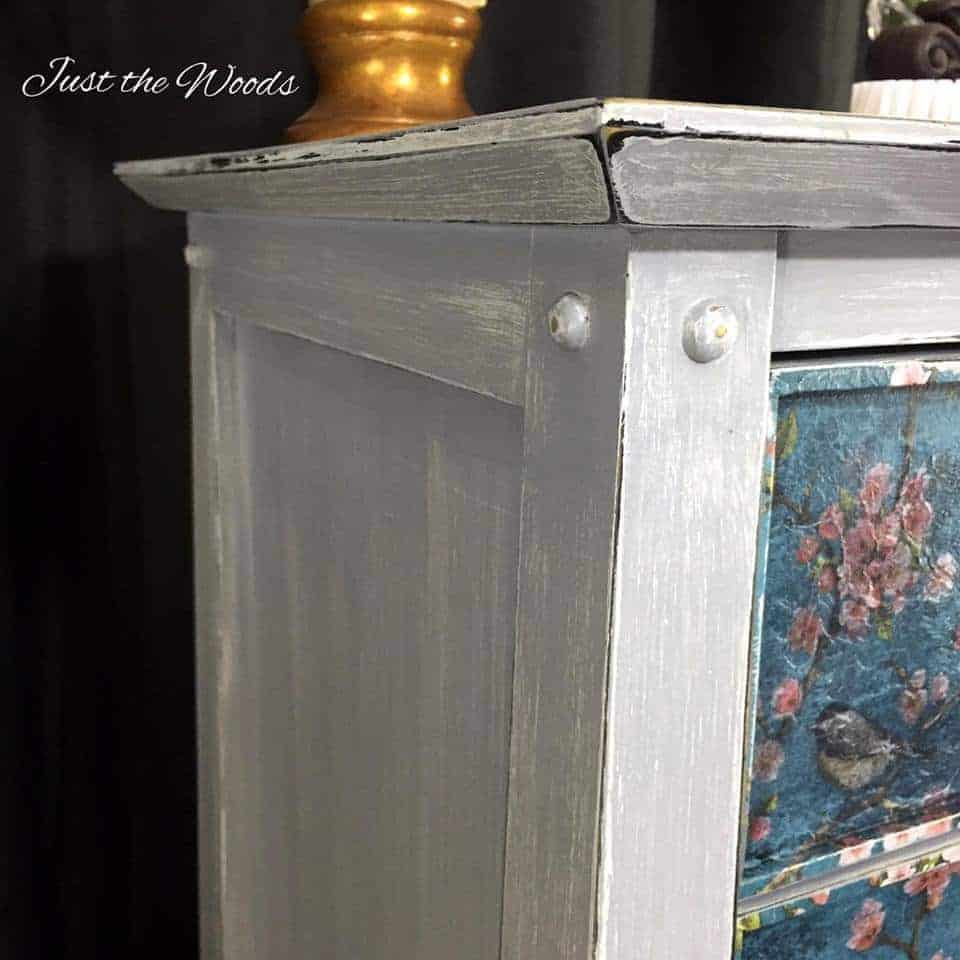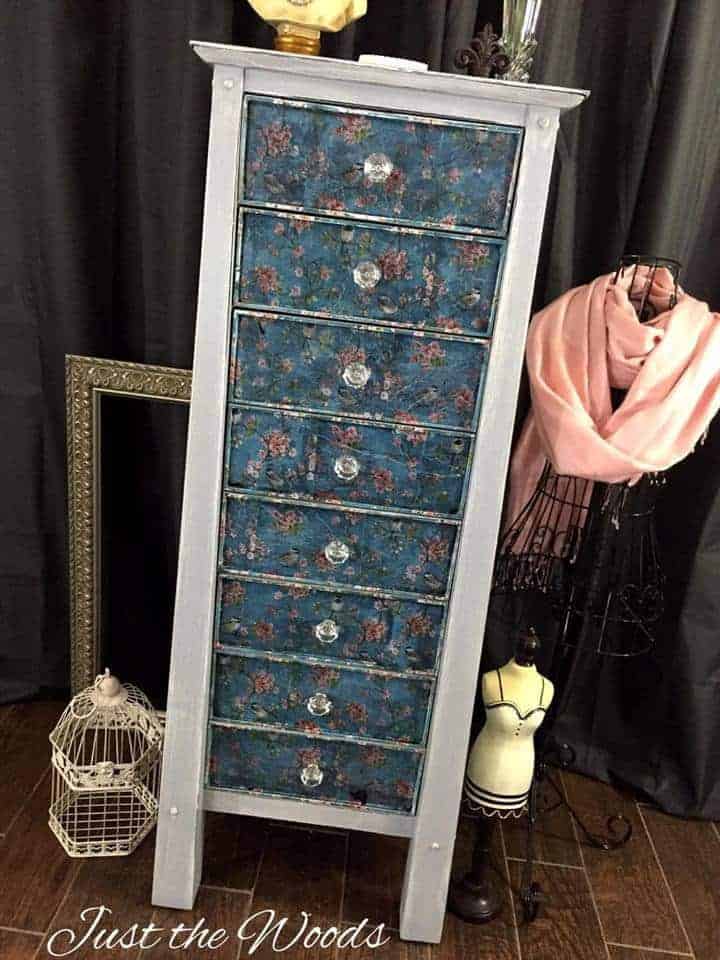 Don't Forget – Follow Just the Woods :
FACEBOOK  *  INSTAGRAM  *  PINTEREST
Subscribe to our mailing list here:
PINTEREST PIN READY TO SHARE
Learn how to Decoupage: