Jewelry Chest Hand Painted Weathered Gray
Who loves jewelry? Would you be able to fill this? Personally, I don't have enough jewelry to fill this beauty up, by I'm sure my 4-year-old would fill it with per play tiaras and plastic rings in a heartbeat! This jewelry chest was brought in by my customer for a new look. The original finish was a yellowish cream, with great details and plenty of storage for more jewelry than I could ever imagine owning.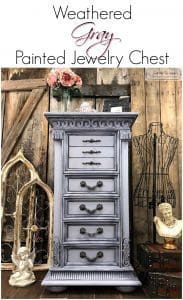 Disclosure: This post contains affiliate links for your convenience. Click here for my full disclosure policy.
Materials Needed / Source List:
Staging Items/ Home Decor

Vintage books, cathedral windows – antique shops
Unfinished Jewelry Armoire
My customer sent me inspiration photos from Pinterest of a weathered gray, distressed, gustavian style painted finish. She was looking for a much different look from the original creamy yellow, and a layered gray will really bring out those amazing details.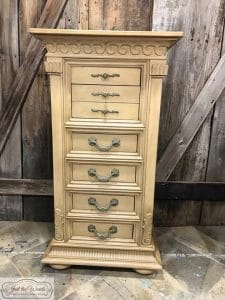 When the piece was dropped off, my customer mentioned that one of the side storage doors of the jewelry chest sticks. While trying to adjust the door I discovered that the existing hinge was broken and needed to be replaced.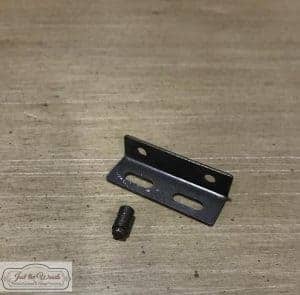 Looking for a gorgeous jewelry chest to call your own? Click here to find a wide selection of  jewelry armoires: HERE 

The Process – Painting an Ornate Jewelry Chest in a Weathered Gray Finish
Both side doors were then removed for easier access to paint and the mirror was taped over for protection. The entire piece was sanded and cleaned, and the felt interior was vacuumed before starting (and again after). Here is my entire process for How to Prep Painted Furniture.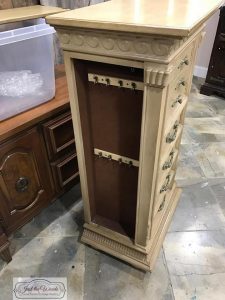 To get started,  I then laid the jewelry chest down to allow full access to the bun feet.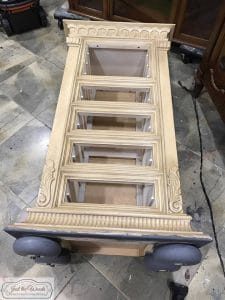 I actually made a note to myself of exactly how I finished the bun feet to make sure I did the same thing to the rest of the jewelry chest. Once the feet were completed and sealed I stood the chest back up to continue. The entire chest was first painted in the leftover charcoal mix that I had used on my previous china cabinet. You can see that Vintage China Cabinet if you're curious.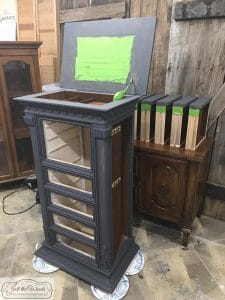 The dark charcoal was then covered with a gray tinted glaze, more so in the corners and crevices. In between coats I lightly sanded with my fine grit flexible sandpaper for a super smooth finish. Then the entire jewelry chest was brushed with a light gray paint.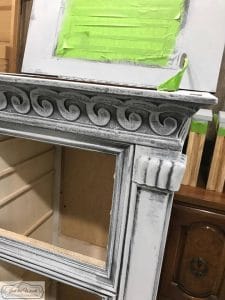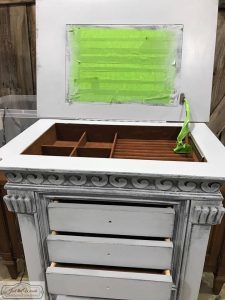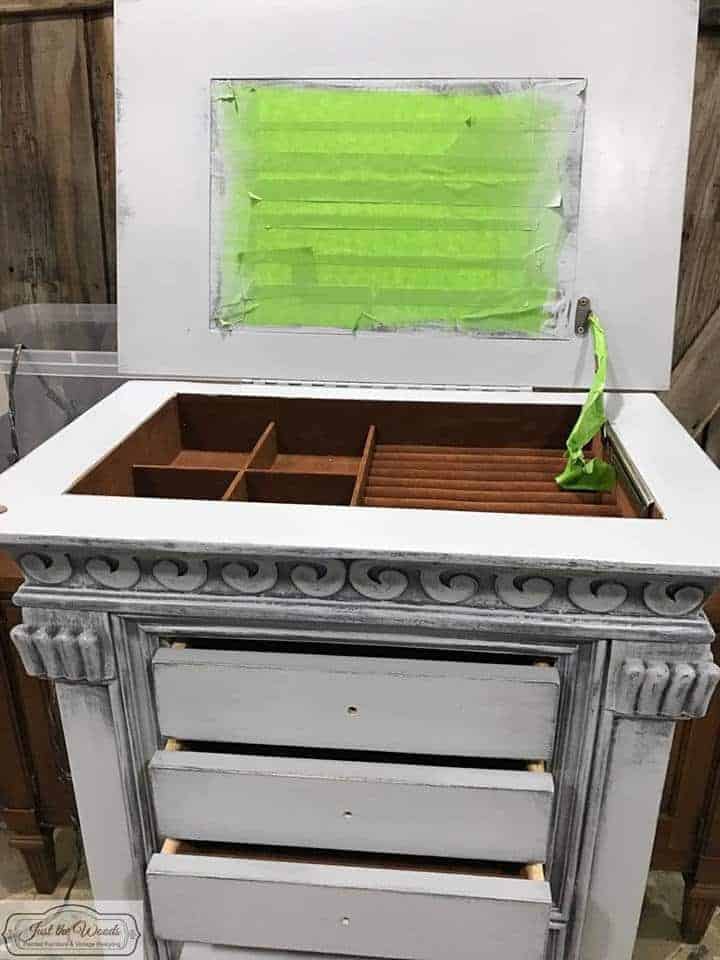 Switching back and forth between a damp scrubby sponge, and my flexible sandpaper, I then wet sanded the entire piece, paying extra attention to the raised details. The entire piece was then sealed first with a clear sealer followed by a gray tinted glaze. A little black stain was also added, using small artist brushes, particularly in the crevices for that worn weathered gustavian painted finish.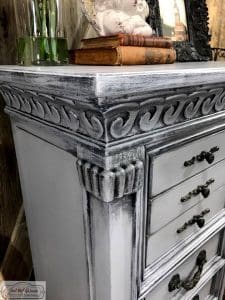 The Hardware – Painted Ornate Hardware
The original hardware on the jewelry chest was a gold tinted cream, which was appropriate for the original finish but was lacking with the new weathered gray painted finish.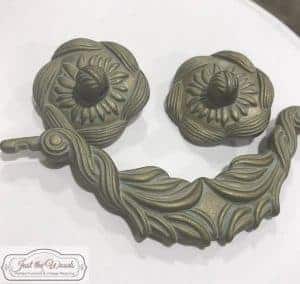 Along with contacting my customer to see what she wanted to do, I also posted to Facebook for opinions. Many agreed that the hardware needed to be darkened up.
To darken the hardware without making it too dark, I simply brushed it with the custom mixed charcoal and sealed with a gray tinted glaze.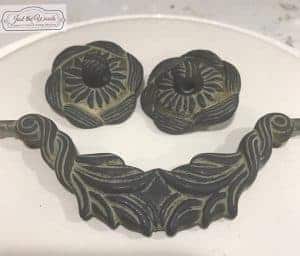 Repairs – Replacing the Broken Hinge
Remember that broken hinge? The new hinge is attached and the doors are put back onto the jewelry chest.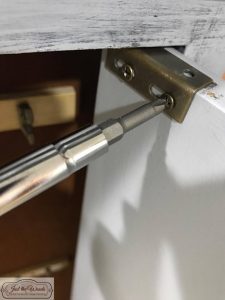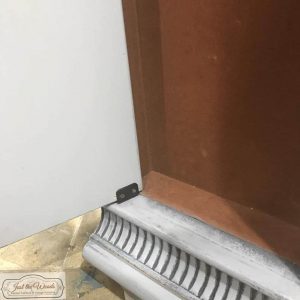 The Result – Weathered Gray Hand Painted Gustavian Style Jewelry Chest
This weathered gray jewelry armoire is ready to head home and hopefully, fill up with some pretty and sparkly new things.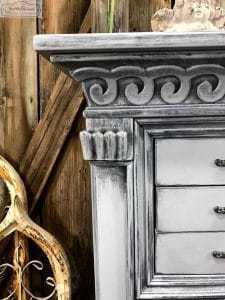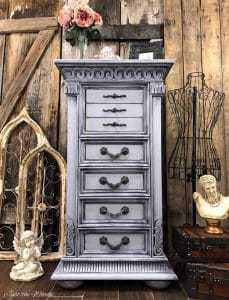 Need to fill your jewelry armoire? Find an amazing selection of gorgeous handmade jewelry here: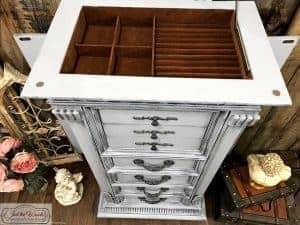 New to painting furniture and not sure where to start? Start at the beginning with How to Paint Furniture – a Beginners Guide.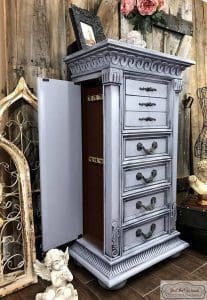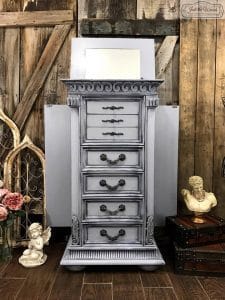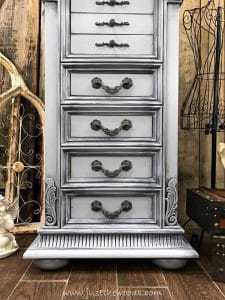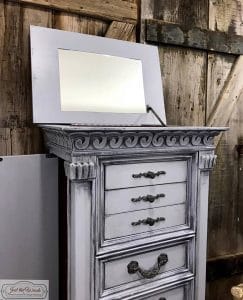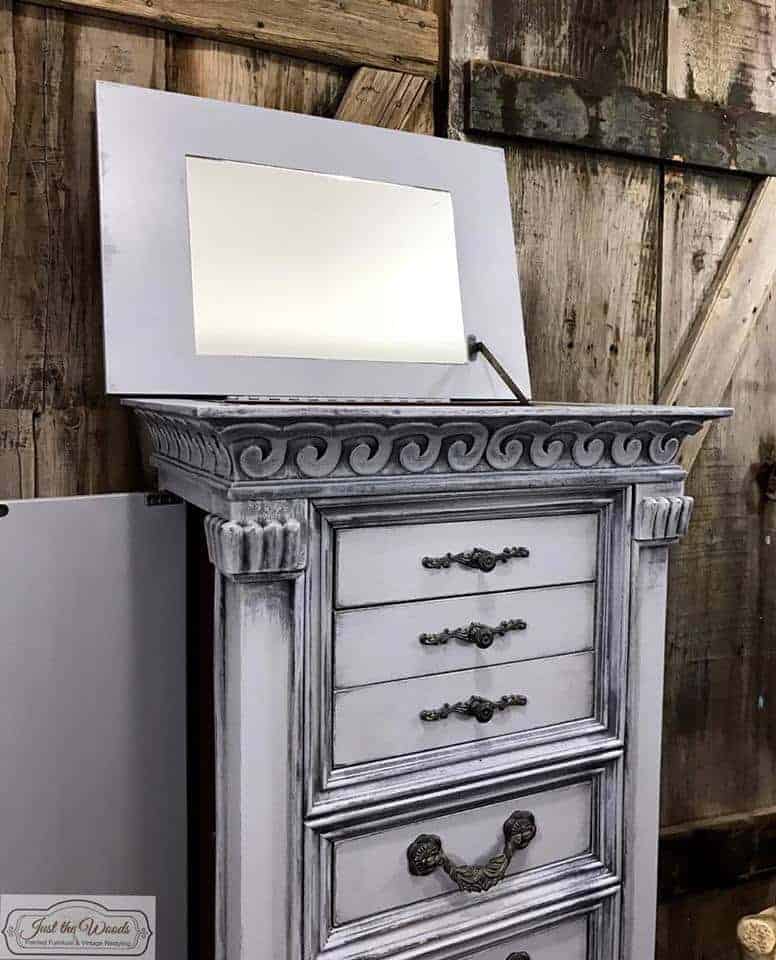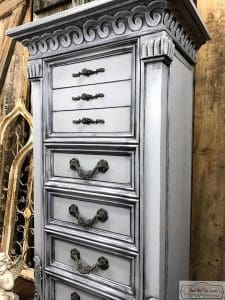 Tutorial Available
If you feel you need more details or would like to see the layered painting process as it happens,  it is available in a full one-hour long video tutorial. you can purchase the video and watch as I walk you through all the layers and share tips as I go here: Blend & Layering Paint Video Tutorial  (after purchase, the video link will be emailed to you)
 Wait! There's more! Let me introduce you to my friends.
It's crafty girls time!  A few of my creative and talented blogger friends and I have joined together in our monthly Crafty Girls and Furniture Friends share.  We plan to get together on the second Tuesday of each month 😉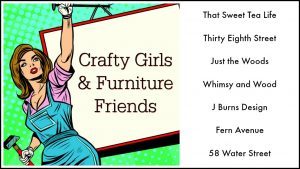 Let's see what my friends are up to! Make sure to click the links below the image to check out all the amazing projects that my bloggy girls are working on this month.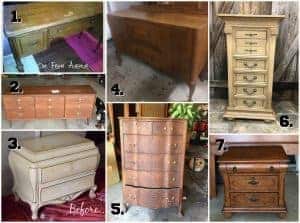 1. On Fern Avenue – Refreshed Desk Using CeCe Caldwell Paint
2. 58 Water Street – MidCentury Dresser in Walnut and White
4. Whimsy and Wood – Rescued Relic to Elegant Eggplant Buffet
6. Just the Woods – Weathered Gray Hand Painted Jewelry Chest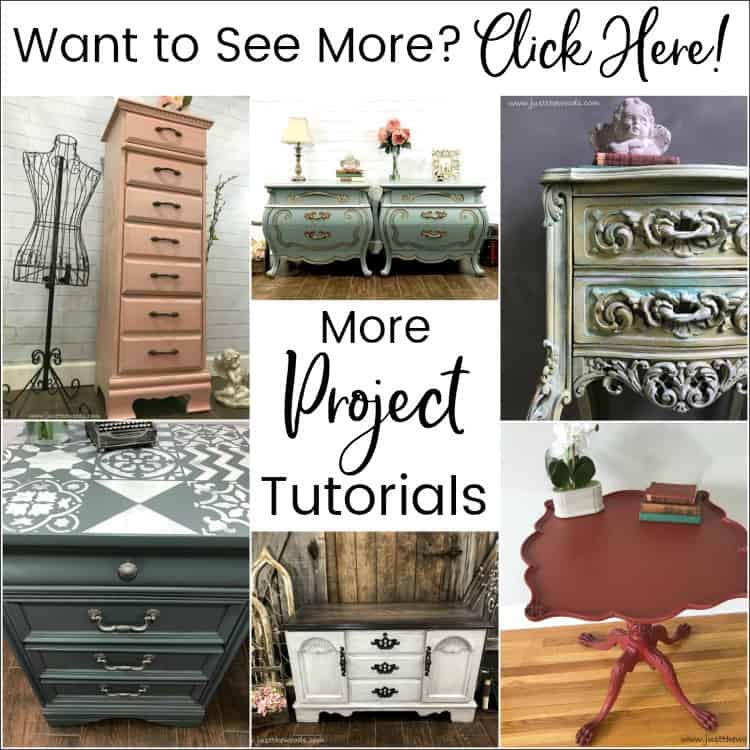 Don't Forget – Follow Just the Woods and Share this post to Inspire Others :
FACEBOOK  *  INSTAGRAM  *  PINTEREST
Subscribe to our mailing list here:
PINTEREST PIN READY TO SHARE