Air fryer vegetables are absolutely delicious, even if you don't love to eat your veggies. You can also adjust this air fryer vegetable recipe to add or exclude certain items if you can't find something at your local store. Any vegetables in the air fryer tend to be delicious with a little balsamic and seasoning. They make a great healthy side dish or main course, depending on your mood.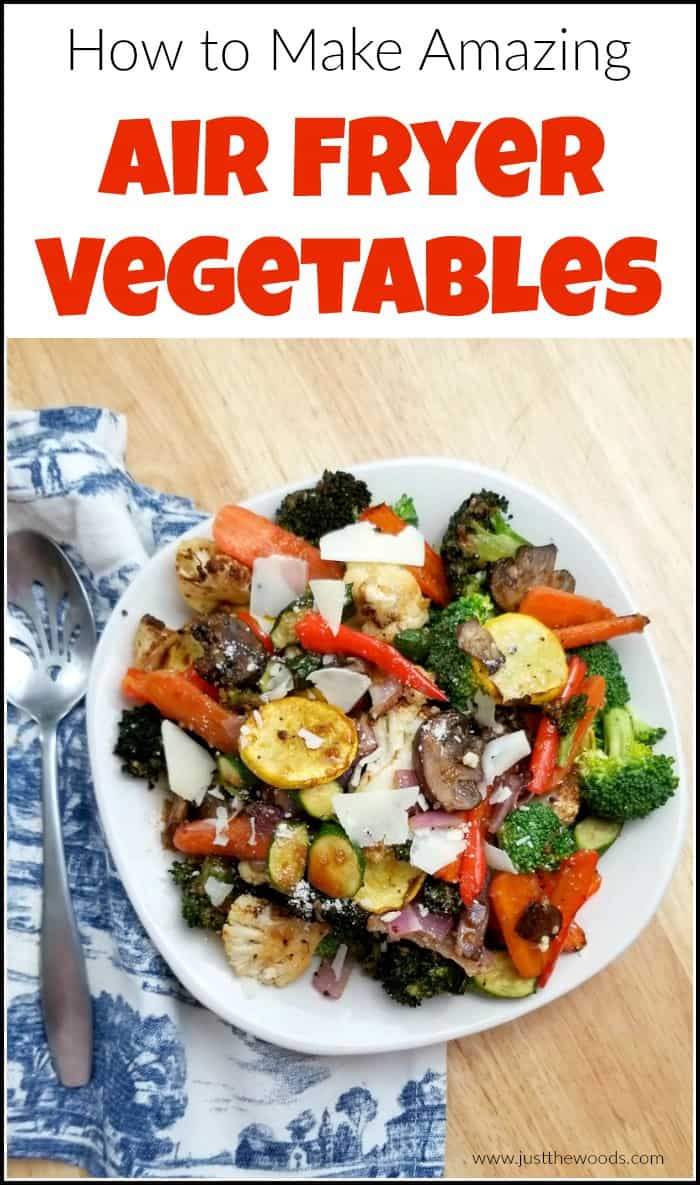 Disclosure: This air fryer vegetables recipe post contains affiliate links for your convenience. Click here for my full disclosure policy.

Healthy Air Fryer Vegetables Recipe
What You Will Need (Full Printable Recipe Available Below)
Ingredients:
1 tablespoon olive oil
1 tablespoon minced garlic
1/2 cup baby zucchini, sliced
1/2 cup sliced mushrooms
1 cup broccoli florets
1 cup cauliflower florets
1/2 cup baby carrots
1 teaspoon red pepper flakes
1/2 cup yellow squash, sliced
1 small onion, sliced
1/4 cup balsamic vinegar
1 teaspoon of sea salt
1 teaspoon black pepper
1/4 cup parmesan cheese

How to Make Air Fryer Vegetables
Before I even get into this healthy air fryer recipe I want to mention that I recently got a Ninja Foodi. It is amazing! The Ninja Foodi is like the holy grail of all kitchen gadgets. It is an Instant Pot/pressure cooker, an air fryer, and a dehydrator all in one. Just about the only thing it doesn't do is wash the dishes when the meal is finished. I realize that not everyone has a Foodi, and more people have an Instant Pot, or an air fryer so keep in mind that this air fryer roasted vegetable recipe can be made in either a traditional air fryer or a Ninja Foodi. If you are considering getting one you can get it online HERE.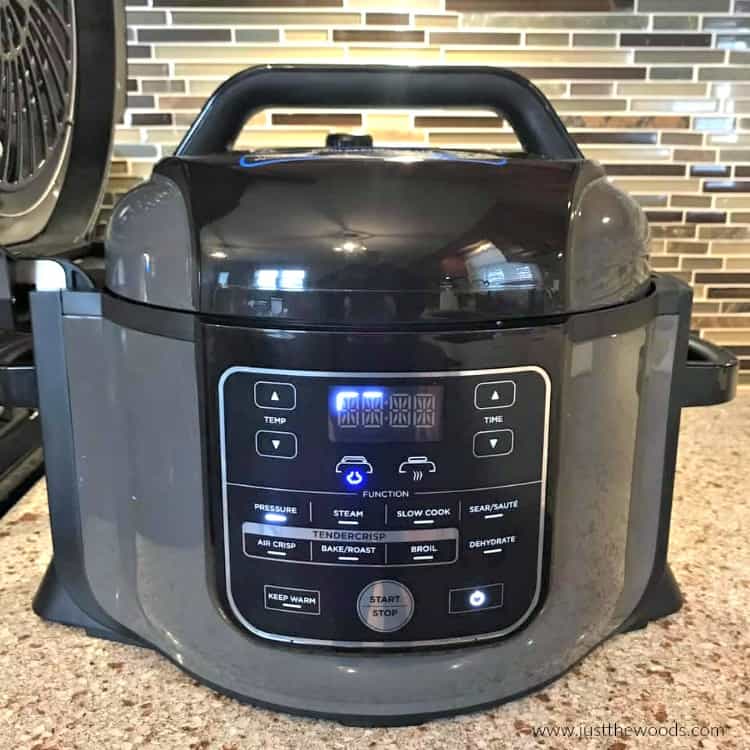 Cooking with an air fryer or Ninja Foodi is an easy way to make your favorite foods quickly and staying healthy. I am all about eating healthy and clean eating. If you are new to a clean eating way of life then you need to check out Everything You Need to Know about a Clean Eating Diet. You can also see how I, personally have lost 50 lbs and am keeping it off by following a clean eating diet here: How I Lost 50 Lbs Clean Eating. Moving on, let's make some delicious roasted vegetables in the air fryer!
Instructions:
Pre-heat your air fryer at 400 for 3 minutes. While your air fryer is coming to temperature gather your vegetables and other ingredients.
In a large bowl combine the olive oil, balsamic vinegar, garlic, salt and pepper, and red pepper flakes.
Whisk together.
Add the vegetables to the bowl and toss to coat.
Next, add the vegetables to the air fryer basket. Cook for 8 minutes.
After 8 minutes, give the vegetables a little shake and cook for an additional 6-8 minutes.
If you like cheese, you can add freshly grated parmesan and bake for another 1-2 minutes. This step is optional, omit for a vegan option. We like to buy our parmesan in the block (not pre-shredded) and use a

cheese grater

to grate and shred the cheese ourselves.
Serve and enjoy. This air fryer vegetable recipe can be eaten as your meal or served as a side to just about anything.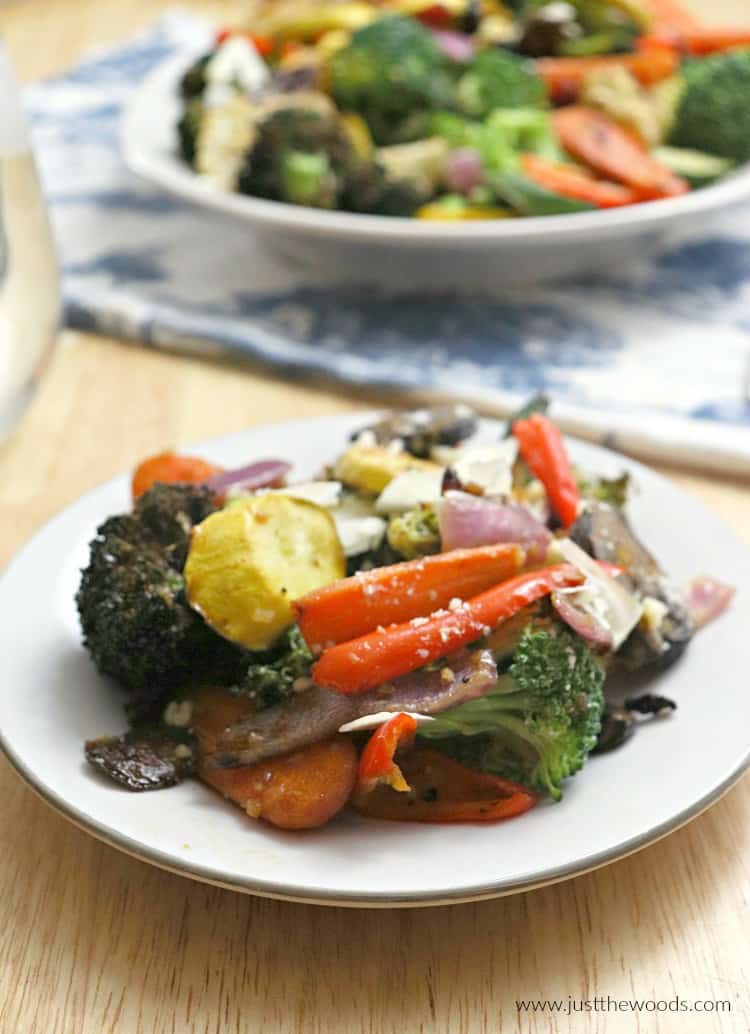 If you happen to have any leftover you can easily reheat in the morning and use your air fryer vegetables as a base underneath two cooked eggs. I often reheat my veggies and eat them in the morning with eggs for breakfast. 😉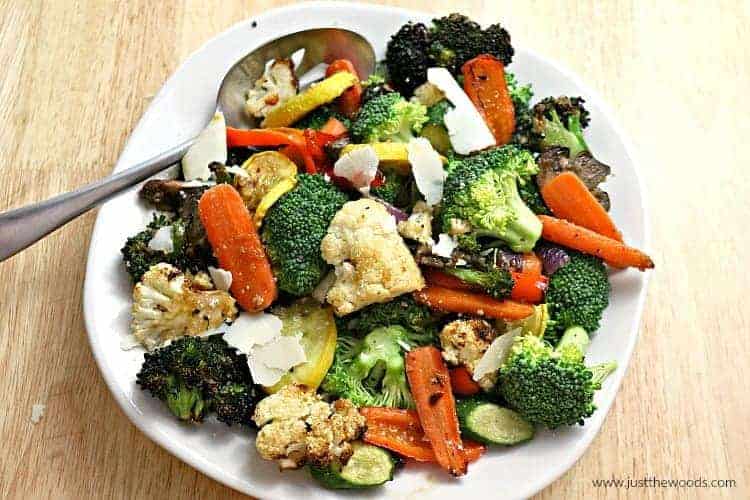 For more healthy clean eating recipes make sure to follow my clean eating Pinterest board here: Clean Eating.

Air Fryer Vegatebles (printable version)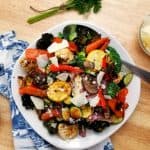 Amazing Air Fryer Vegetables
Ingredients
1

Tbsp

olive oil

1

Tbsp

minced garlic

1/2

cup

baby zucchini sliced

1/2

cup

sliced mushrooms

1

cup

broccoli florets

1

cup

cauliflower florets

1/2

cup

baby carrots

1

tsp

red pepper flakes

1/2

cup

yellow squash sliced

1

small

onion, sliced

1/4

cup

balsamic vinegar

1

tsp

sea salt

1

tsp

black pepper

1/4

cup

freshly grated parmesan cheese

optional
Instructions
Pre-heat Air Fryer at 400 for 3 minutes.

In a large bowl combine the olive oil, balsamic vinegar, garlic, salt and pepper, and red pepper flakes. Whisk together.

Add the vegetables and toss to coat.

Add the vegetables to the Air Fryer basket. Cook for 8 minutes. Shake the vegetables and cook for 6-8 additional minutes.

Add cheese and bake for 1-2 minutes.


Don't Forget – Follow Just the Woods and Share this post to Inspire others:
FACEBOOK * INSTAGRAM * PINTEREST * RECIPES