Dog Ate Your Furniture? Painted Pineapple Pedestal Table
Painted pineapple pedestal table – now try to say that five times fast! I bet you can't without stumbling up, I sure can't! I had just asked a friend if this style table had an actual name or if I could call it a pineapple table. She told me that it's a pineapple pedestal table, but she was messing with me! So I googled it and the jokes on her because she was right! Go figure. In addition to a pineapple pedestal table I would also like to categorize it under the dog ate your homework and the dog ate your furniture table.

Disclosure: This post contains affiliate links for your convenience. Click here for my full disclosure policy.
Painted Pineapple Pedestal Table
Materials Needed / Source List
The Before – Unfinished Pineapple Pedestal Side Table
This round, also known as a hospitality table, was originally made by Ethan Allen and I love Ethan Allen furniture – who knew a table could have so many names? It was dropped off with a bench and media console to all have makeovers. You should see the major transformation of the Painted Bench with French Stencil and Modern Media Console Makeover with Image Transfer while you're at it 😉 Everything is to be lightened up from the original dark finishes. But a dog had used this table as a chew toy, uh oh bad dog.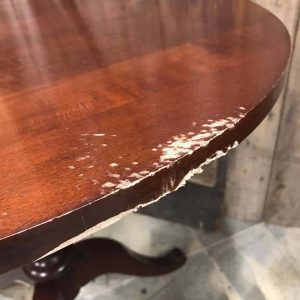 The very first thing to do was fill those bite marks on the unfinished pedestal table! Curious how to repair wood furniture and what products to use? For minor repairs, you can use plastic wood, wood filler or even Bondo. (I've used them all). I globbed it on, let it dry, then sanded it down, then reapplied more in a much thinner amount, let dry, sanded again until the repairs were filled and smooth again.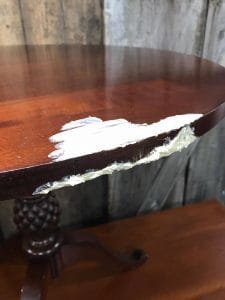 Once the repairs were done, the entire table was sanded and cleaned and ready for paint. This is my process for How to Prep Painted Furniture. I flipped the unfinished pedestal table over and started with the underside as usual.
Painting a Round Pedestal Table
Since we are lightening up the color and using layers, I started with a very light gray paint and painted the whole table with two coats. You can find great paint options online HERE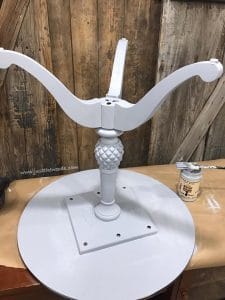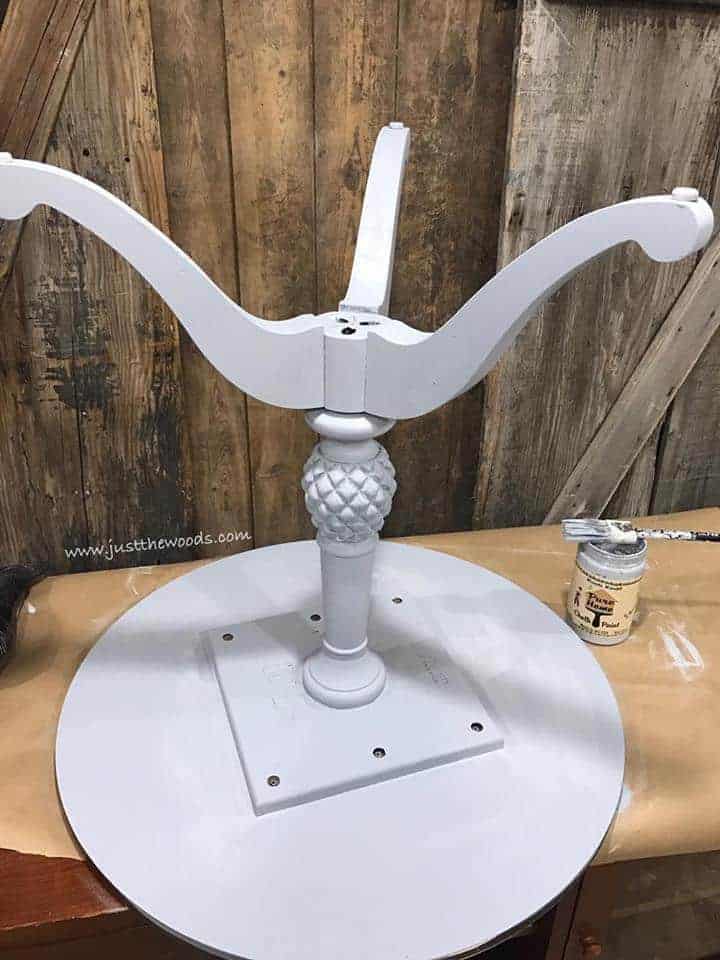 I actually decided to protect the Ethan Allen label, I'm not even sure why. Maybe just for my love of Ethan Allen lol. Next, I taped off the center pedestal to avoid random brushstrokes on the underside of the table. I don't plan on adding layers underneath the table but leaving that solid. I think layers under the table are a bit silly and overkill, don't you agree? Let's leave that area clean.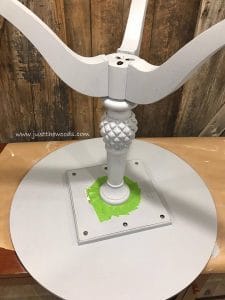 The pineapple table was then flipped back over so I could add subtle layers throughout. With a basic chip brush, I dry brushed off white, light blue and light gray. Adding one color at a time, I put a little paint on the chip brush, then wiped it off on a paper towel, leaving just a tiny bit of paint on the brush and then lightly brushing over the piece. I hope that makes sense. I then added a very diluted coat of off white to tie it all together.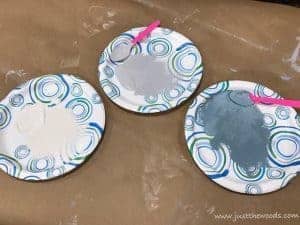 For a completely different technique for layering paint check out the How to Paint Layers project. The layers and colors are subtle and pretty, and surely no longer dark like the original finish. The pedestal table was distressed along the edges and sealed with a clear sealer.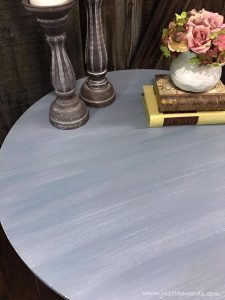 New to painting furniture and not sure where to start? Start at the beginning with How to Paint Furniture – a Beginners Guide.

The Result – Painted Pineapple Pedestal Table
The painted 'pineapple pedestal table' aka 'dog ate your Furniture table' aka 'hospitality table' is all finished and ready to head home. For a more detailed tutorial on the furniture painting technique check out Dry Brushing Furniture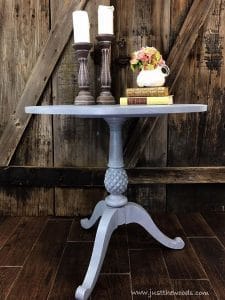 Who knew that this little decorative detail gives the pedestal table a category of its own as pineapple furniture.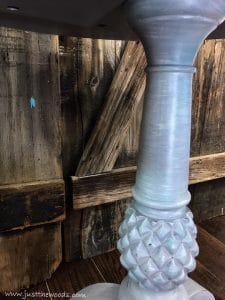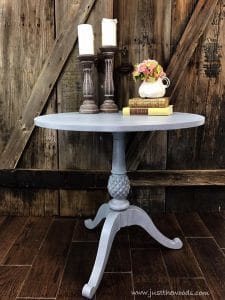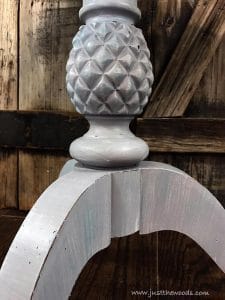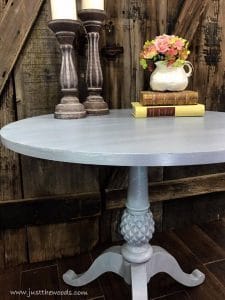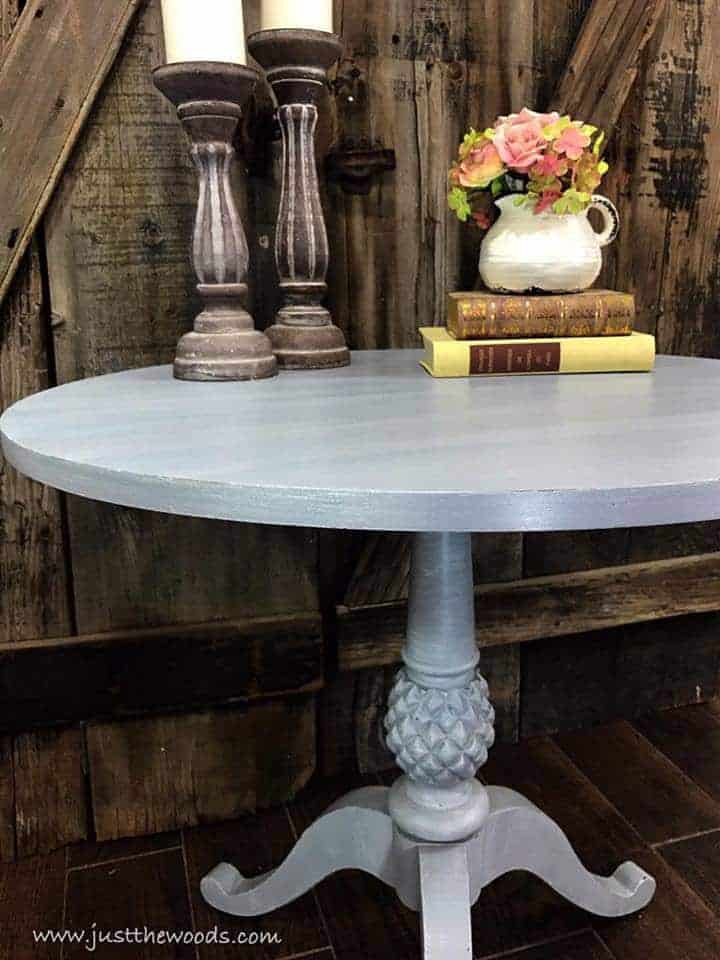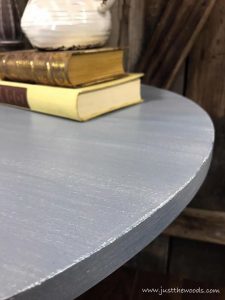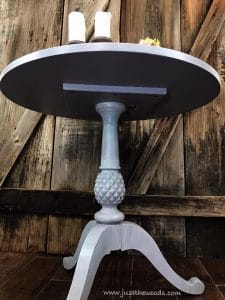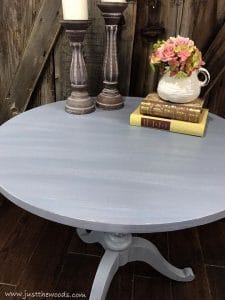 Guess what?
Due to unplanned decor changes, this table returned for another update later in the year. Click here to see the round two makeover: Repainting Painted Furniture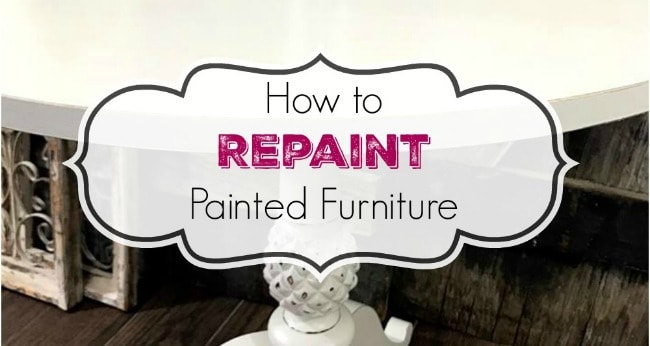 Remember I mentioned that my customer dropped this table off with two other pieces for makeovers? Make sure to check those out too:
Painted Bench with French Stencil
and Modern Media Console Makeover with Image Transfer
If you like this makeover and finish then you may also like this Shabby Chic Vintage Desk makeover because it was done in a very similar way.
If you'd like to see another painted furniture makeover where a dog used the table legs as a chew toy then make sure to check out Glitter Painted Desk. That piece came to me in pieces, and chewed up!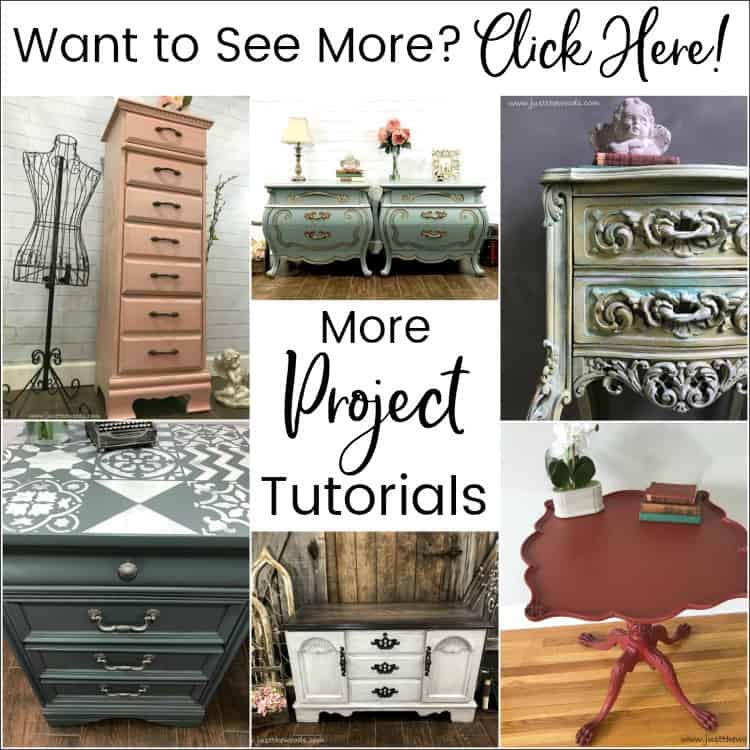 Don't Forget – Follow Just the Woods & Share this post to Inspire Others :
FACEBOOK  *  INSTAGRAM  *  PINTEREST
Let's stay in touch – Subscribe to our mailing list here:
PINTEREST PIN READY TO SHARE