Would you believe that this cute little girls vanity was found on the curb? Yep! I'm normally not one for curbside finds, but my mom called me and says "Carlos (my stepdad) found a vanity on the side of the road and he's going to get it for you." Um, what? My first response was to ask what is it made out of, then what condition is it in. Just because it's furniture does not always mean that it's something that I want to mess with. I admit, that sometimes I get lazy and just don't want to deal with crappy roadside finds. Sorry, not sorry. Luckily, this little girls vanity is quite charming!
Make sure to stick around all the way to the end, its Furniture Fixer Upper time where my fellow furniture painting friends join in and share their projects as well.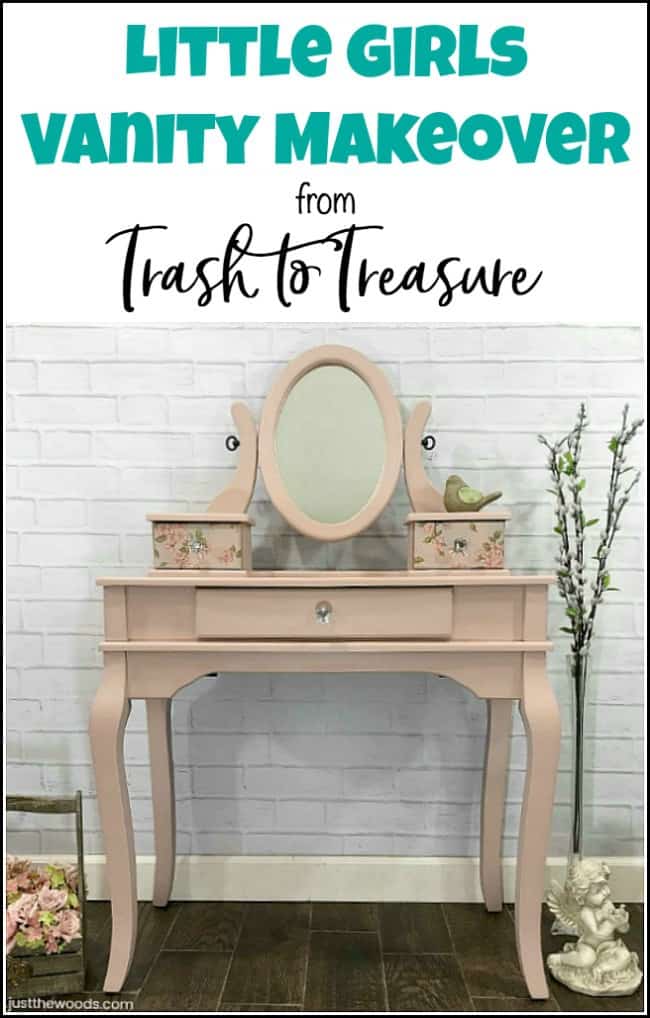 Disclosure: This little girl's vanity makeover post contains affiliate links for your convenience. I may be compensated if you make a purchase after clicking on my links. Click here for my full disclosure policy. 

Tools & Supplies to for your Little Girls Vanity Makeover
Materials Needed / Source List
Curbside Vanity
Since my parents live on Long Island (and I'm on Staten Island) I asked them to send some photos of this vanity so I can at least get a peek at it. From the photos, it's still unclear as to whether the black is the original finish or if someone painted this little girl vanity table or not. But it's cute and small and would be the perfect little girls wooden vanity for my daughter since her current play vanity is made of plastic. 🙂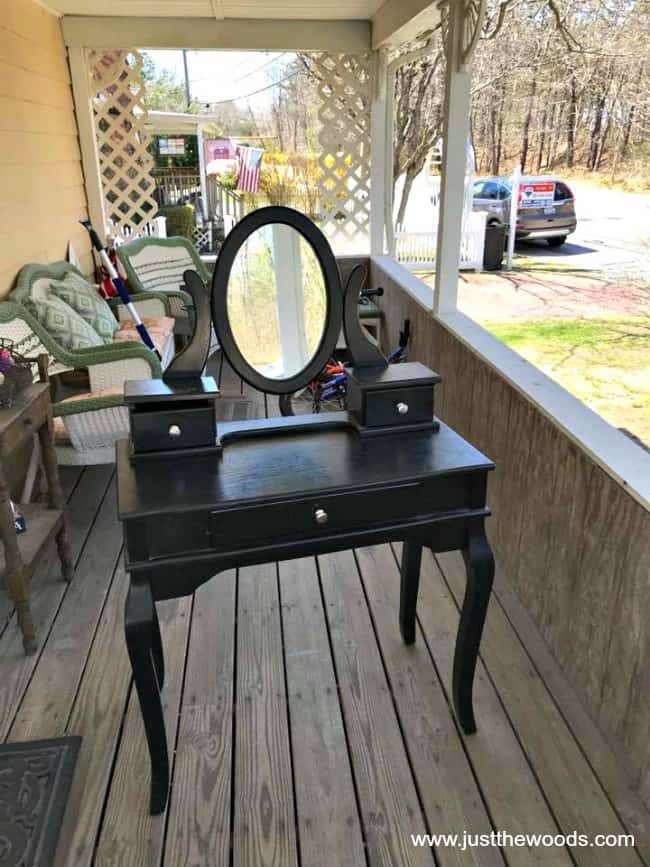 Prepping a Curbside Girls Makeup Vanity for Paint
It just so happens that we have a family party to go to and the meeting point is between mom's and my house. Win! They tossed their find into the trunk and we swapped it to my truck in the parking lot of Dave and Busters. Since it didn't fit in their trunk properly all put together it was taken apart for easier transport. That works out just fine and makes it a little bit easier for me to clean and sand. Piece by piece, I take the girls vanity table out of the truck and scatter the pieces all over the lawn. The sun is shining so why not enjoy it.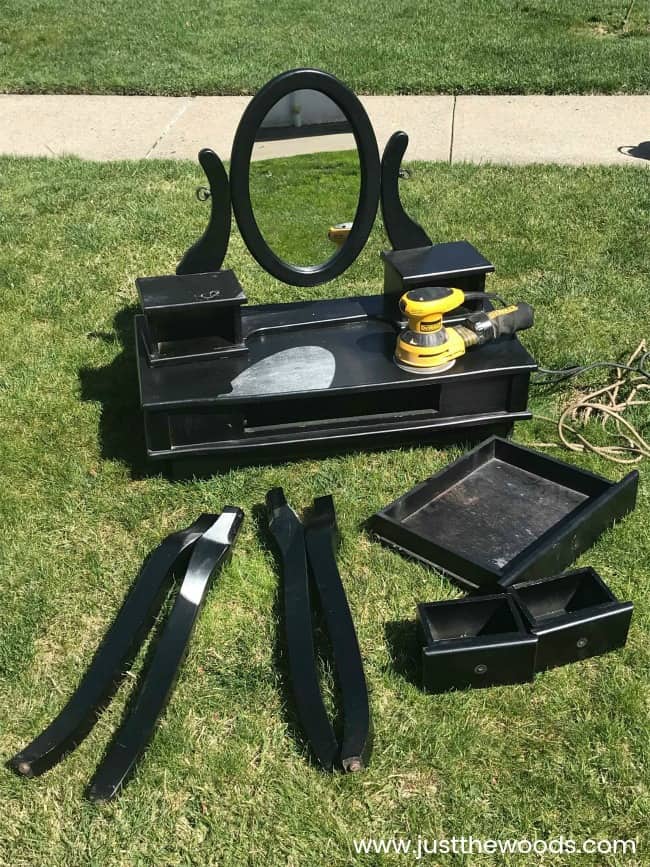 There are a few things to note about the condition of this little girls vanity:
it is a combination of wood and Presswood (we can manage with that)
the vanity has been spray painted black all over
inside of the drawers are pretty gross
there are a few minor repairs needed
The vanity gets a good sanding using my electric sander to remove as much of the black paint as possible. I tend to focus mostly on the top of the vanity table when sanding.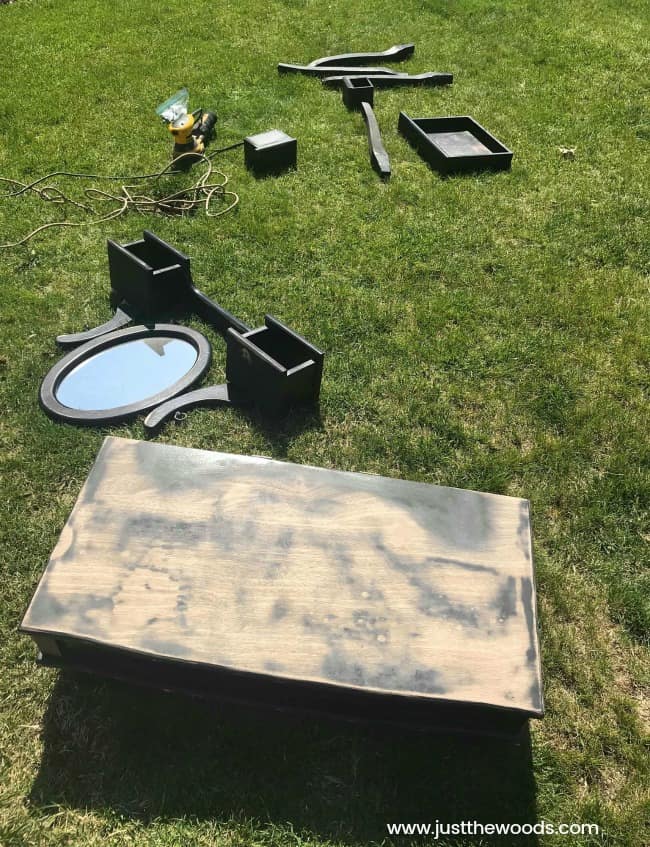 Repairing the Vanity Table – OverKill
The cubbies that hold the small drawers are actually attached to the vanity table. But one of them is falling off and needs to be resecured.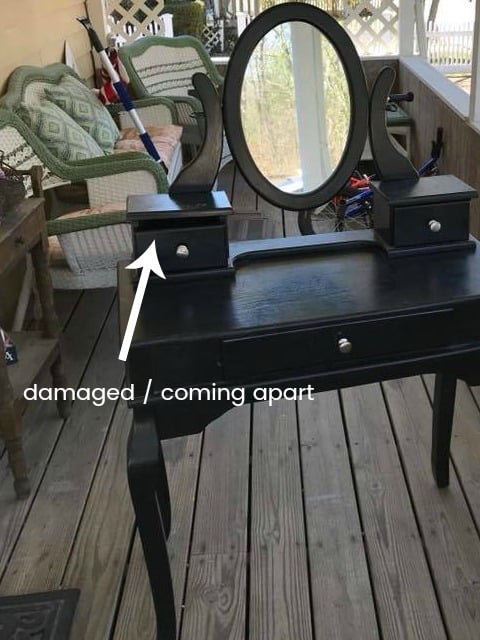 To repair this I grab a pair of pliers to remove the nail that has quit doing its job.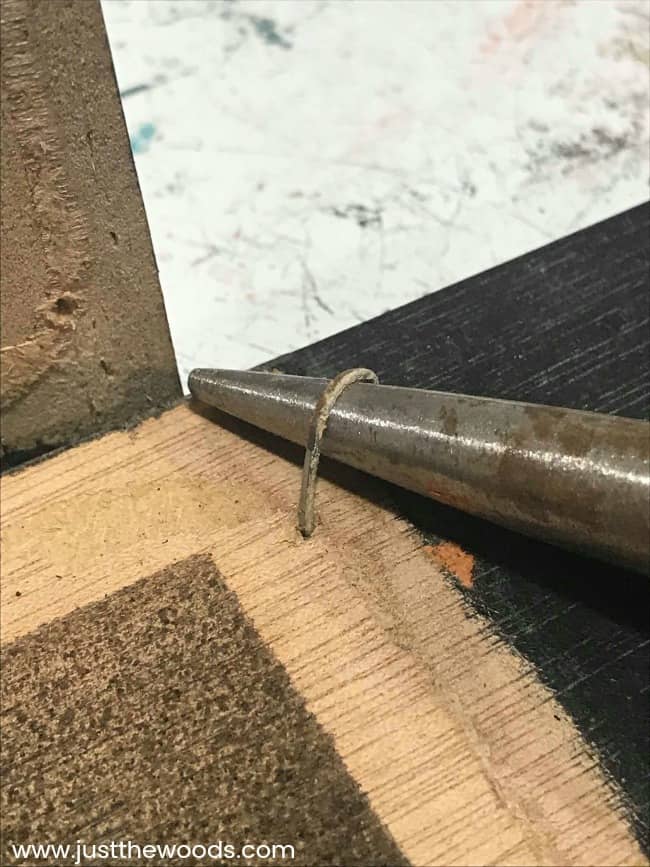 Pull out that quitter nail from the vanity table top.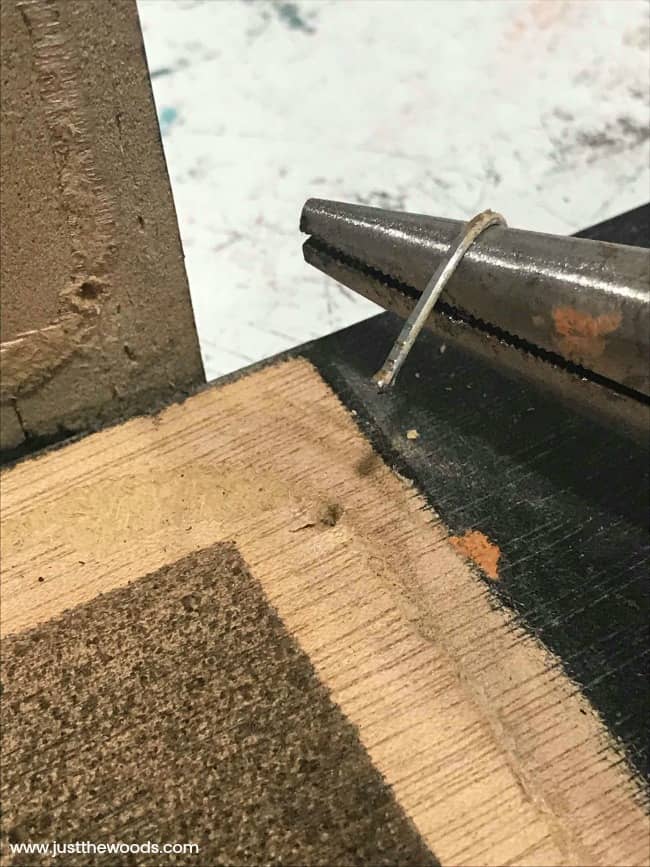 With the nail removed go ahead and apply wood glue. This is the wood glue that I use: wood glue.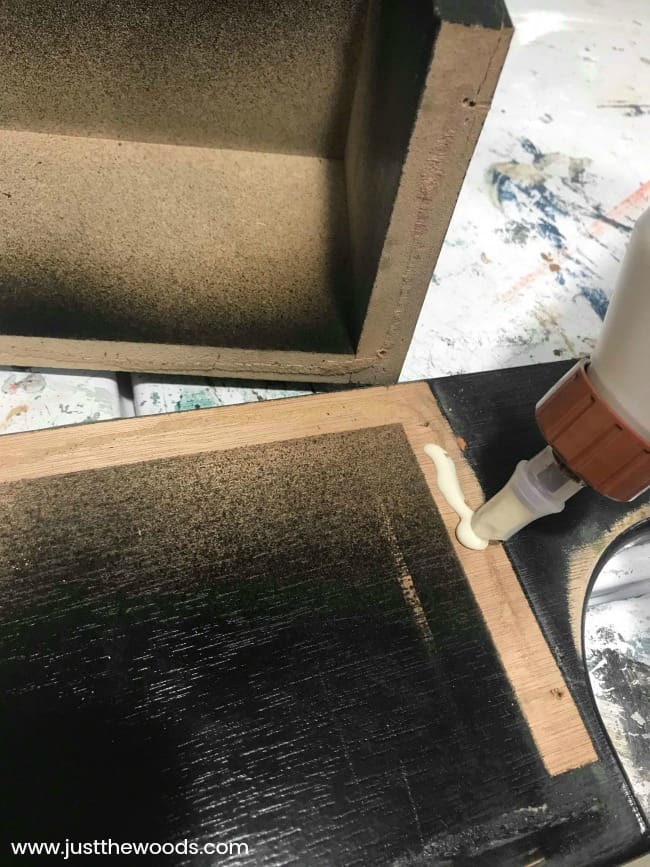 Next, just to make sure that this will never come apart again I take an overkill approach and grab my nailer. I love this thing, it's cordless and you can find one HERE.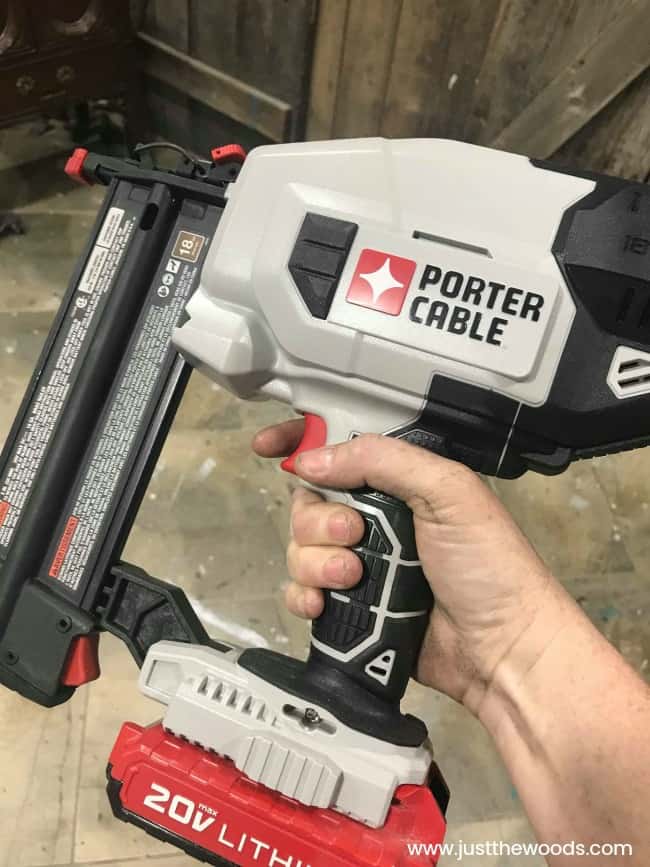 I add 2 nails from underneath the vanity table into the drawer cubbies to make sure that they stay put.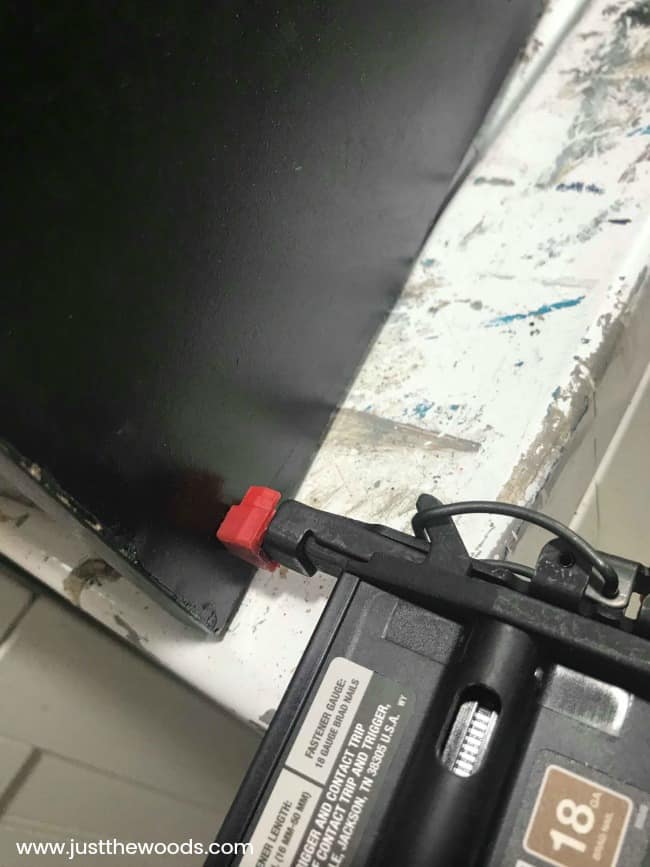 Painting Your Little Girls Vanity
This perfect shade of pink paint is used as a base for my Tall Lingerie Chest makeover and I have been dying to use it again. Not only is Tea Rose a gorgeous pink but it is the best color for a little girls vanity. You can get it HERE.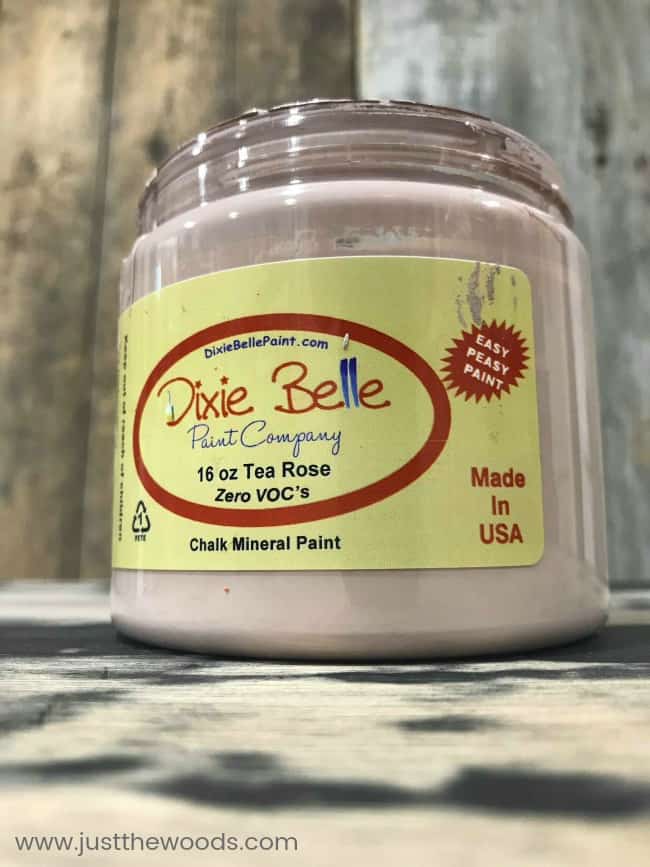 The entire girls vanity set is painted in this pretty pink covering up any evidence of the previous black.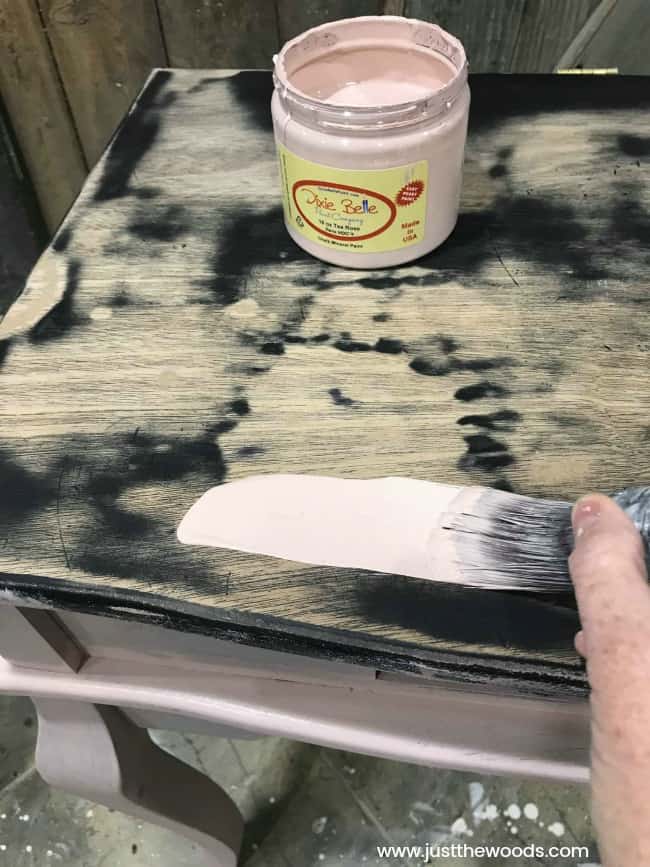 If you are new to furniture painting and want to learn how to update old furniture with paint you can always start at the beginning with How to Paint Furniture – a Beginners Guide.

Remember I mentioned that the insides of the drawers are pretty yucky? Well, inside the drawers is painted in Plum Crazy, which is a fun bold pinky-purple. You can find Plum Crazy HERE.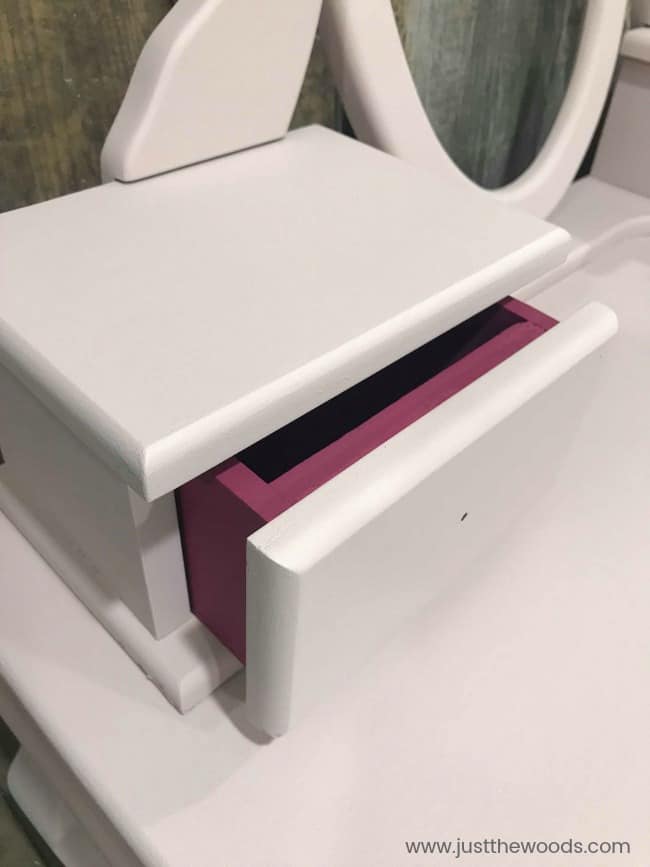 Now that the little girls vanity is all painted it is looking quite pretty in pink. But it needs just a little something more.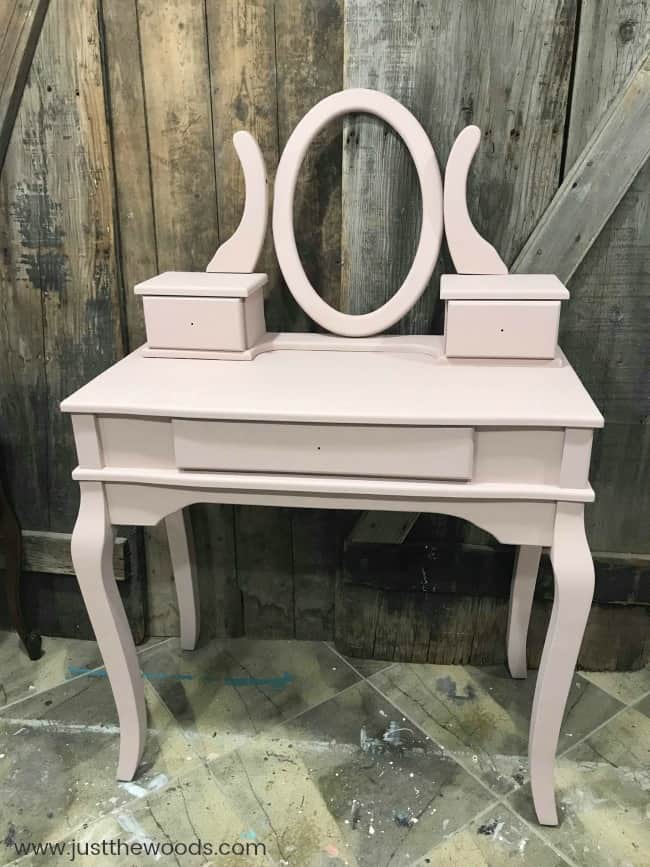 Adding Decoupage Napkins to a Little Girls Painted Vanity
I'm digging into my decoupage stash for a complimenting napkin for the drawers. I don't think I could find a more perfect pattern for this painted girls vanity. All of my decoupage supplies are ordered online, because it's so easy that way lol. This is where I get my decorative napkins for decoupage HERE.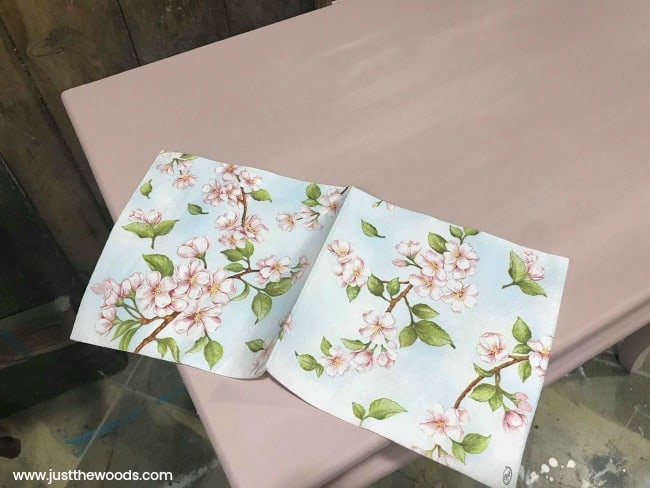 Rather than show you step by step on how to apply the decoupage napkin I am sharing a video. This video actually shows you how things can and do go wrong and it's ok because you just clean it off and try again. I hope this helps.
After all the mishaps and trouble you have to admit that the napkin looks adorable on these drawers!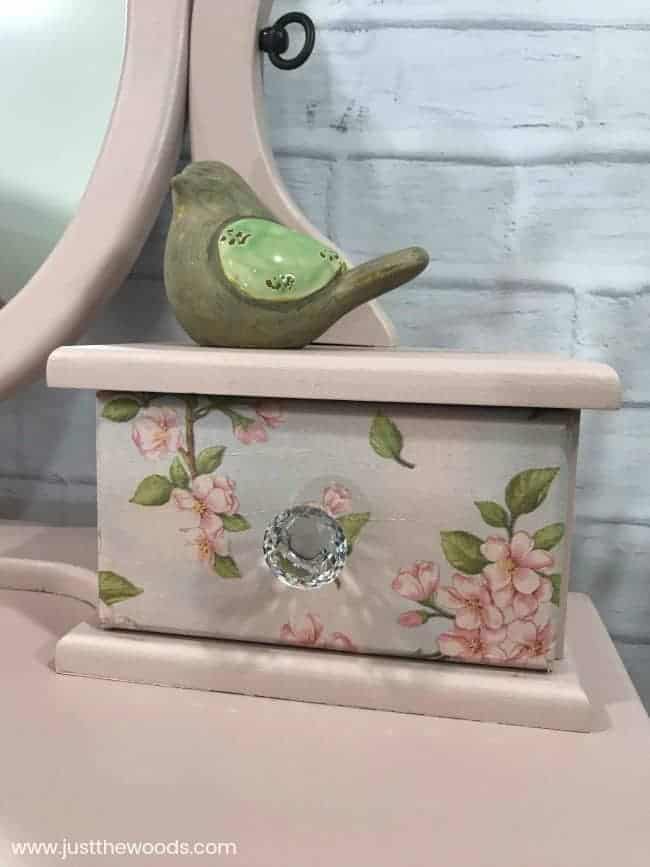 Adding Sealer to Your Painted Vanity
Before adding clear sealer to this pretty in pink little girls vanity I am also adding a subtle pearl glaze for a soft pearl finish. You can find the pearlescent glaze HERE.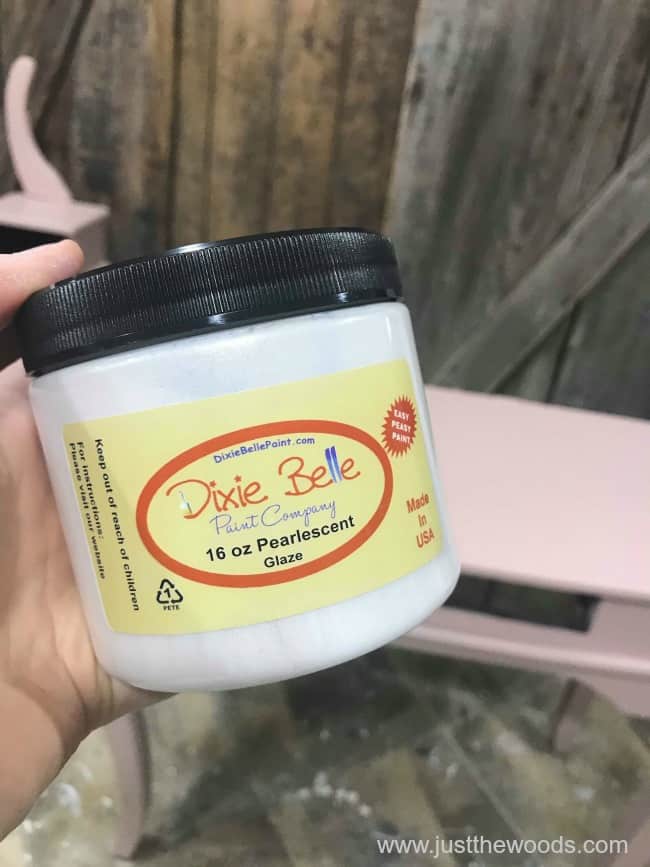 By adding the pearl glaze it creates a very subtle and soft pearl finish over the pink. I even add the pearl over the decoupaged drawers.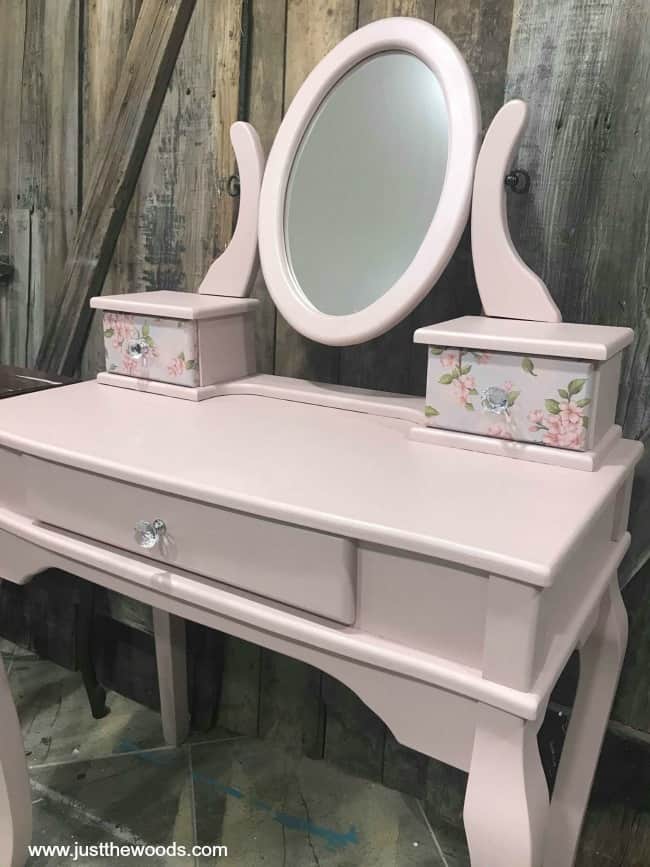 The entire vanity is also sealed using a satin clear coat. You can see how I seal my painted furniture projects in this post with a full VIDEO tutorial: Sealing Painted Furniture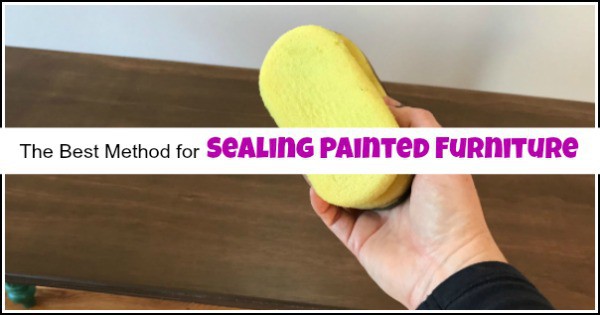 Hardware Update for a Painted Girls Vanity
As you can probably already see I am not keeping the original hardware knobs, but replacing them with clear crystal pulls. They are simple, yet feminine and timeless making them perfect for this little girls vanity makeover. I actually keep an abundance of old and new hardware pulls in an over the door storage bag that hangs on the back of my shop door. But you want to find cute clear knobs like this, you can get them HERE. If you are a super organized kind of person like me, you can get an over the door organizer for your stuff HERE.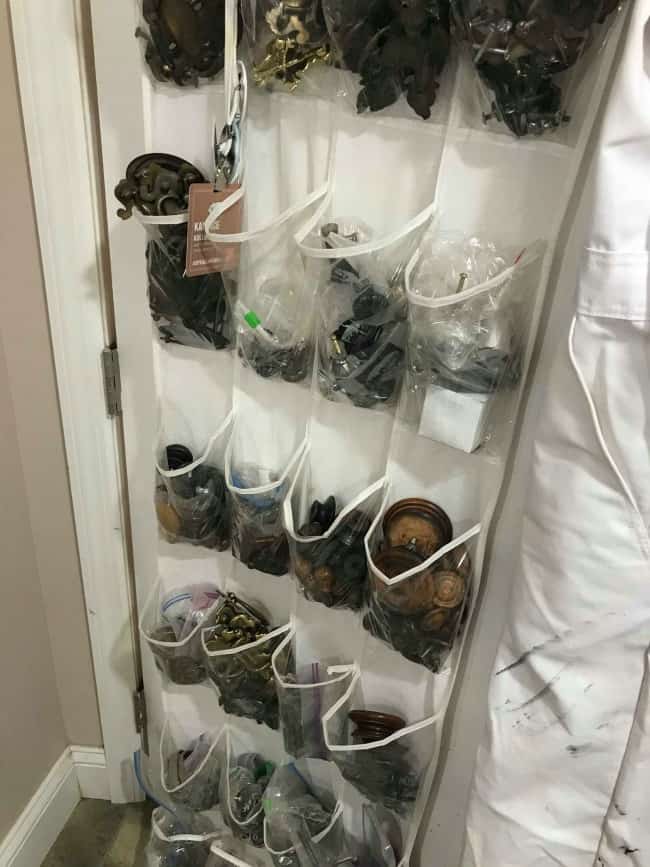 Trash to Treasure Painted Little Girls Vanity
My daughter can't wait to put her things, whatever things a 5-year-old really has on her new vanity.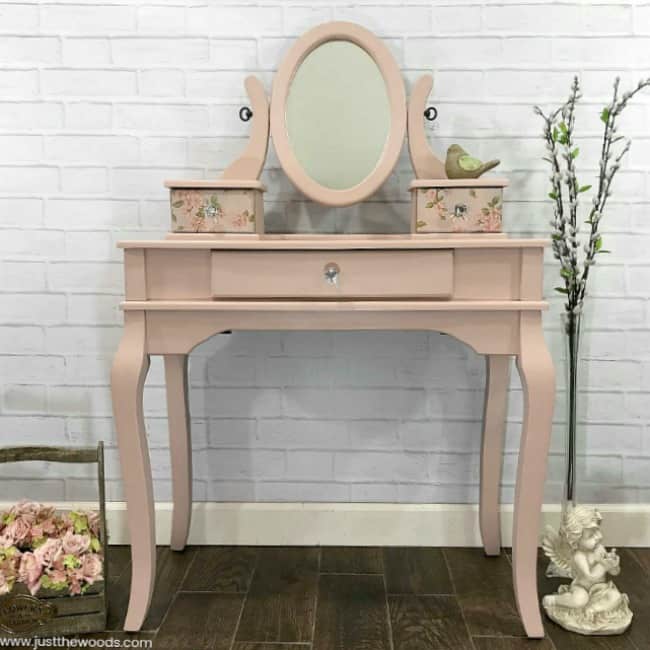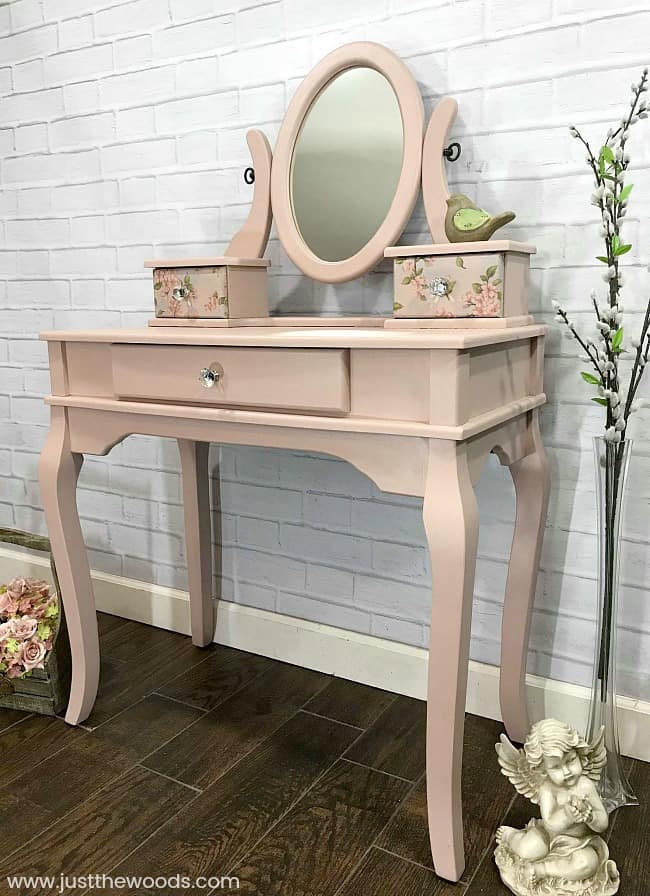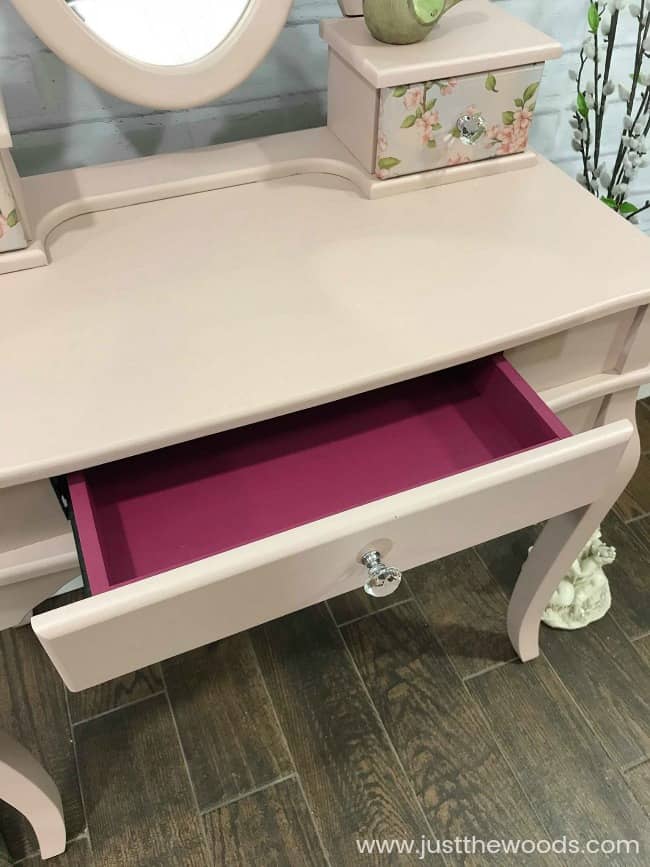 My little one actually asked me if she could decorate her new play vanity with stickers.  Um, NO, ABSOLUTELY NOT! She also managed to steal the chair that goes with my Vintage Leather Top Desk which I will allow until I can find her a little vanity stool of her own. Or maybe grandma will find her one 😉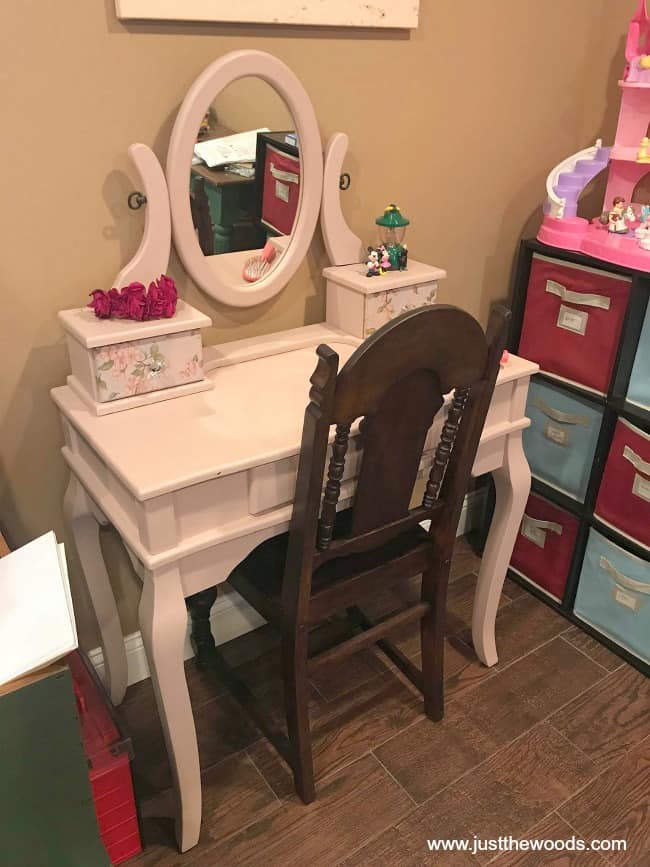 Love these colors? Find tea rose as well as other gorgeous paint colors HERE!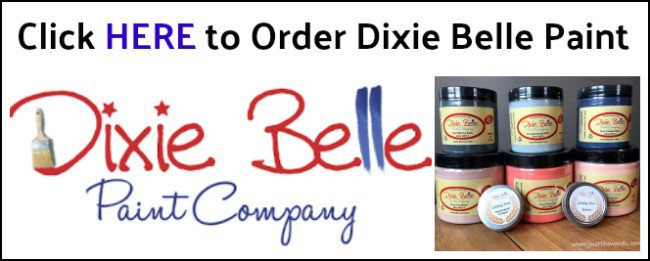 Wait! Don't Go!  It's that time of the month again for:
Furniture Fixer-Uppers
Its that time again where a few of my creative and talented blogger friends and I have joined together in our monthly Furniture Fixer Uppers share. Let's see what my friends are up to! Make sure to click the links below the image to check out all the amazing projects that my bloggy girls are working on this month.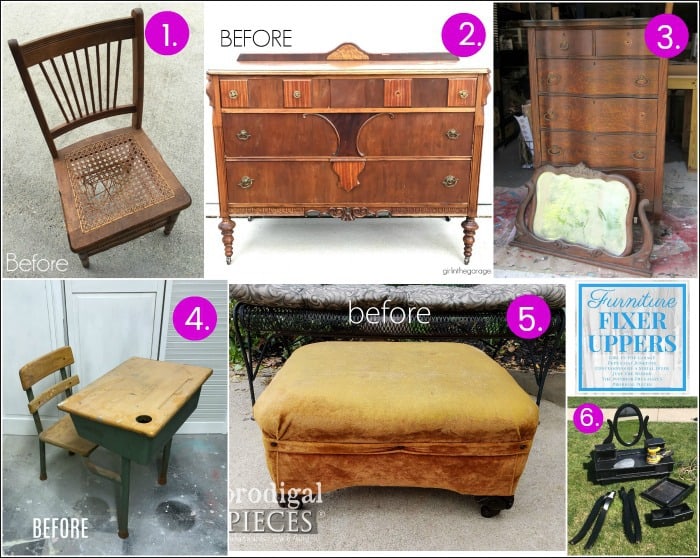 Just the Woods (you are here)
If you like this post make sure to check out all of the tips & secrets that I wish someone told me when I started painting furniture here: Painting Furniture Secrets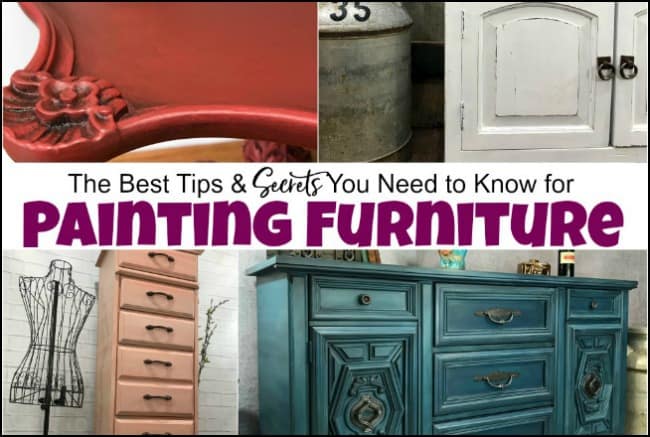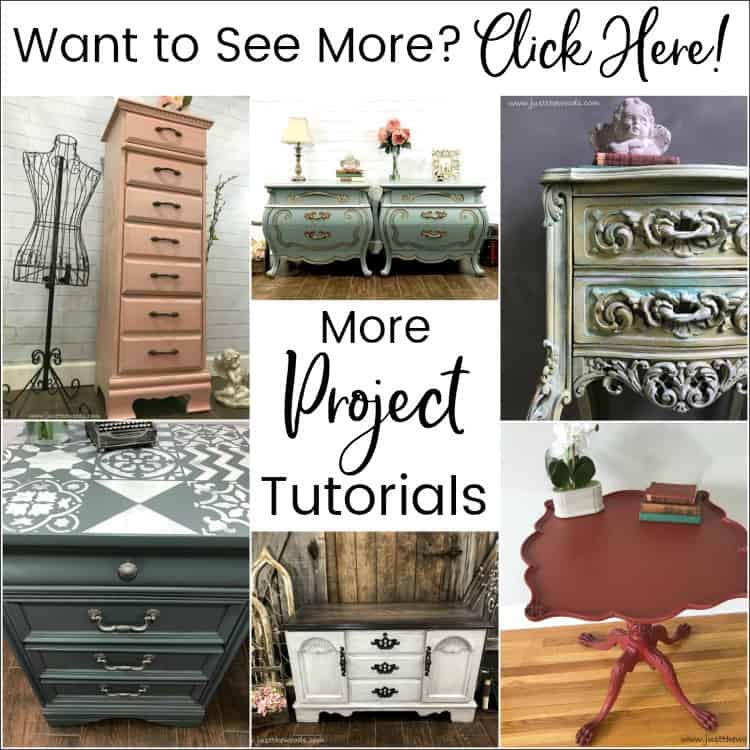 Don't Forget – Follow Just the Woods and Share this post to Inspire others:
FACEBOOK  *  INSTAGRAM  *  PINTEREST
Subscribe to our mailing list here: