When you want to paint a wooden rocking chair you really need a paint sprayer. Well, you don't need one the way you need food and oxygen but it will certainly make your life easier. A paint sprayer will also make painting spindles easier. If you have ever had the pleasure of hand painting spindles than you know that its right up there with (insert something that you absolutely hate here) 😉 But painting a rocking chair, especially painting a wooden rocking chair with spindles does not have to send you into hysterics. This project will show you how to paint a rocking chair with spindles the easy way.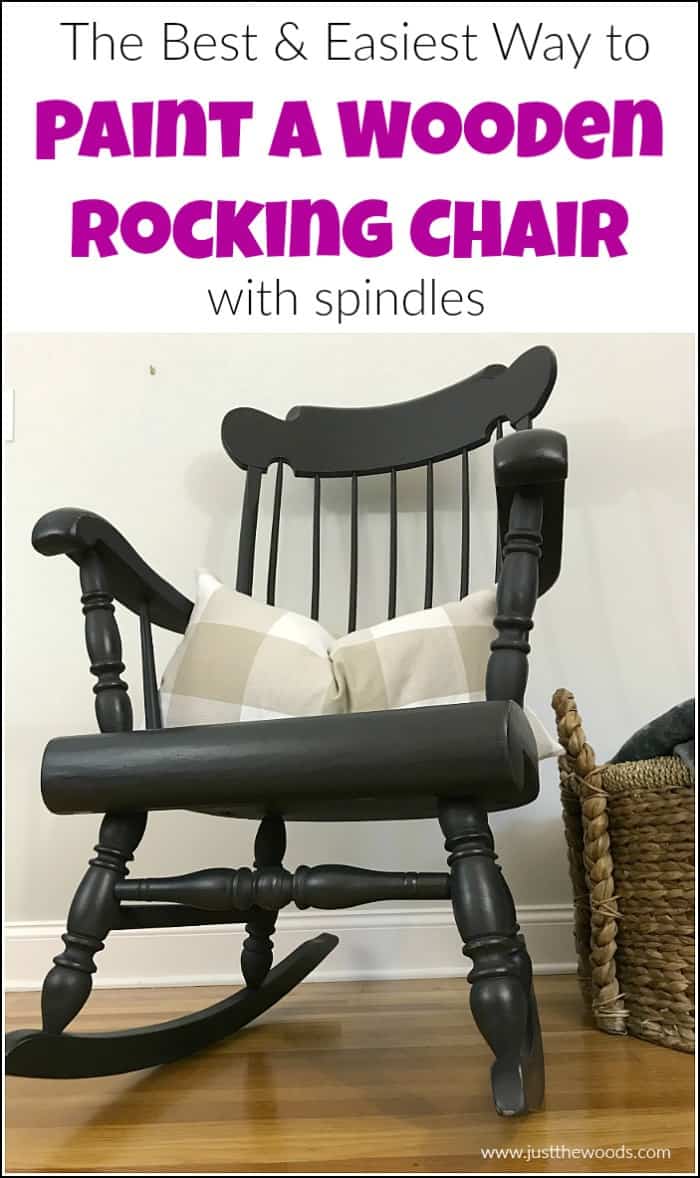 Disclosure: This how to paint a wooden rocking chair post is sponsored by HomeRight. This post contains affiliate links for your convenience. I may be compensated if you make a purchase after clicking on my links. Click here for my full disclosure policy. 

Supply List for Spray Painting a Wooden Rocking Chair
What You Will Need 
Tools
HomeRight Products
Paint
Unfinished Wooden Rocking Chair
For starters, this wooden rocking chair is actually rather beefy! It is custom and has been in my customers family for quite some time.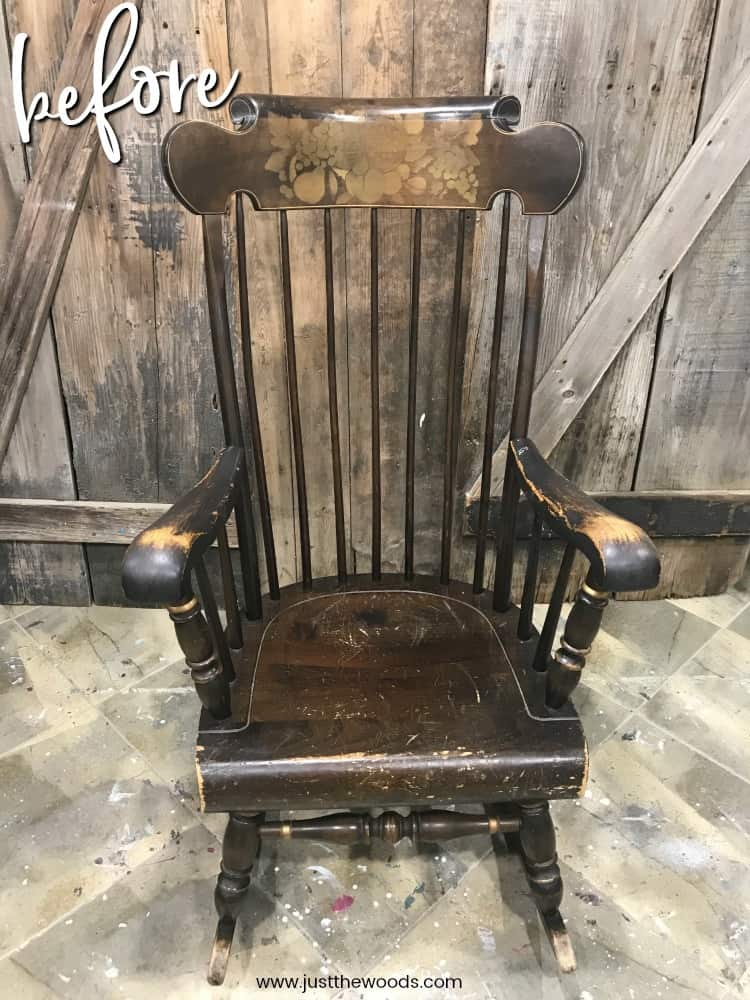 The rocking chair is solid wood but has some dents, dings, scratches and wear as most old furniture does. Here are the scratches on the seat for example.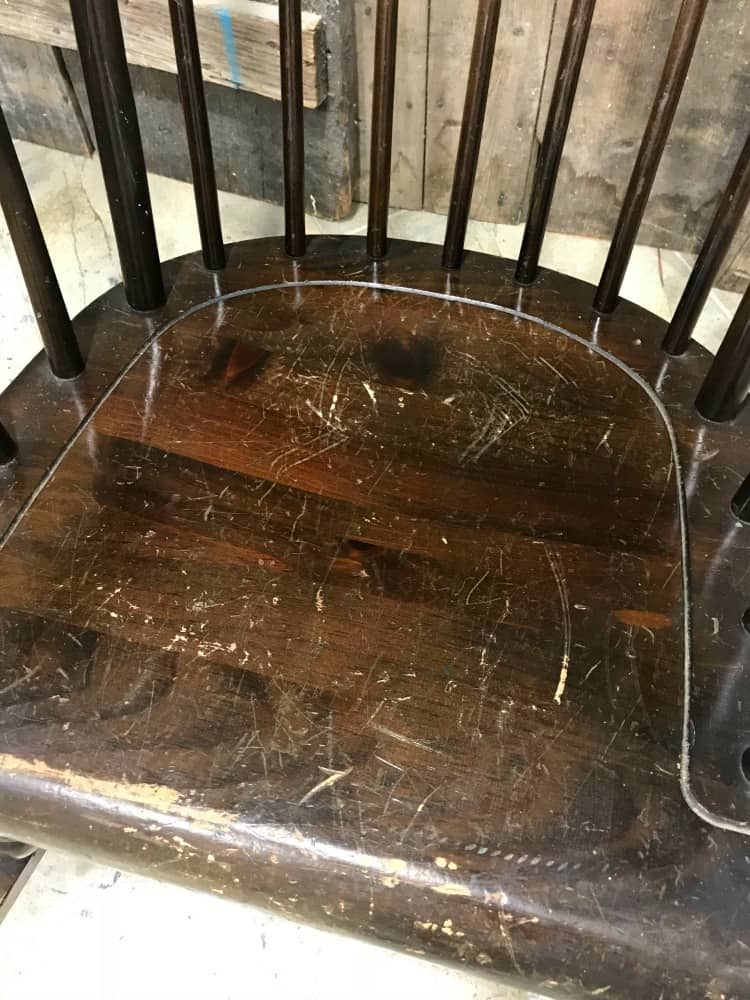 Prepping a Wooden Rocking Chair for Paint
Before we can paint our rocking chair we need to clean and prep for paint.
Sanding a Rocking Chair Before Paint
The first thing to address is the scratches and gouges in the wood. To do this we need to break out the electric sander. I love my Dewalt sander, you can get one online HERE. And if you are wondering how I manage to sand indoors (my shop is in the basement of our home) then make sure to check out my Tips & Secrets for Painting Furniture.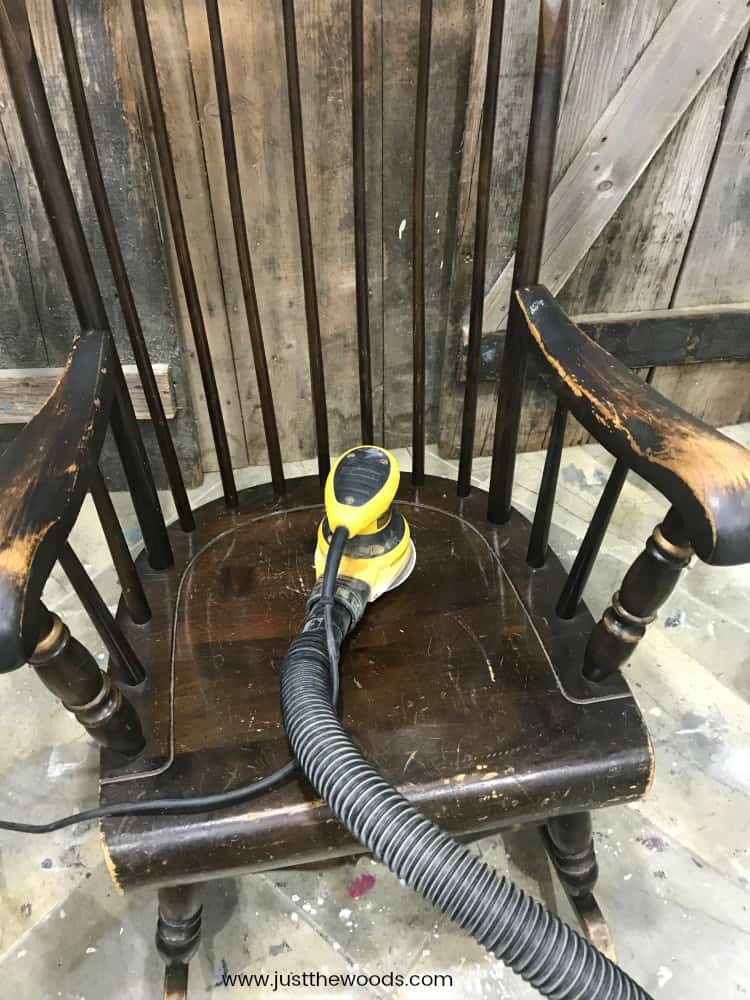 Use the orbital sander to smooth out the dents, dings and any other damage. I use this sander primarily for the flatter surfaces of the wooden rocking chair.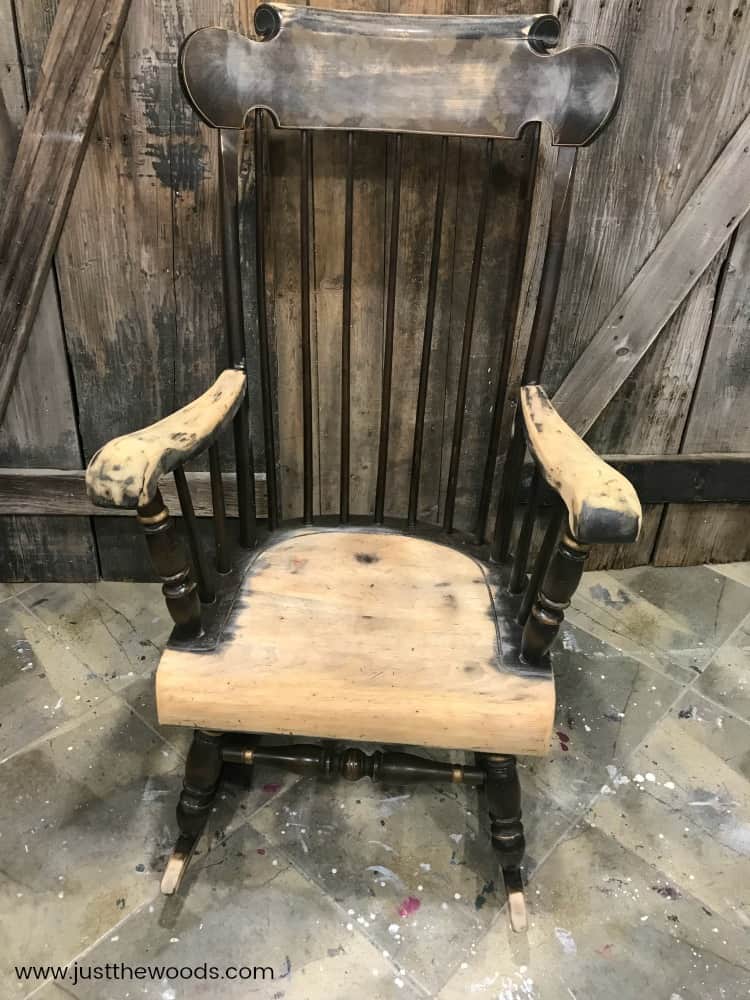 Next, with standard paper or flexible sandpaper give the rest of the wooden rocking chair a sanding.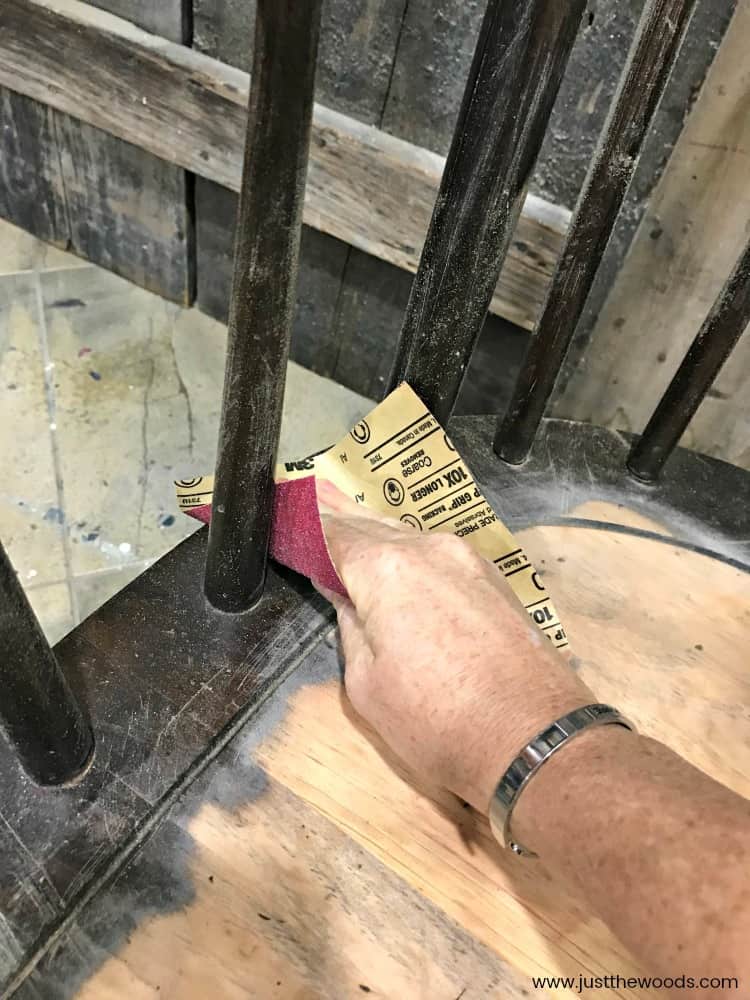 Don't forget those pesky spindles.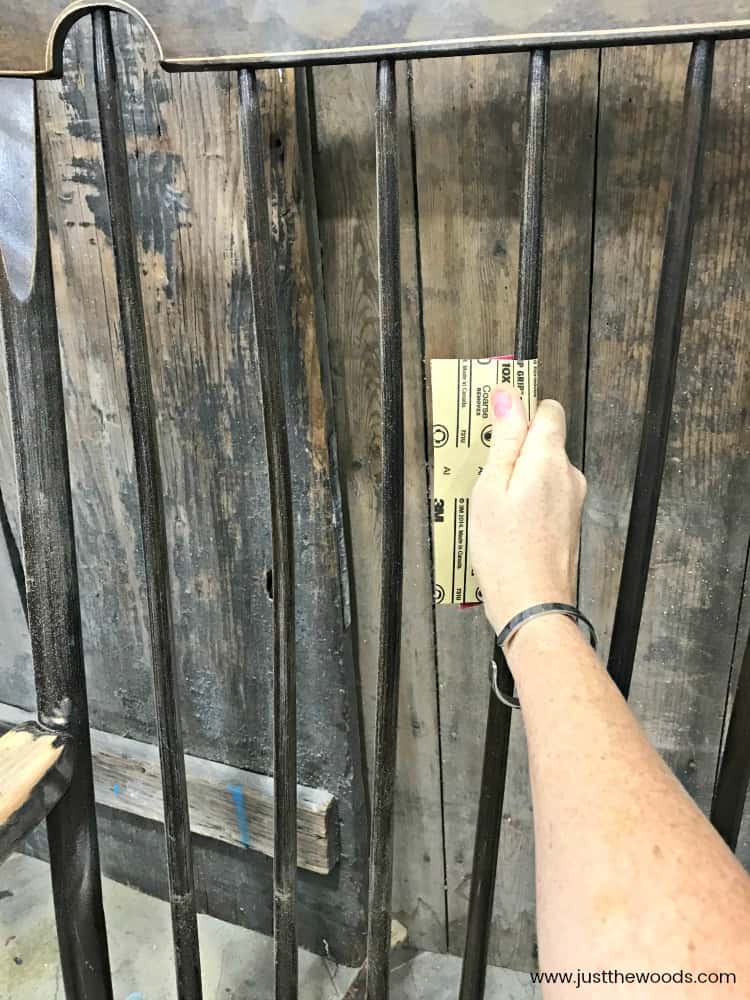 Your scratches and damage are looking much better by now.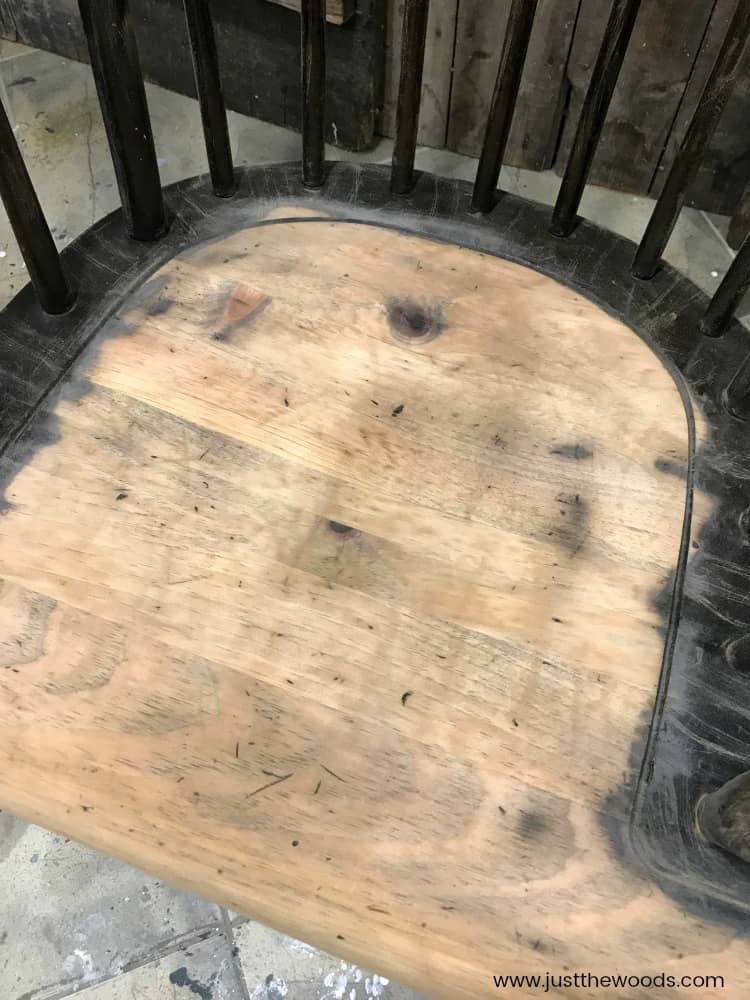 You will want to also lay the rocking chair down to get the underside and areas that you may miss with it standing upright.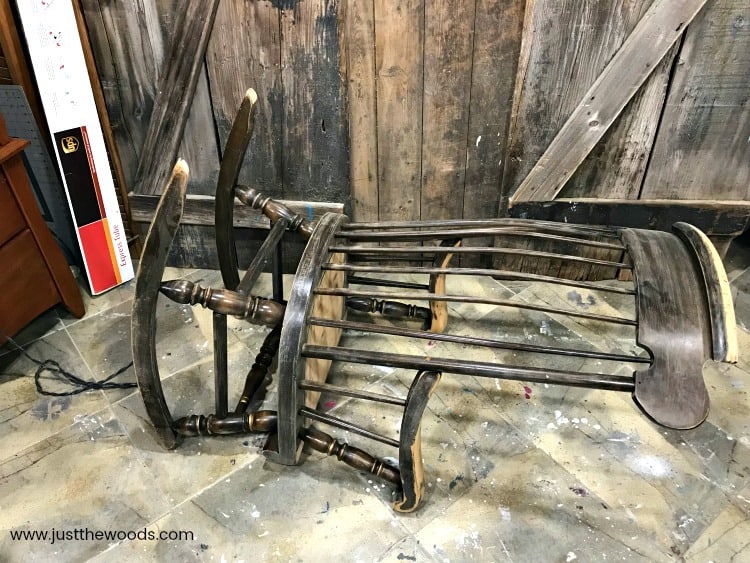 Cleaning the Wooden Rocking Chair Before Paint
Next, we need to clean the surface of the wooden rocking chair. This is my standard process for How to Clean and Prep Painted Furniture. After sanding, you need to grab an old sponge to clean the piece of furniture. If there are nooks, or and crevices of any kind grab an old toothbrush and make sure to clean and remove any dirt, grime or dust from those areas as well.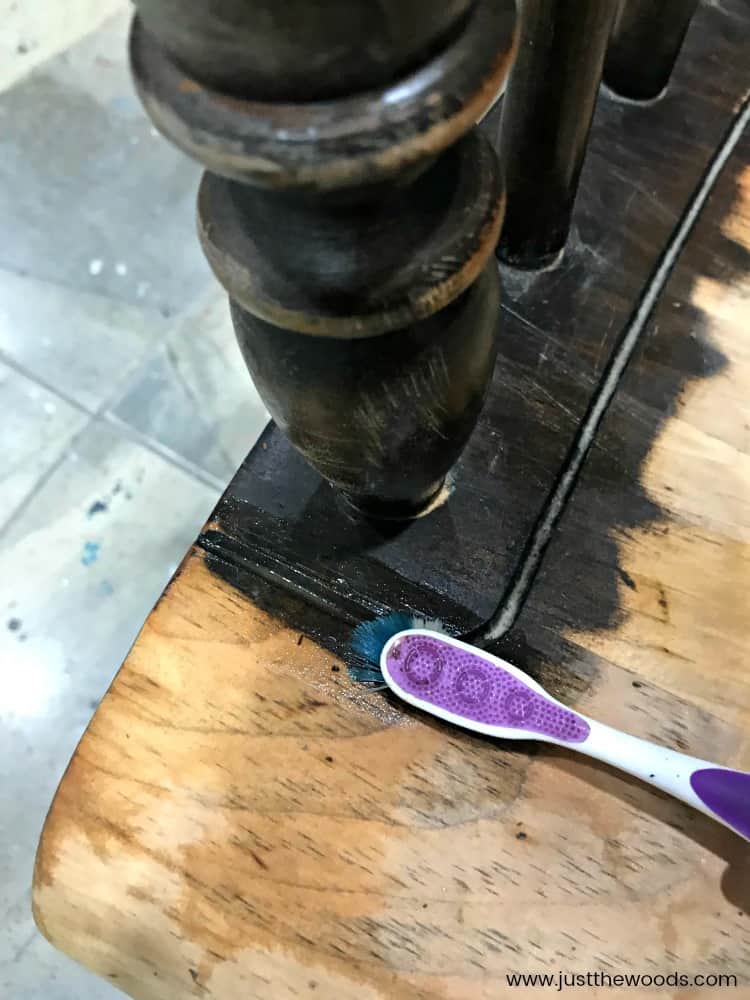 By the time you finish, the water might be pretty gross. But we want to paint the wood and not the dirt which is why a proper prep is important.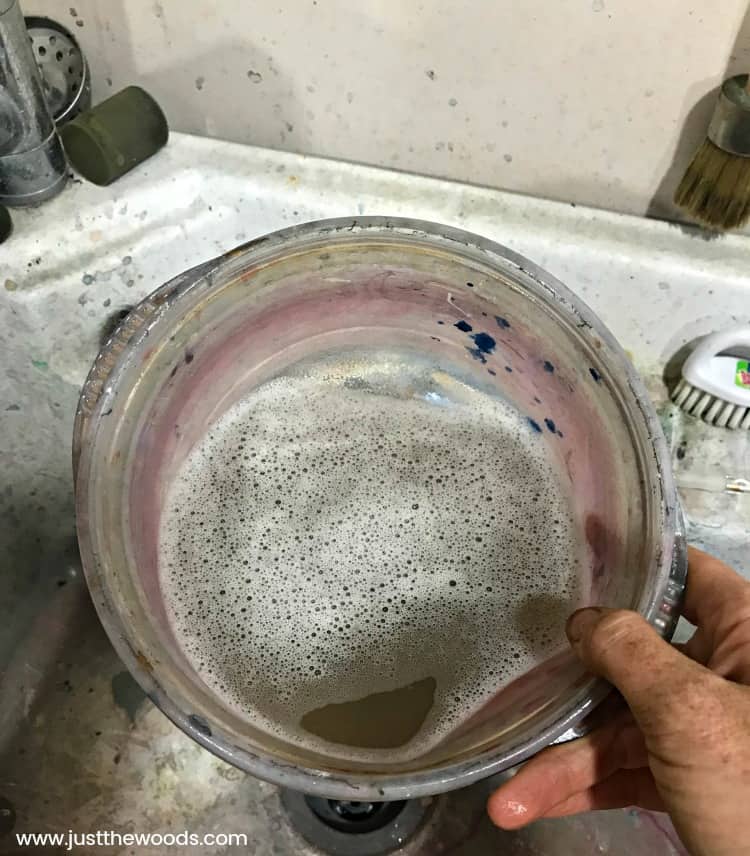 You wooden rocking chair is sanded, prepped, cleaned and ready for paint. 
How to Paint a Wooden Rocking Chair
Now its time for paint and yes, we will be painting this rocking chair indoors. Lucky for me, HomeRight makes a great indoor paint sprayer and spray shelter. Being able to spray paint spindles and do it indoors is a win-win. If you don't already have a Finish Max Extra paint sprayer you can get one online HERE.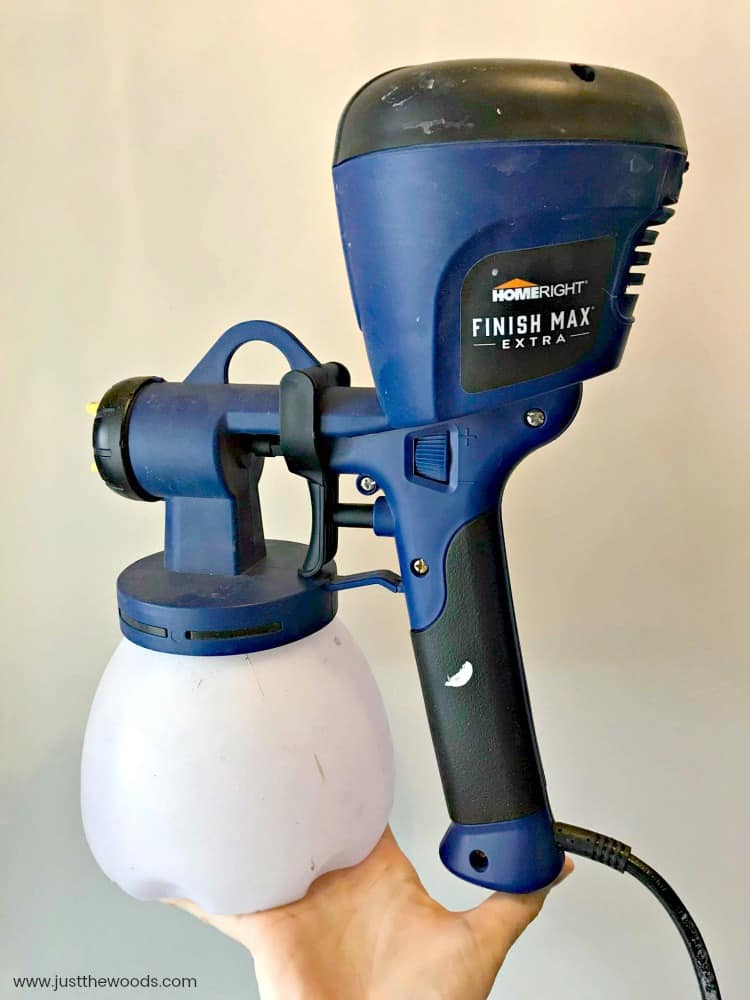 The fact that this beefy and slightly large wooden rocking chair fits in my spray shelter is going to make this project so much easier! You can get one of these spray shelters online HERE. They come in different sizes, I am using the medium.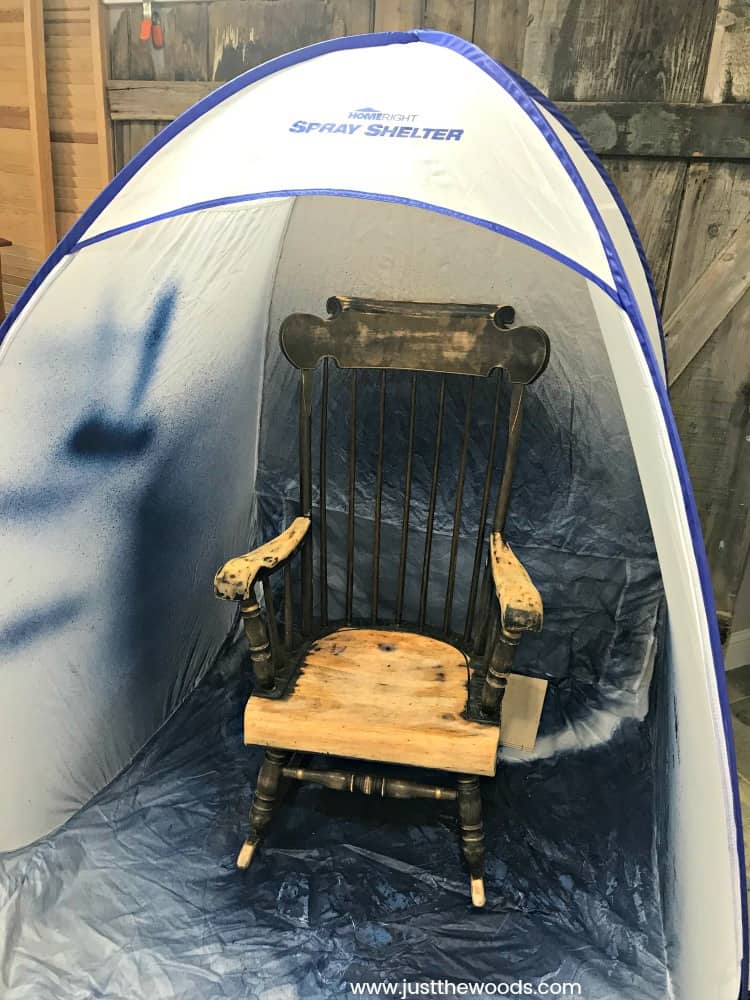 As you can see, I made quite a mess with blue paint while working on my previous project (you can find that project here: Blue Painted Table) So, I'm laying down a few pieces of scrap wood as a precaution. I don't want to take any chances of blue paint transferring onto my wooden rocking chair makeover.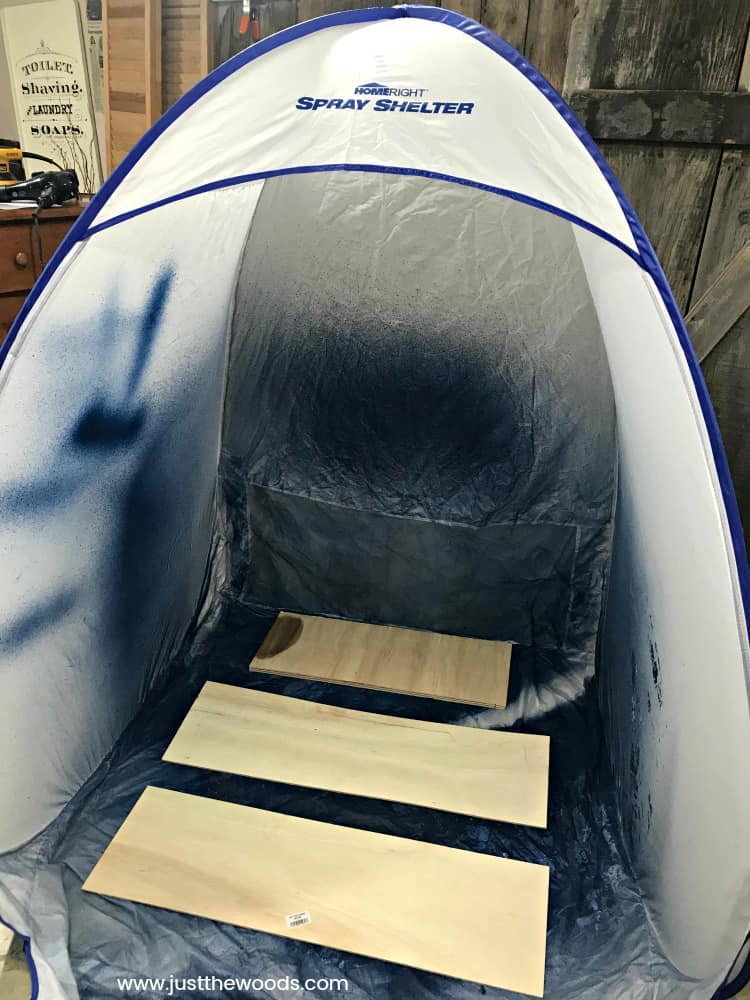 Next, let's lay the wooden rocking chair down so we can paint the underside first.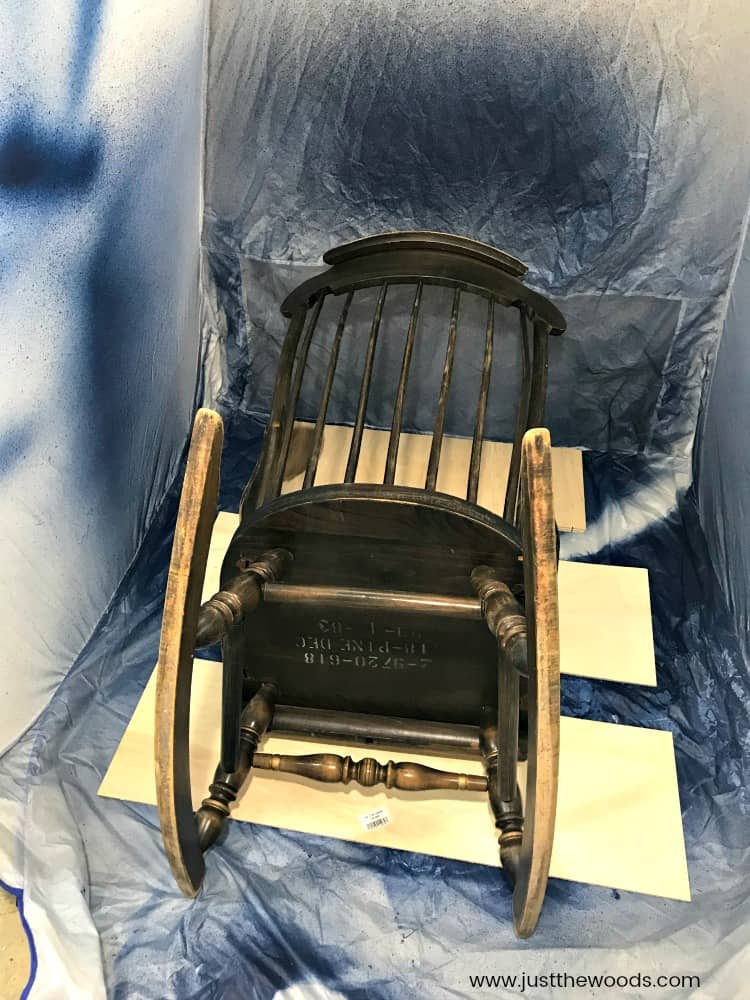 Now go get your HomeRight Finish Max paint sprayer. As I mentioned, I am using the Finish Max Extra.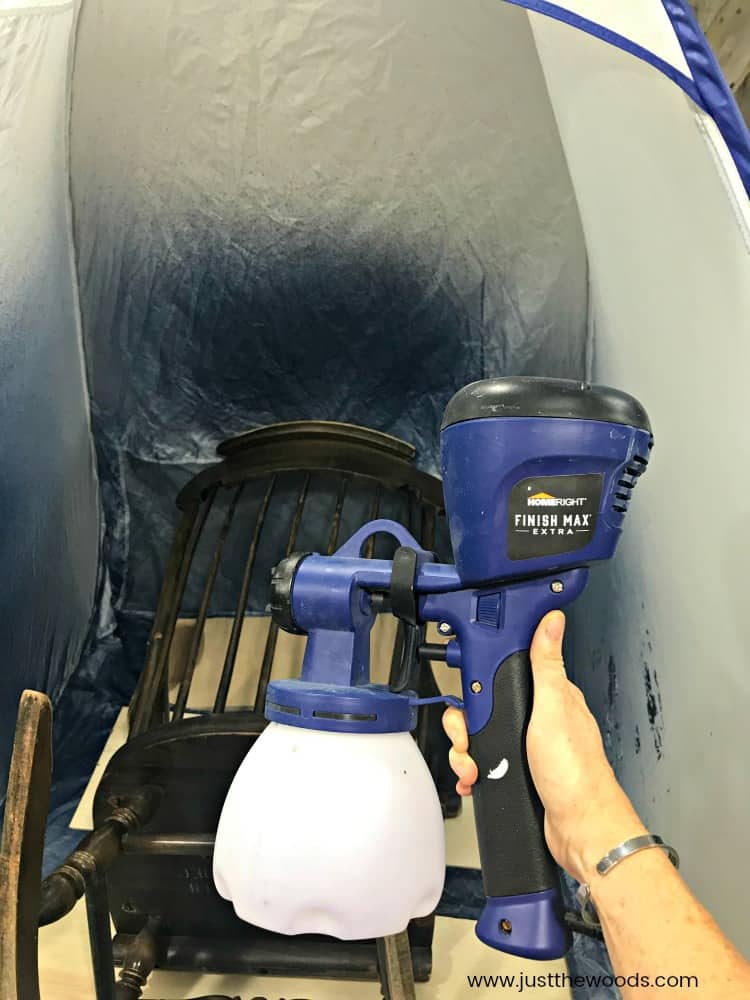 Click here to Pin this post for later.
Adding Paint to Your Paint Sprayer
We are going to paint the wooden rocking chair in a charcoal black called Midnight Sky by Dixie Belle. This same color can also be found on this Rustic Coffee Table Refinish. It is not a true black, but more of a charcoal. If you want a true black you will want to use the color 'Caviar'. You can get these both as well as others online HERE.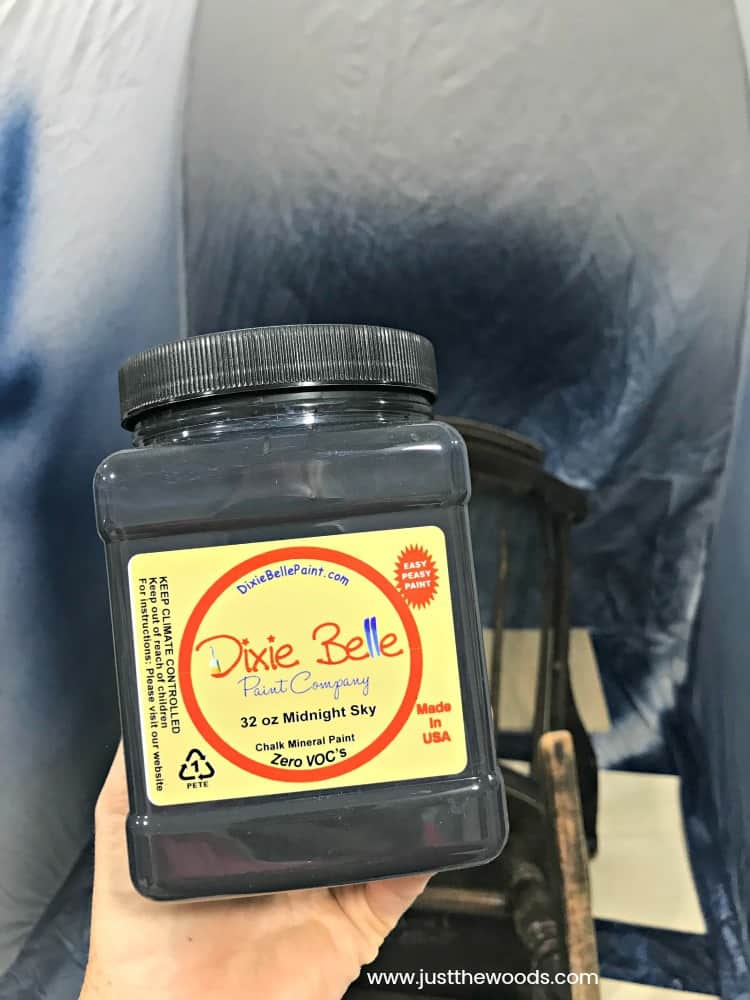 Go ahead and pour your paint into the canister of your paint sprayer. Depending on which paint sprayer and type paint you are using you may or may not want to dilute your paint a little. Typically, I do not use a specific formula but aim for a consistency equal to that of yogurt.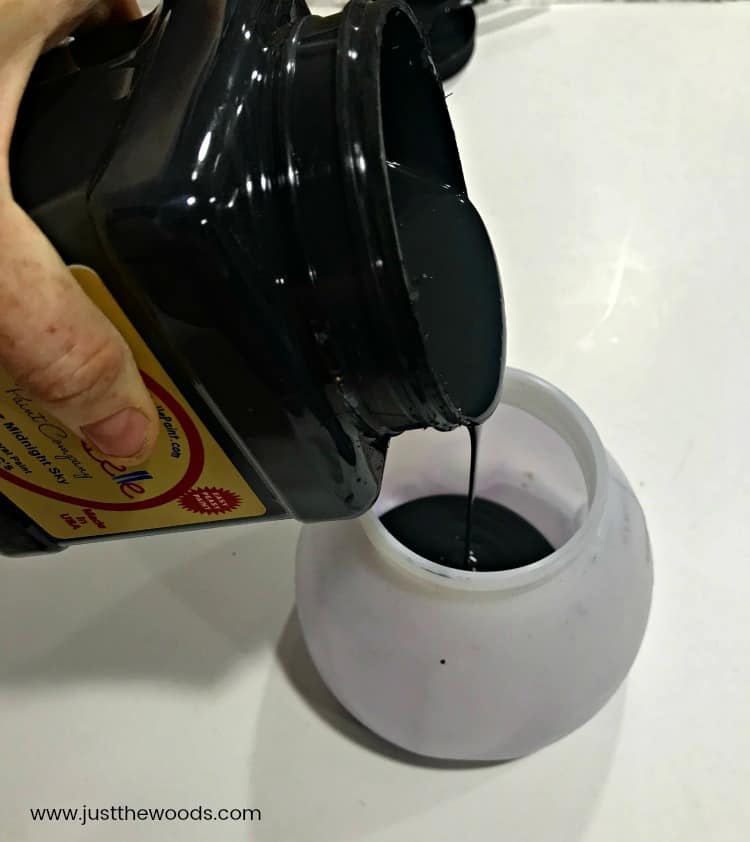 If you are new to furniture painting and want to learn how to update old furniture with paint you can always start at the beginning with How to Paint Furniture – a Beginners Guide.

Video Tutorial for How to Paint a Wooden Rocking Chair with Spindles the Easy Way
Here is a video showing you how to paint a rocking chair with a paint sprayer.
The paint sprayer makes painting rocking chair spindles so much easier and faster. This would take three times the amount of time with a brush. An added bonus to painting a rocking chair with a paint sprayer is – no brush strokes!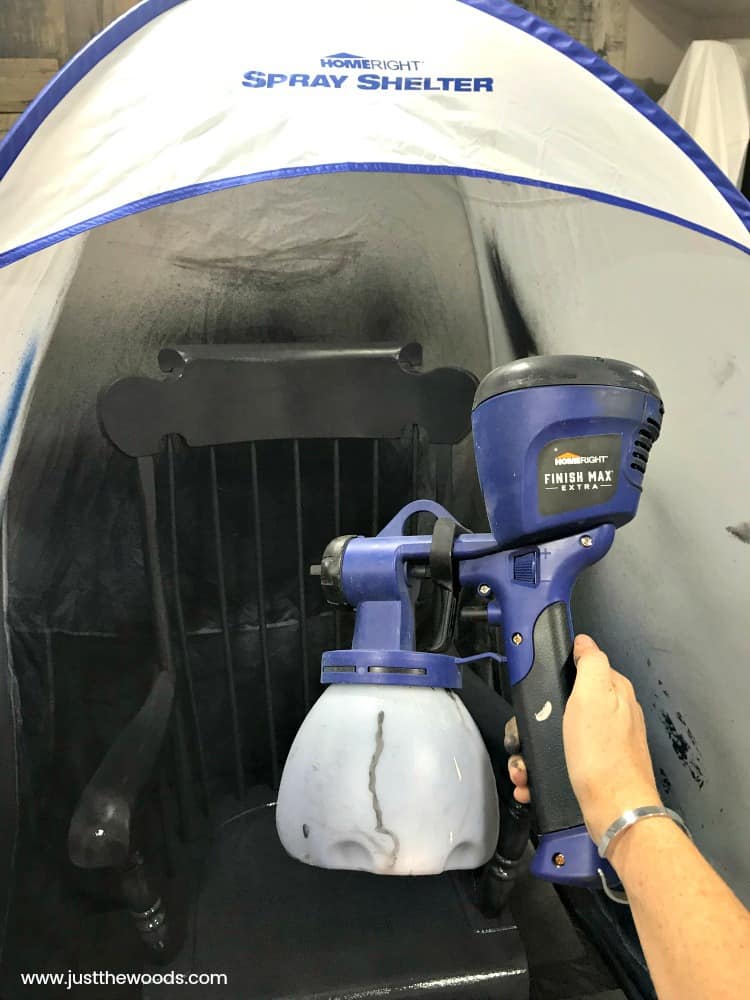 Distressing a Painted Rocking Chair
Not shown in the video above is that the painted wooden rocking chair is lightly sanded in between coats for a smooth finish.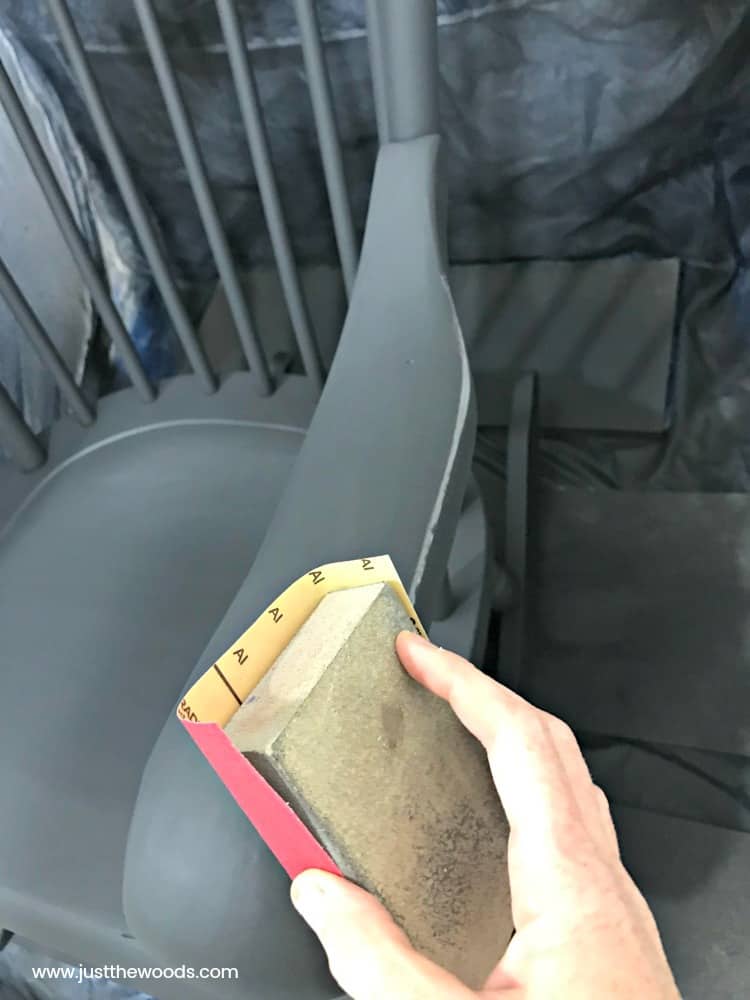 While lightly sanding your painted rocking chair just add a bit more pressure along the edges to distress where the paint would naturally distress over time. 
By the time you finish, you should have lightly sanded all over the painted rocking chair. It may look a little scary, but don't worry.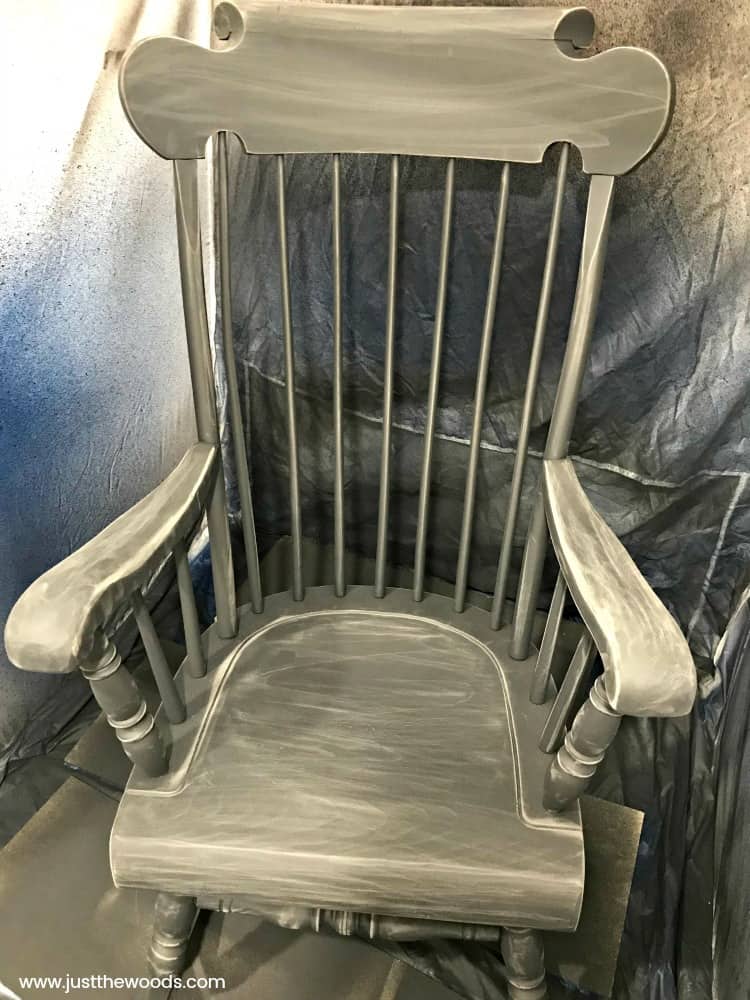 Make sure to wipe away the sanding dust with a lint-free cloth once you finish sanding. You do not want to leave that on your painted rocking chair when we apply the sealer. I keep an abundance of lint free cloths in my shop for things like this. These are the ones that I use HERE. I throw them in the wash as needed and so far they have lasted me a few years.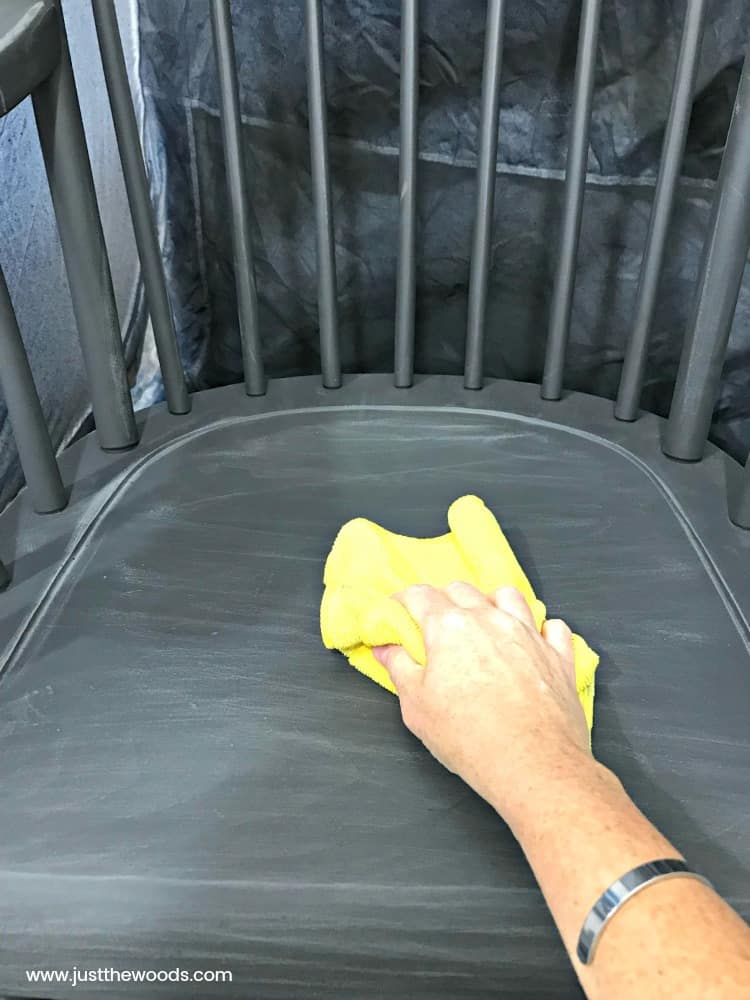 Sealing Your Painted Wooden Rocking Chair
I do show you in the video above the sealing process, but in case you didn't watch to the end (I don't blame you, it was a bit lengthy 😉 ) we will go over it again here. We are sealing with Dixie Belles clear flat sealer.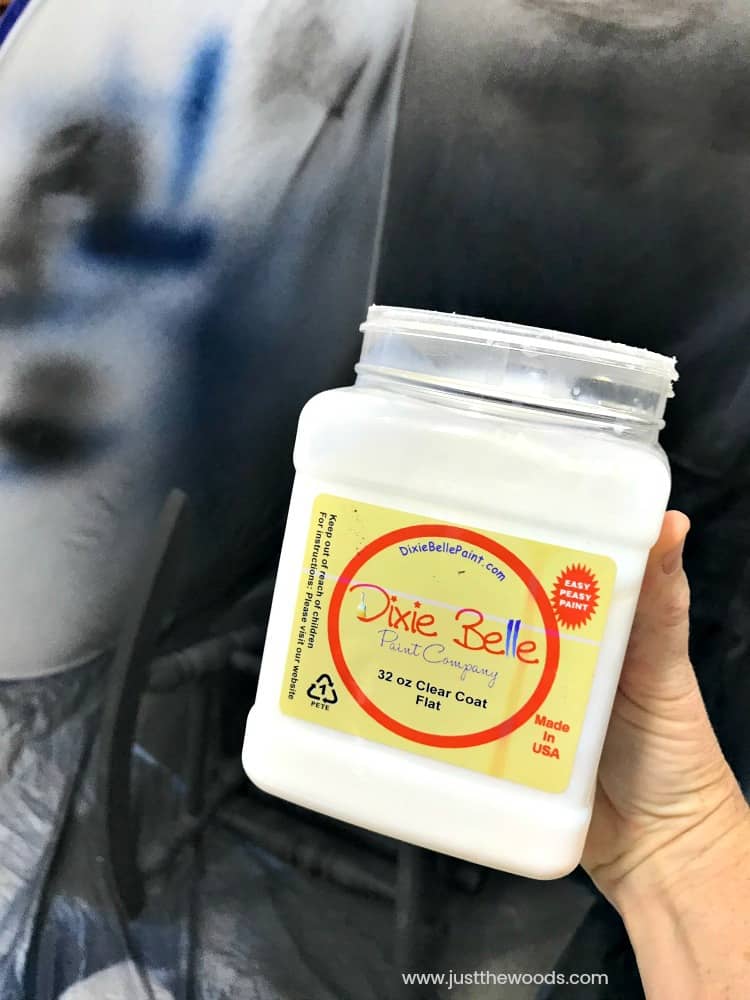 When painting furniture, whether a painted rocking chair or something else, you can tint your clear sealer. To do this simply add a small amount of your paint color in with your sealer. Make sure to mix it well.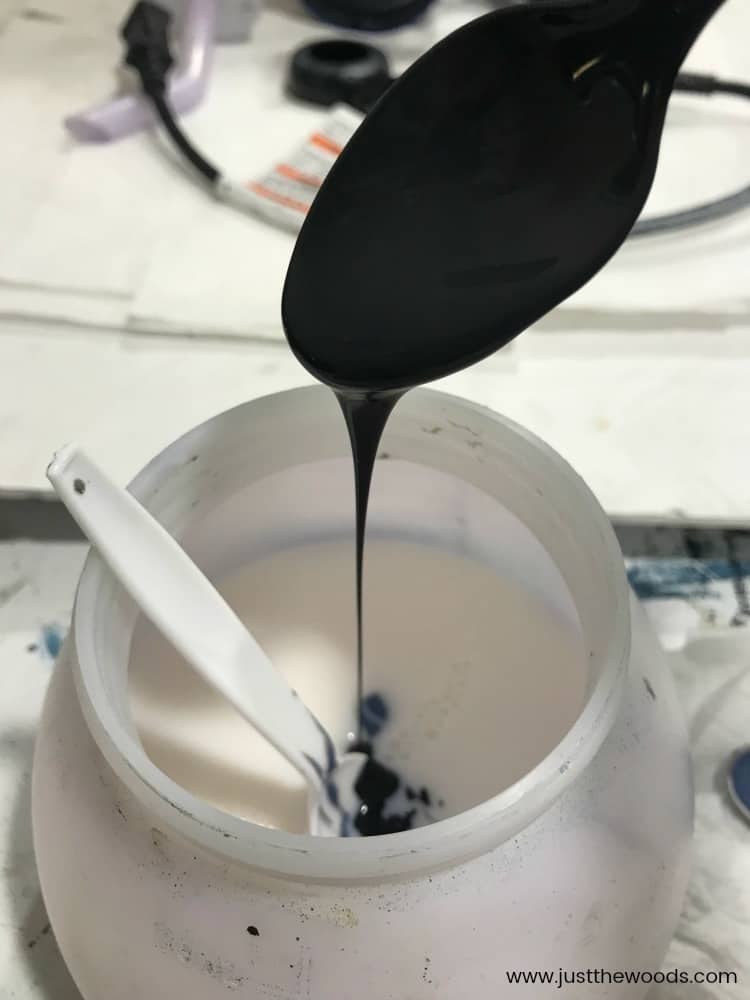 By adding a small amount of Midnight Sky in with the clear sealer we now have a tinted sealer to match our painted rocking chair.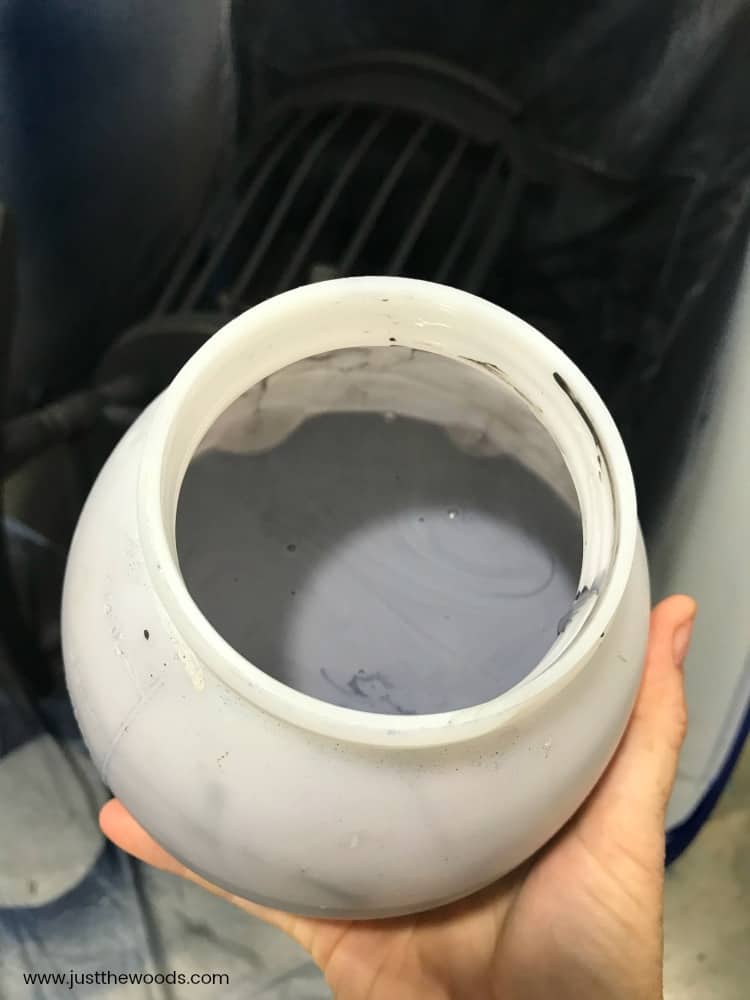 Click here to Pin this post for later.
I actually did not plan on sealing this painted rocking chair at the time, but you know how it is when you get a window of opportunity. Jump on it! Here is my jumping on that opportunity and getting the painted wooden rocking chair sealed… not wearing paint clothes lol 😉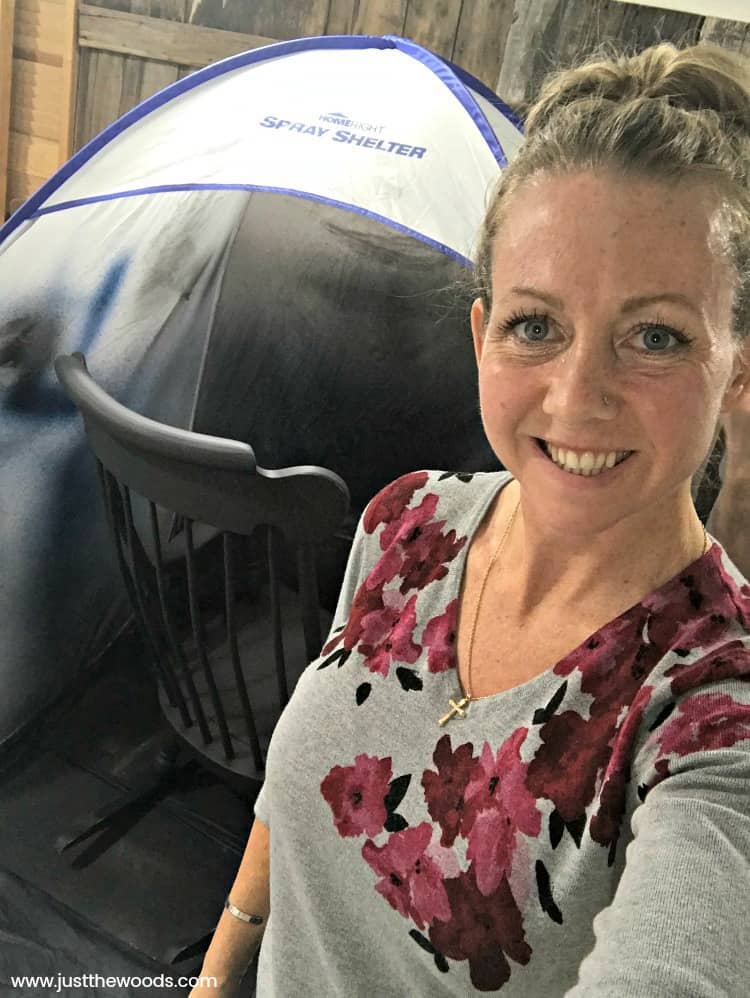 If you have questions about sealing your painted furniture project you can find a full tutorial with video on how to apply clear sealer here: Sealing Painted Furniture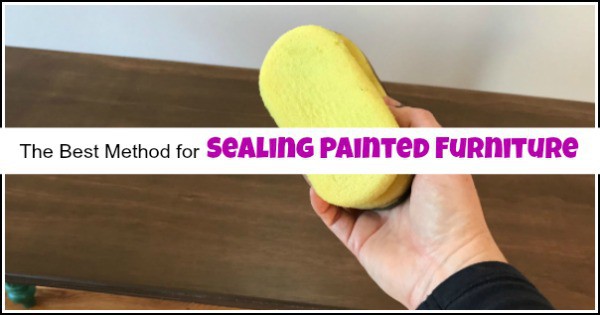 Cleaning Your Paint Sprayer
Make sure to clean your paint sprayer after each use. I have a full explanation on how to get this paint sprayer nice and clean here: How to Clean a Paint Sprayer. You can also see how to easily fold and store away your spray shelter here: How to Spray Paint Furniture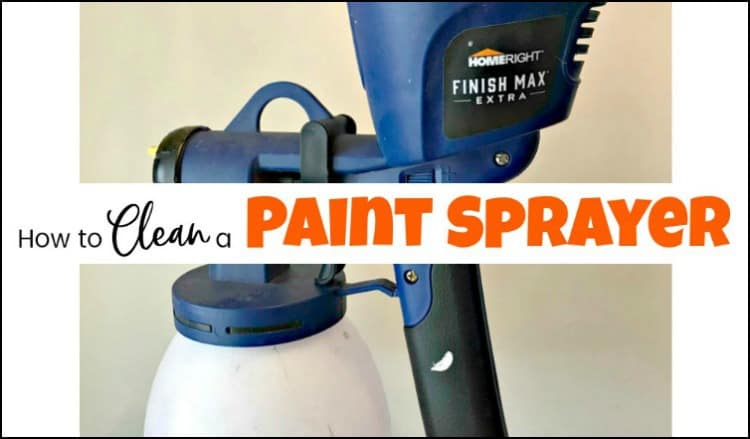 Just a Little Extra
Once the flat sealer dries it is very flat/matte. So flat that there is virtually zero sheen to it at all. So naturally, being a bit OCD I decide to add an additional sealer just as an added precaution. Im going to add Gator Hide, which is a waterproof sealer from Dixie Belle that you can find HERE.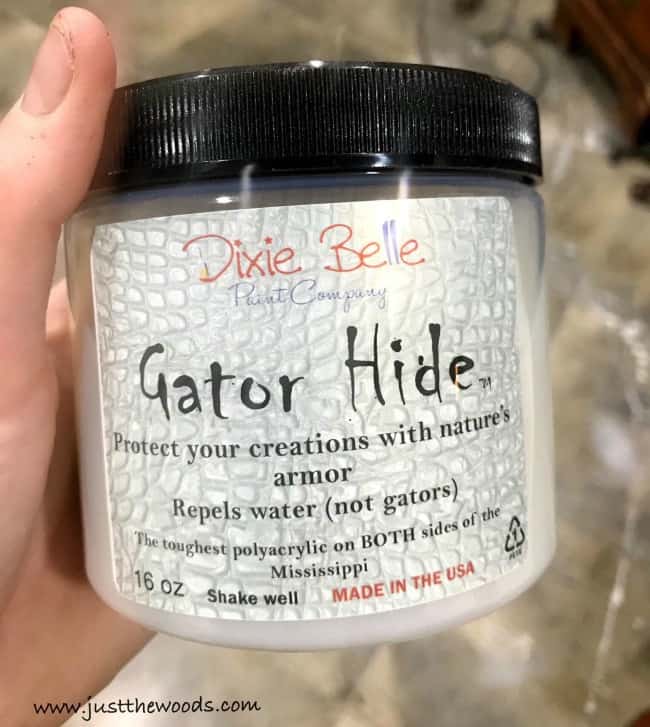 I grab my leftover tinted sealer. Since I clearly couldn't put the tinted sealer back in with the black paint, or the clear sealer container I saved it in its own little containers for future use. These are the handy containers that Im using HERE. So I mix a bit of my leftover tinted sealer with some Gator Hide on a paper plate.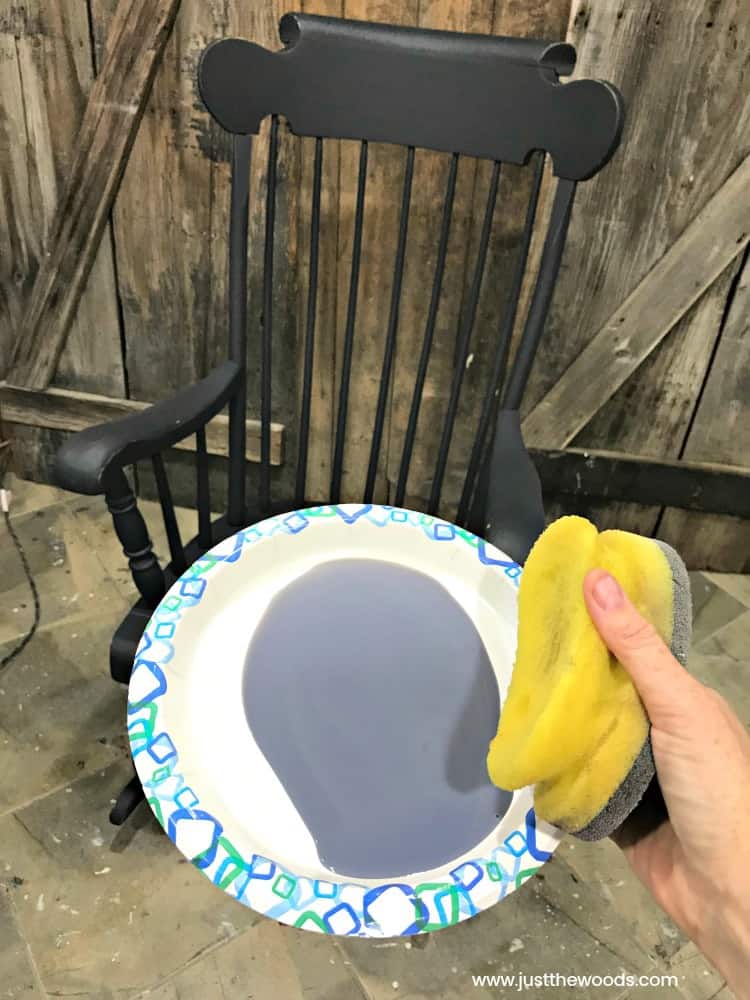 Using my favorite yellow sponge I am applying a quick and final top coat to the painted rocking chair. The sponge also works well for applying sealer around those painted spindles. You can find these yellow sponges online HERE.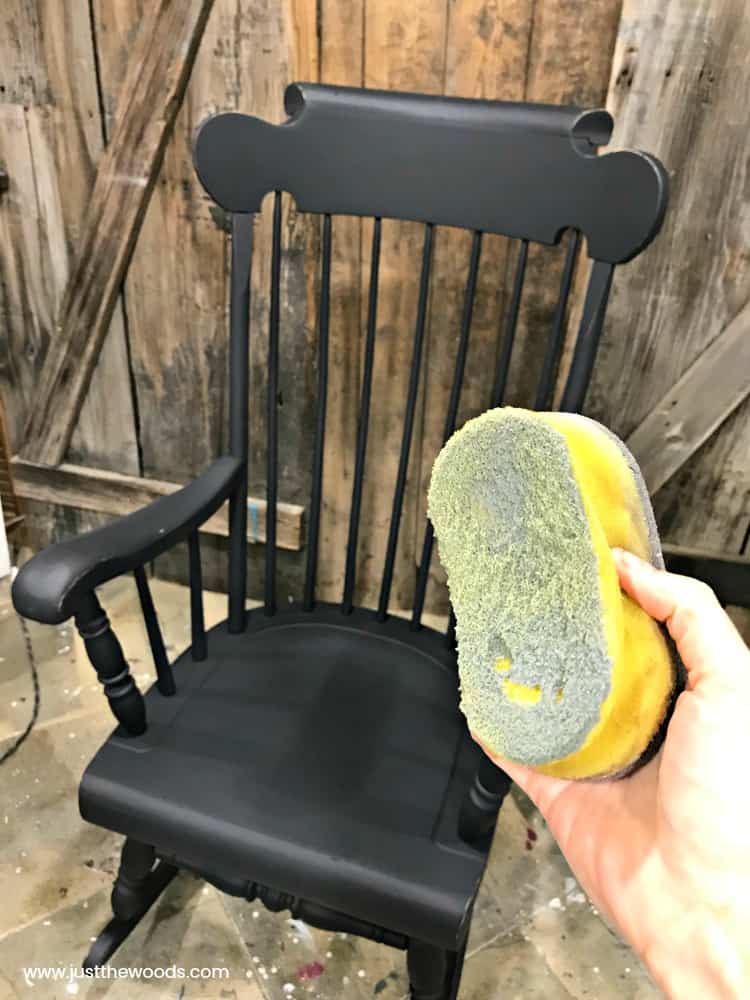 Click here to Pin this post for later.
Painting a Rocking Chair with Spindles the Easy Way
Hopefully, the next time you think about painting a wooden rocking chair with spindles you won't cringe or steer away from the idea. With a paint sprayer, your project will go so much smoother and quicker leaving more time for the other things you love, like finding or starting or finishing your next project 🙂 Feel free to check out other painted rocking chair makeovers here: Rocking chairs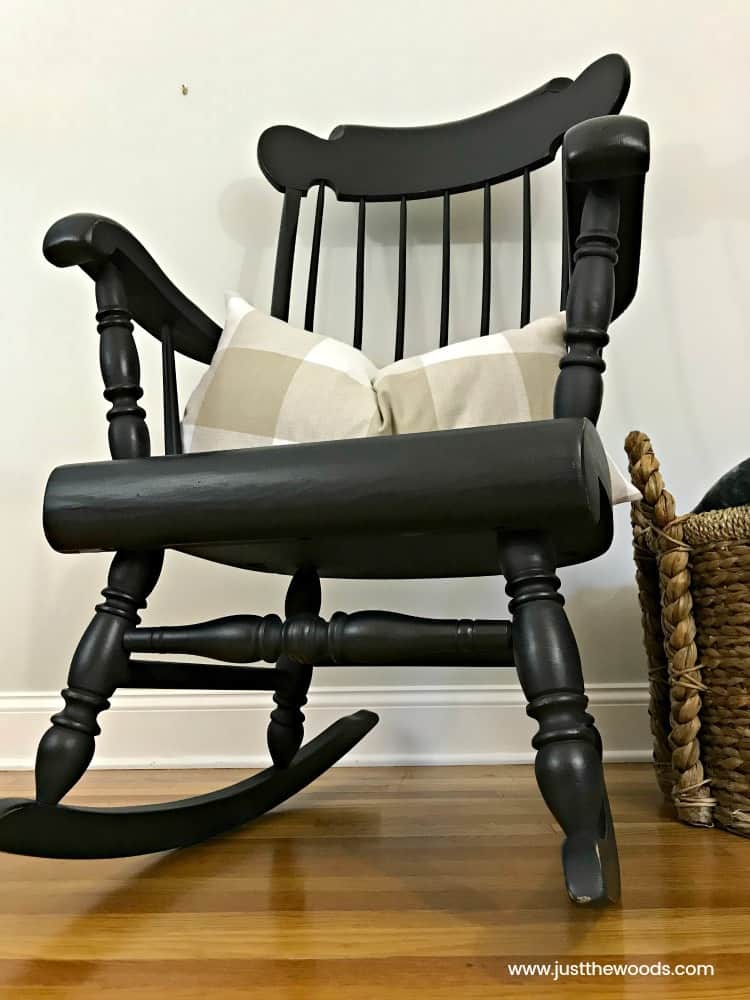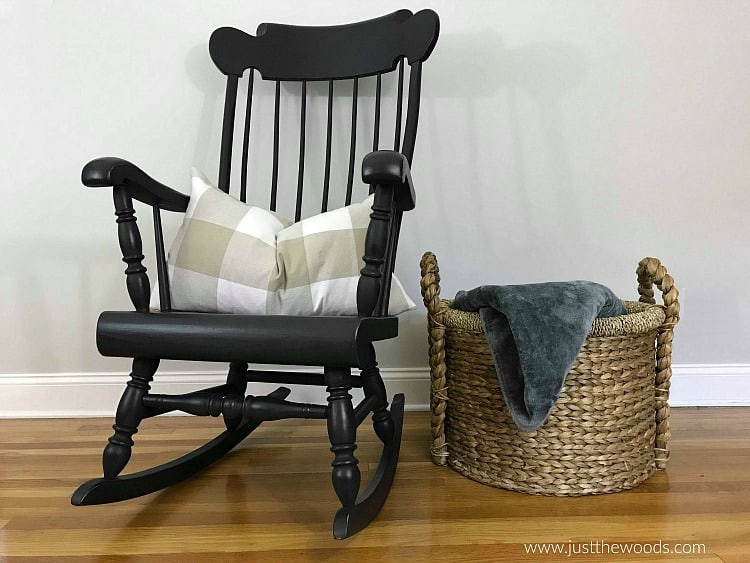 Click here to Pin this post for later.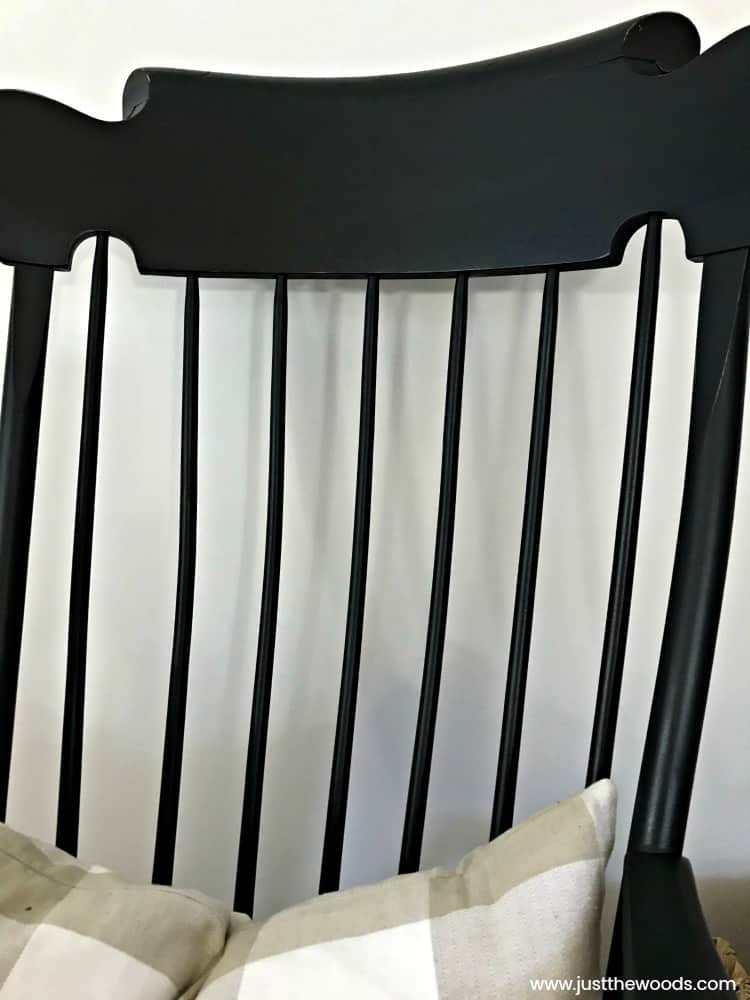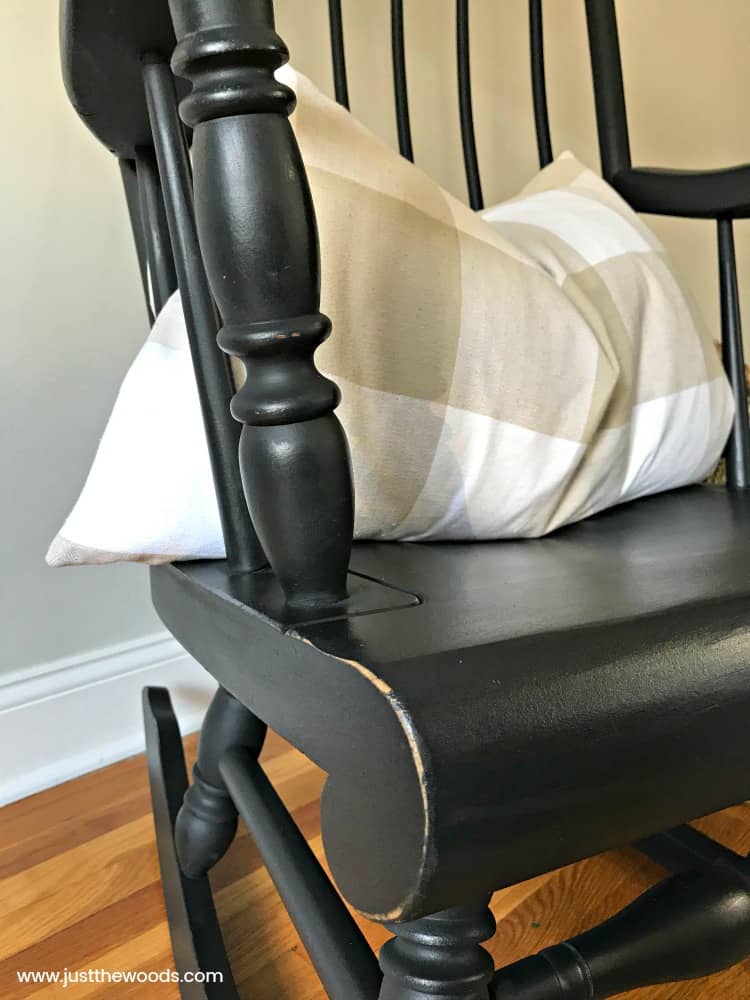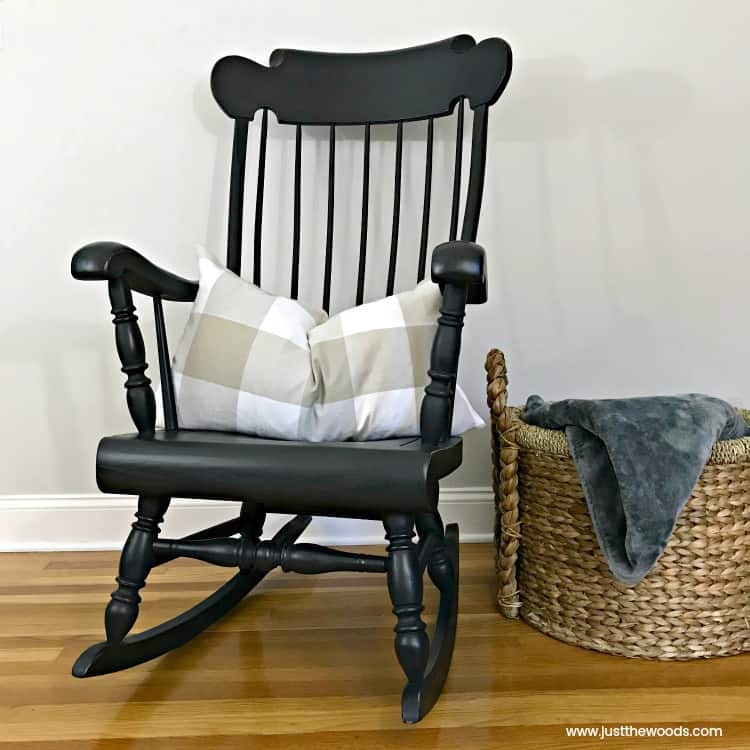 Ready to Get Started on Your Next Project?
Make sure you have what you need to paint a rocking chair with spindles or anything your heart desires. You can get the HomeRight Finish Max paint sprayer HERE.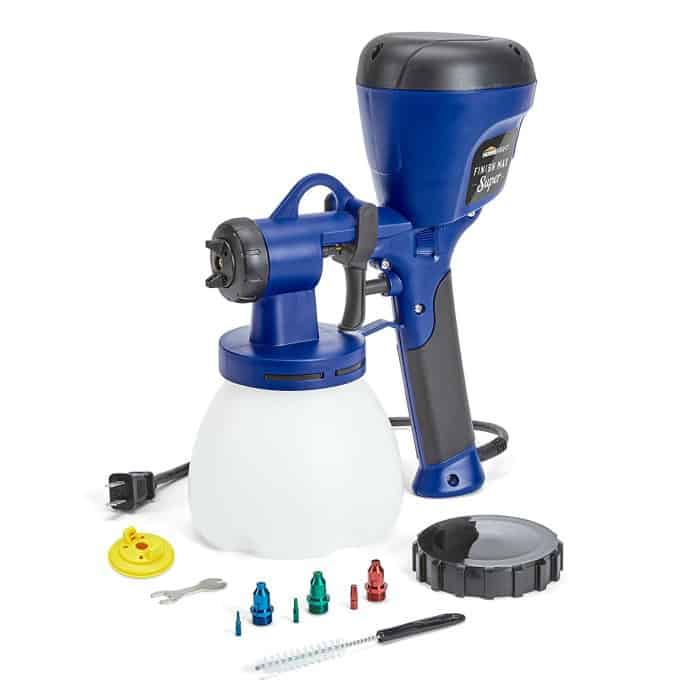 You can find the HomeRight spray shelter HERE. It does come in a few different sizes, so get whatever size works best for you. For this project, I am using the medium shelter.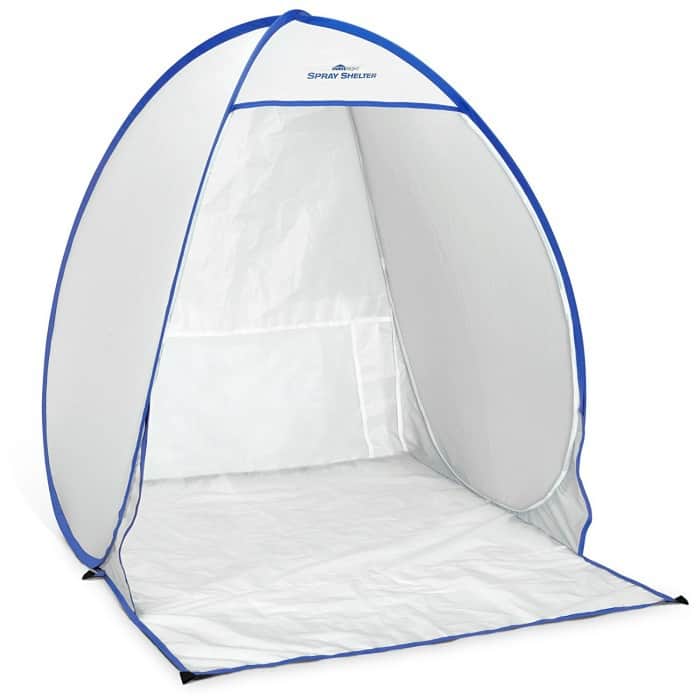 And of course, don't forget your paint.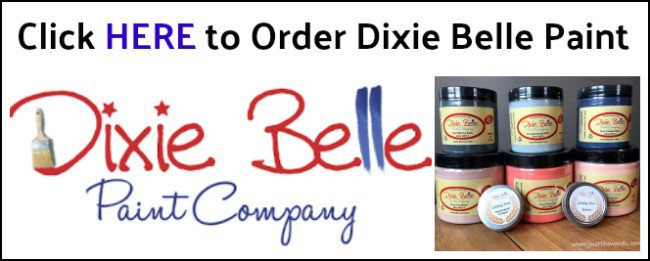 Click here to Pin this post for later.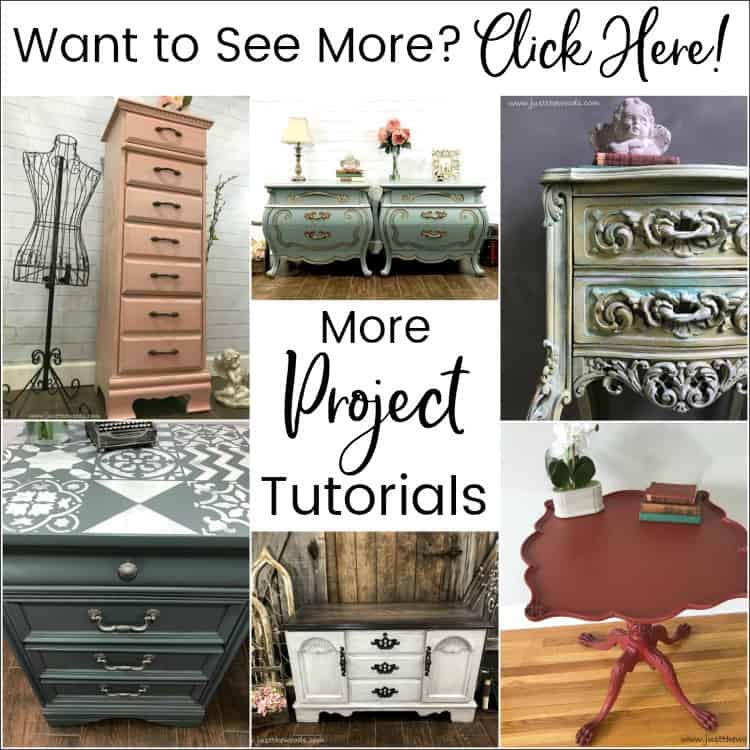 Don't Forget – Follow Just the Woods and Share this post to Inspire others:
FACEBOOK  *  INSTAGRAM  *  PINTEREST

Stay connected! For more tips and tricks sign up here : 

Click here to Pin this post for later.