Disclosure: This see how she sparkles post contains affiliate links for your convenience. 
See How She Sparkles Painted Furniture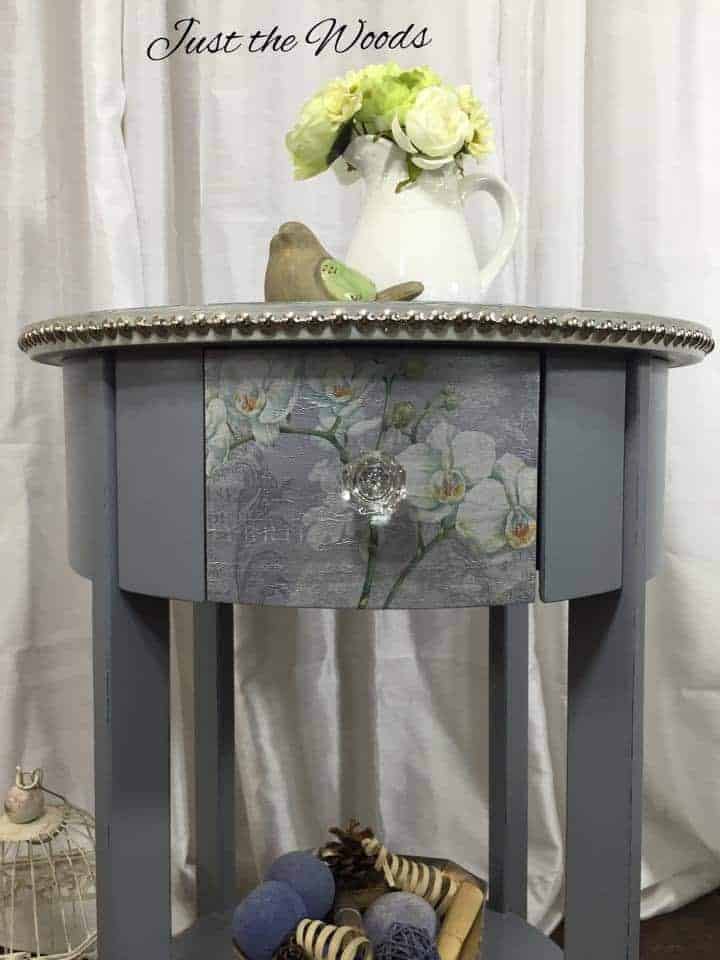 Hey, all!  It's another month, another contest.  Love the Fab Furniture Flippin' Contest and this month's theme is 'Icing on the Cake' sponsored by D. Lawless Hardware.  They carry an amazing variety of hardware along with a huge range of knobs, pulls, appliques, and embellishments.  I was lost in hardware heaven on their website.  It's almost scary how much time can be spent swooning over knobs and pulls!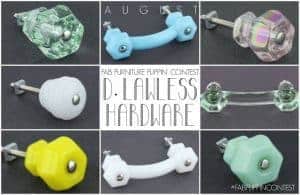 I originally planned on using another piece for my entry (the Where Shabby Meets Chic dresser) but decided that it was elegant and beautiful but not quite jazzy enough.
The Project
Or maybe I just wanted a reason to make something sparkle!   So I decided to take this cute little side table and make her so much more!  Right off the bat, it's obvious that the boring round wooden knob had to be replaced with something fabulous from D. Lawless Hardware.
I also wanted to use one of my pretty prints that I have in my 'stash'. After contemplating my options I went with the soothing white orchid print.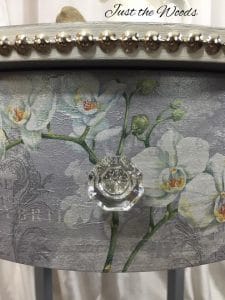 The white orchid signifies innocence, elegance, and beauty. White also signifies reverence and humility.  And they have a calming, soothing air about them.  Let's just agree that they are lovely! Once my drawer was finished I  added the clear glass knob, set in a brushed nickel base and complimented the table body with a cool gray.  The table top rim was trimmed with soft white.  But there was still something missing.  And then it was like a light went off…  studs!  They brought just enough glitz and glam to counter the calm of the orchids and neither overpowers the other. What an unexpected yet perfect pair!
See How She Sparkles!!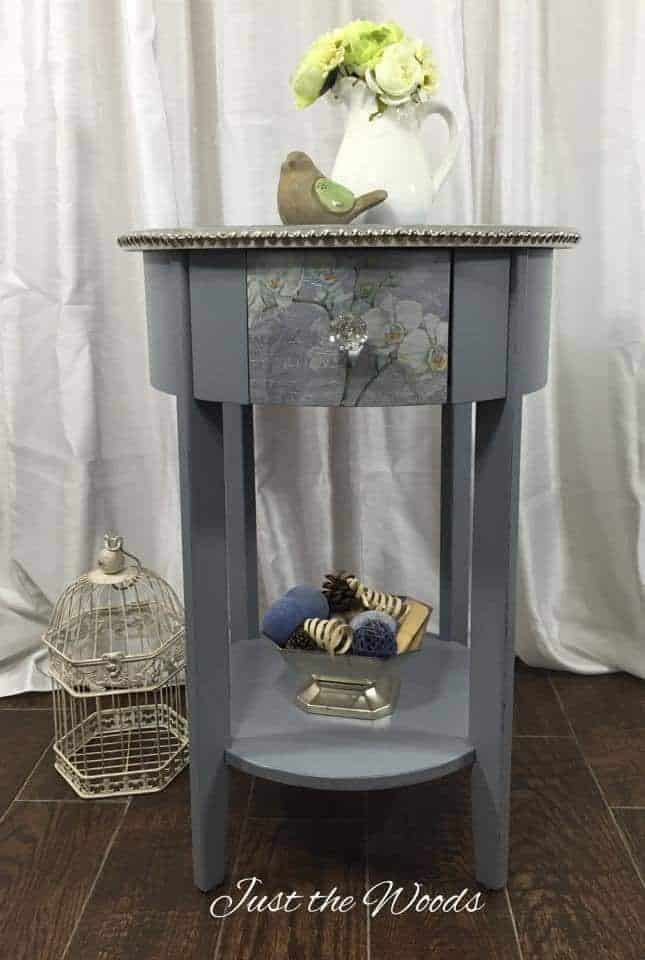 This month's Fab Flippin Contest is hosted by:
Evey at Evey's Creations (http://sweetsongbird.eveyscreations.com/2015/08/icing-on-cake-august-fffc-buffet-and.html) and
Michelle at Dandelion Patina (http://www.dandelionpatina.com/homework-room-cubby/).
Click and check out their projects too!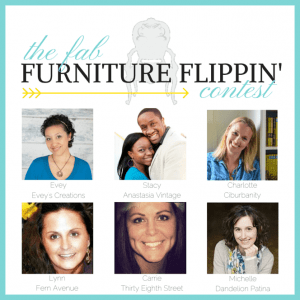 Interested bloggers should contact Stacey (info@anastasiavintage.com) or Evey (info@eveyscreations.com) if interested in participating in future contests.
Orchid info obtained from external site – White Orchid Info
*Disclosure*
I have received product for this post but all  opinions I share about the products in my post are 100% my own .  The post contains

sponsored links

from D. Lawless Hardware
UPDATE :  I won most votes & judged favorite!!  Thank you!!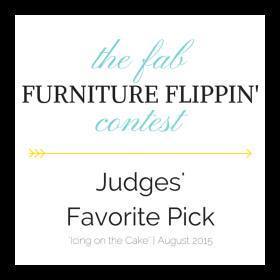 Featured: