Dry brushing furniture. Dry brushing is the easiest furniture painting technique. Get that gorgeous dry brushed painted furniture finish.
Dry Brushing Technique on a Painted Desk
Are you a fan of the dry brush paint technique? If you are unsure of what I mean, you may wonder what does it mean to dry brush or how do you dry brush? Well, dry brushing is a technique used when painting furniture with an almost completely dry paintbrush. If you'd like to learn more about the dry brush technique then keep on reading.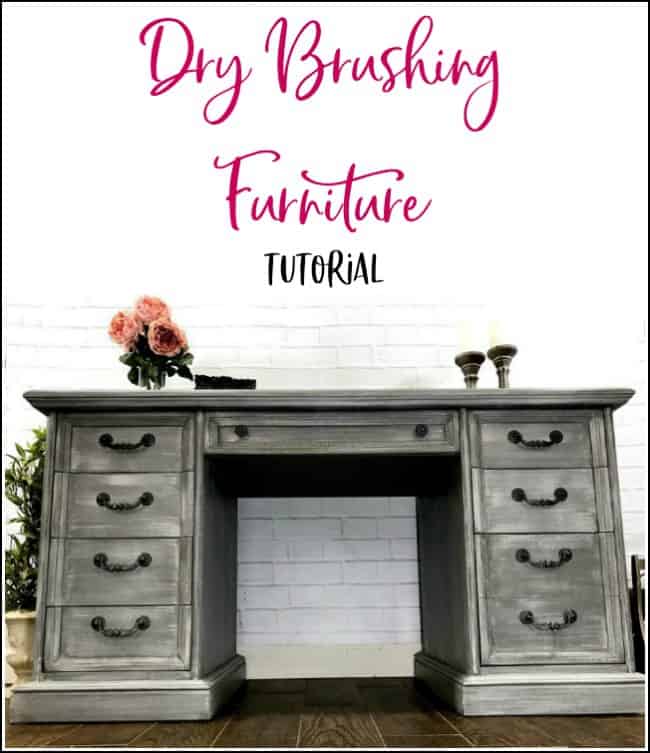 Disclosure: This dry brush painting technique post contains affiliate links for your convenience. Click here for my full disclosure policy.
How to Dry Brush Paint
Materials Needed / Source List:
A Vintage Leather Top Executive Desk
This vintage desk like most older pieces of furniture has a story. In its previous life, it belonged to the Dean of Students from a local college who recently passed away. After the makeover, it will belong to a young educator which seems to be the perfect person to own it for the next however many years. Like most desks, this vintage desk comes with an abundance of drawers as well as a double drawer. Also, like most vintage furniture, its well made, but shows some age and wear that comes with time.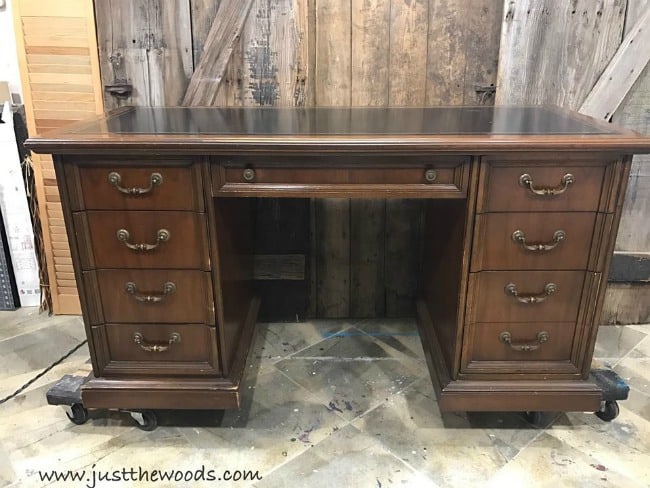 Preparing the Vintage Desk for Paint
The desk is fully cleaned and prepped how I always Prep Painted Furniture. Hardware is removed. Lately, I always grab my Rolgear screwdriver before any others. It's a ratcheting screwdriver that comes with multiple extensions, which makes things just a little bit easier. You can get one (here)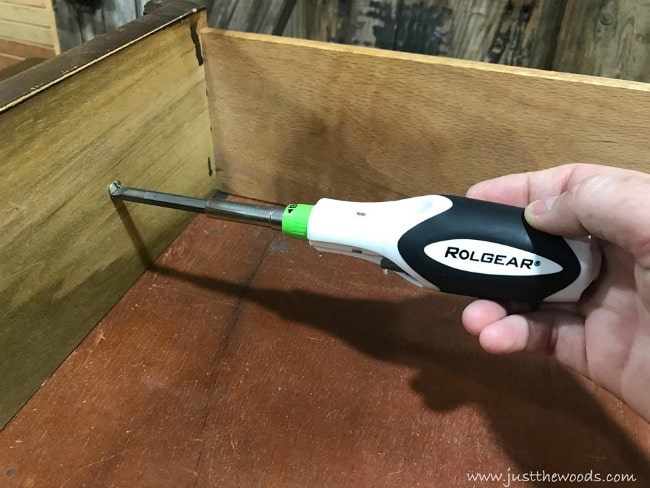 Drawers are vacuumed with the shop vac.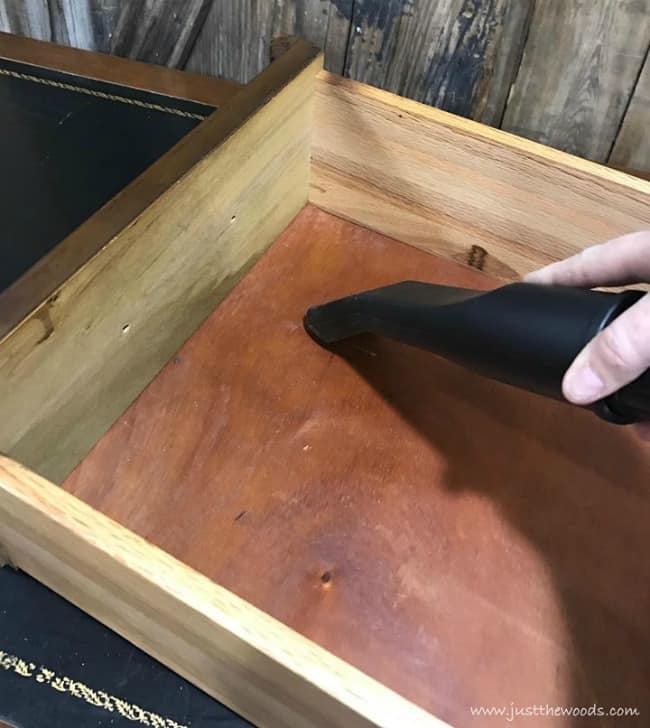 Drawers are labeled underneath with chalk to ensure that they go back where they came from. This is just one of the many tips I share in Tips & Secrets for Painting Furniture.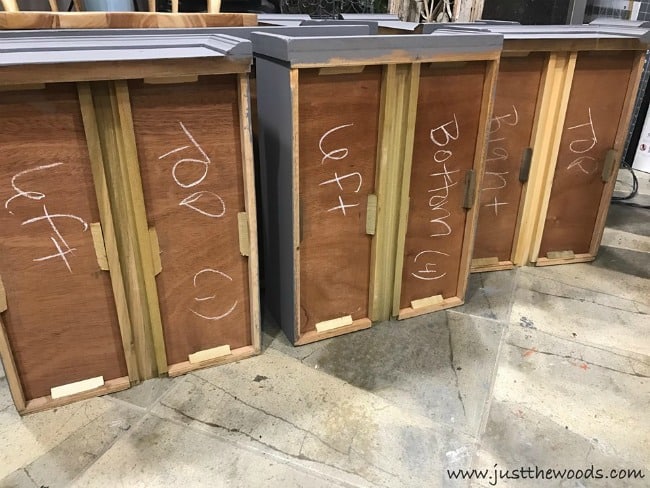 Even the leather inlay is sanded and cleaned.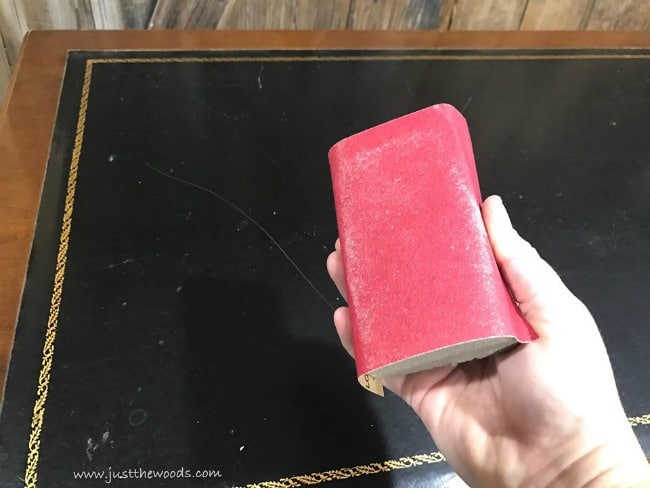 Painting Leather Inlay on a Vintage Desk
This is not the first time Im painting leather. You can check out other projects where the leather is saved here: Leather Top Desk and here: Paint the Leather Tables. Once sanded and cleaned the entire desk including the drawers, inside and out and the leather inlay is painted a pretty gray. You can find great color options and quality furniture paint online HERE.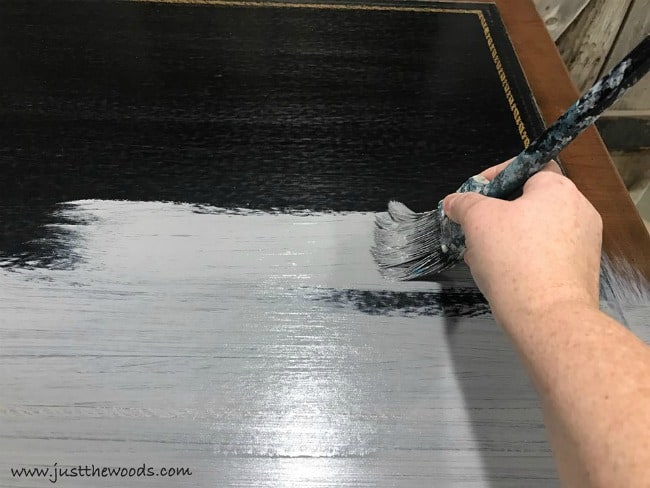 Paint two coats of paint on the leather making sure to lightly sand in between each coat. Next, apply a clear sealer with the yellow detailer sponge. This sponge is my all time favorite for applying sealer, you can get one (here).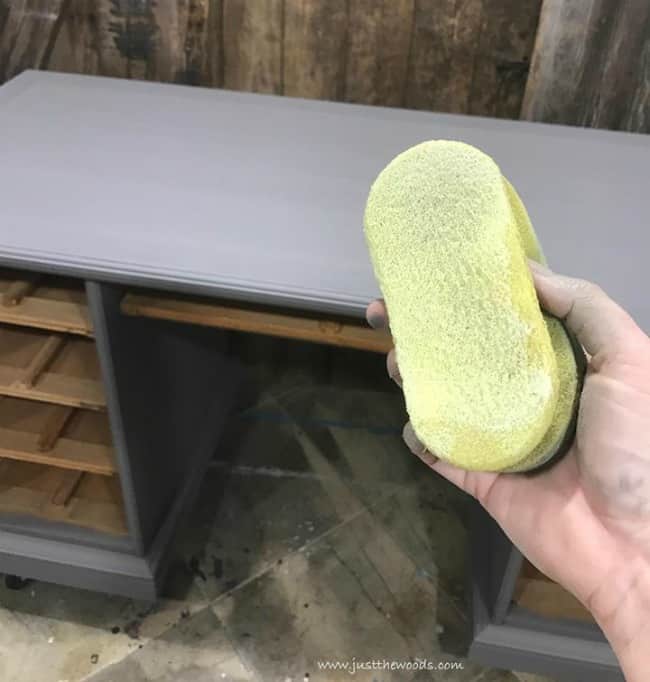 Here is a full tutorial with VIDEO showing how I seal my painted furniture projects: Sealing Painted Furniture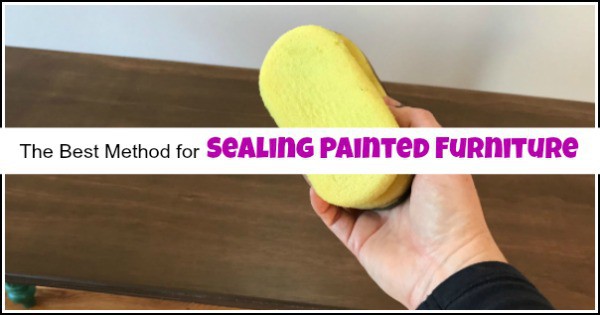 Now that the top is done it's on to the fun part: dry brush painting!
Dry Brush Technique on Painted Furniture
The most important thing to remember when dry brushing furniture is to use an almost dry brush. I find that the best paintbrush to use to dry brush is a plain chip brush.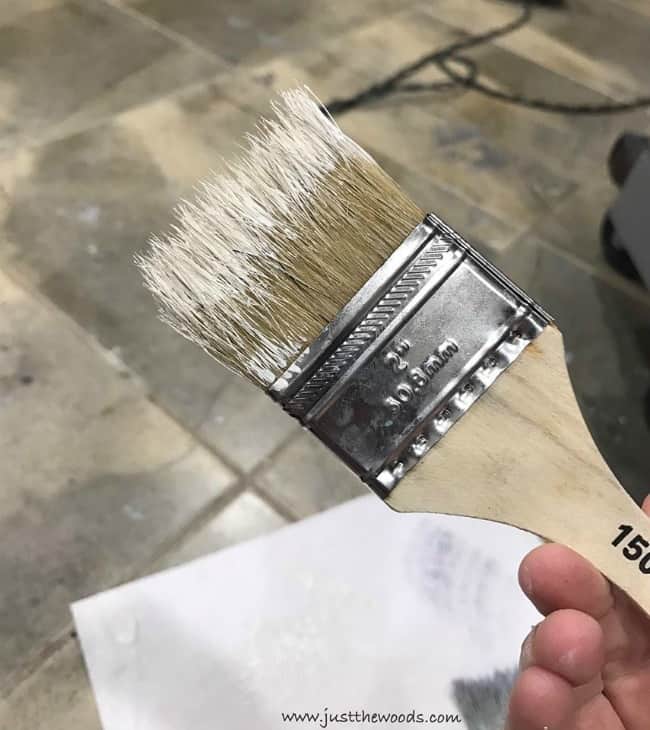 Dip your chip brush into your paint very lightly, only getting paint on the tips. Then wipe the paint off of the brush onto a dry paper towel.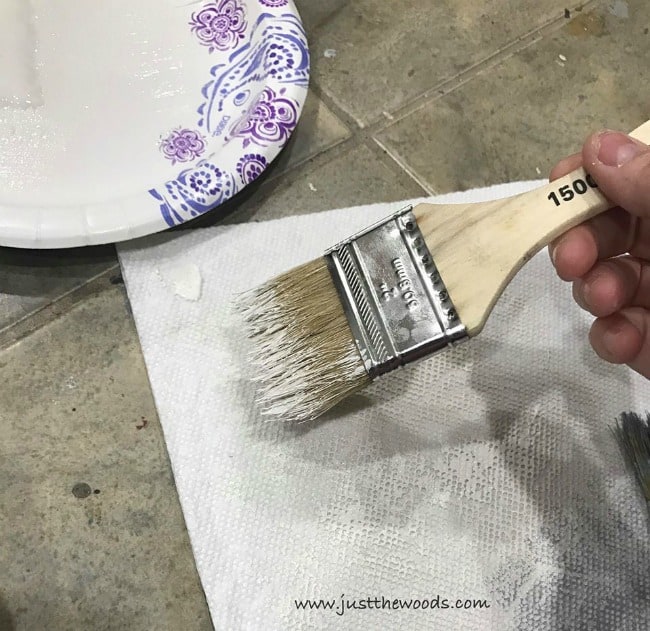 Next, lightly drag your chip brush over your painted surface.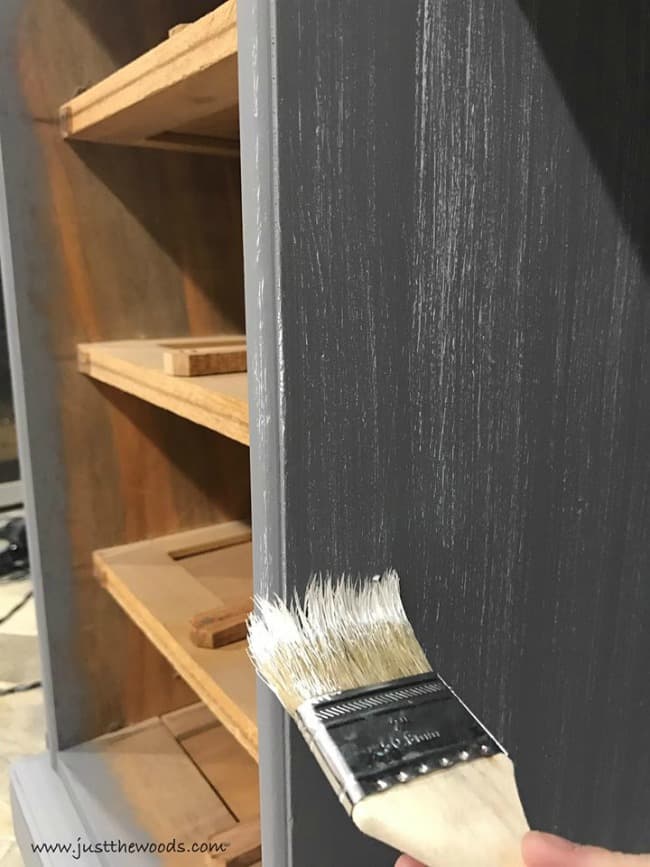 Here is a short video tutorial showing how to dry brush paint onto your furniture. The video isn't fancy, but at least I can explain the dry brush technique a bit more in detail while showing an example of how lightly to paint your dry brushed layers.

Dry Brushing Paint on Corners
Tape the center portion of the desk with Scotch Blue Platinum tape to avoid dry brushing paint onto the leather portion of the desktop. The Platinum tape works best because it tears at perfect 90-degree angles. You can get your own (here). If you have ever painted furniture using the dry brush technique before its possible that you may run into the issue of overlapping brush strokes at the corners. There is a simple way to avoid this! To avoid overlapping strokes simple block off half of the corner in the direction of the angled seam using a piece of paper or cardboard.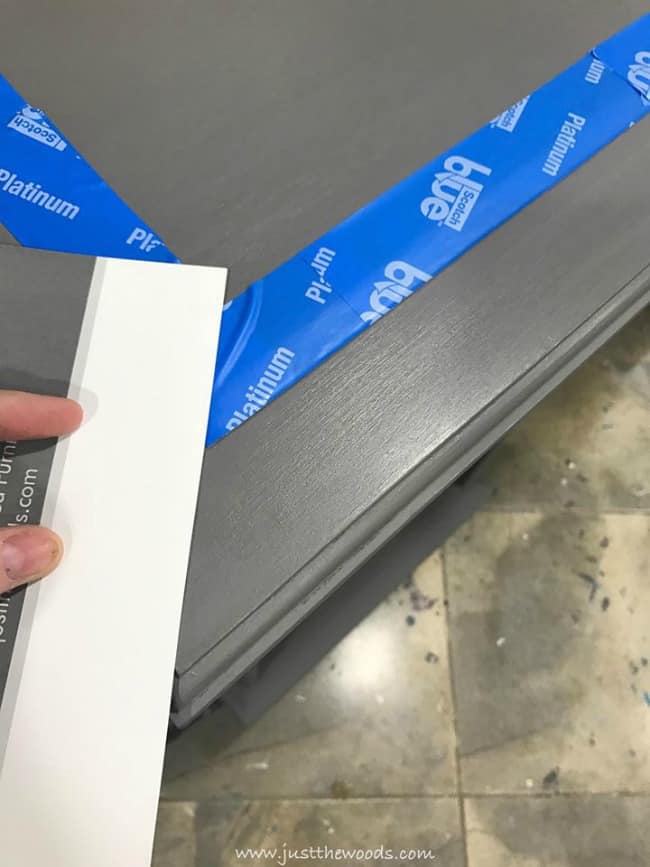 By blocking at the angle of the wood you can now dry brush with professional looking painted corners.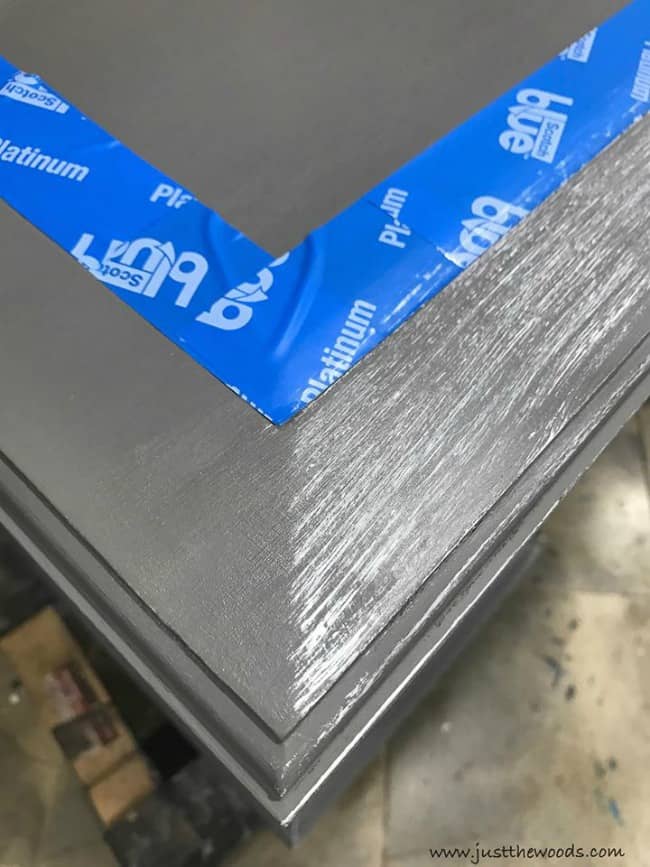 Do the same on the opposite side to allow the paint to meet in the middle creating the appearance of a seam.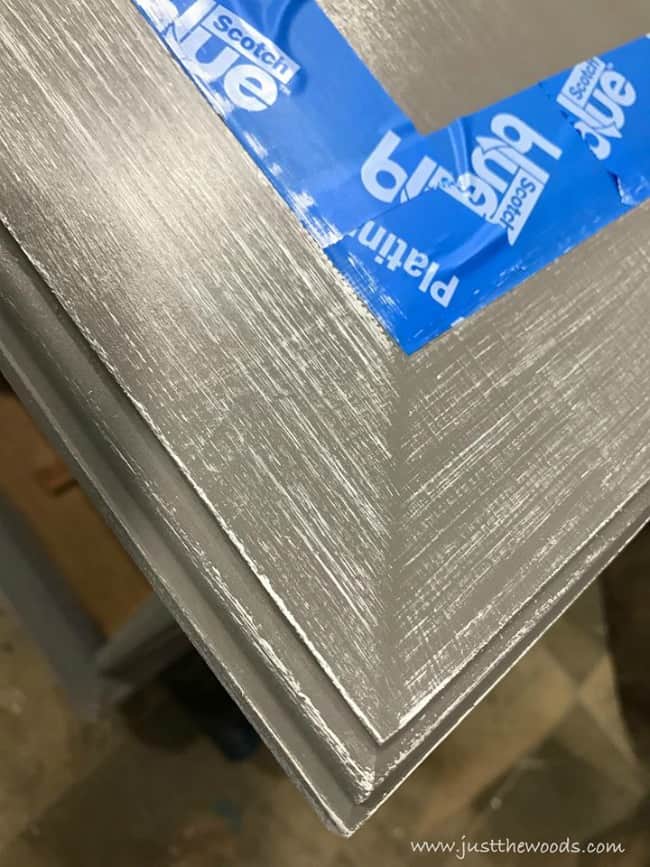 After dry brushing multiple layers, your end result will look more natural.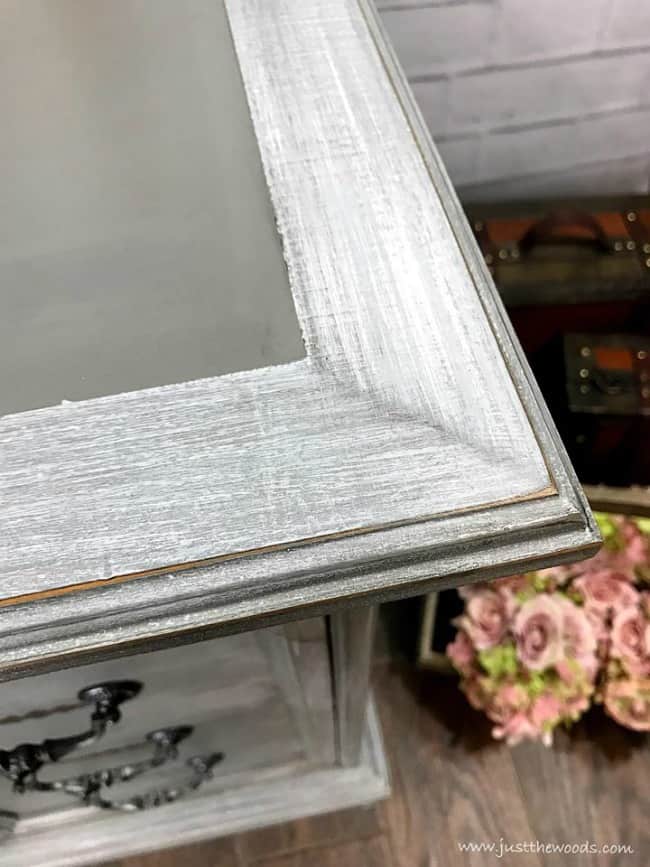 Click here to Pin this post for later.
Adding a Wash to Dry Brushed Furniture
After layering your dry brushed paint you will want to create a wash to apply over the entire desk (minus the leather top). An extremely diluted coat of very light gray paint is applied then immediately wiped away using a clean cloth aka old T-shirt.
How Many Layers?
The order of dry brushed painted layers on this desk are as follows:
Base color- gray
Dry brush

off-white
dark gray
light gray

Wash – very light gray
Sealed – gray tinted sealer
Painting Vintage Hardware
The original vintage hardware suits the desk perfectly, so its cleaned up for paint. Here is my process for How to Clean, Prep & Paint Hardware.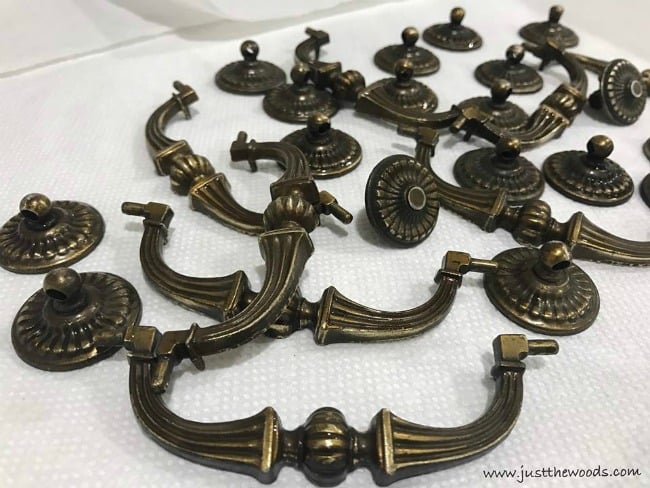 Now that the hardware is cleaned, paint it first using gray paint. This is the same gray that we used as a base for the desk.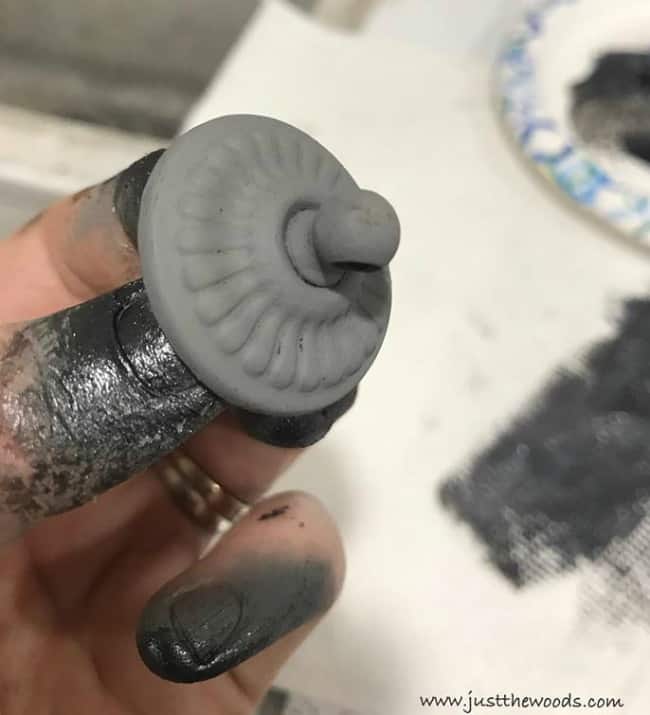 Next, paint the hardware in a mix of dark and light metallic silver paint.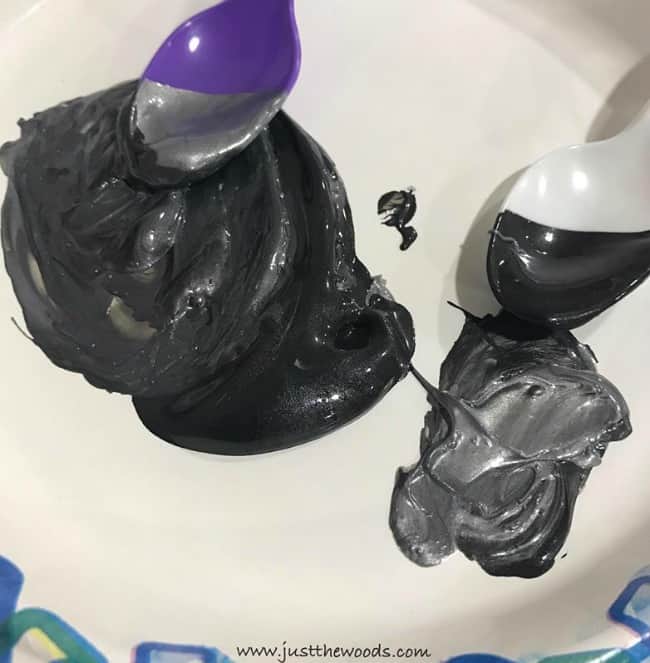 This combo makes the perfect metallic dark silver paint for the hardware.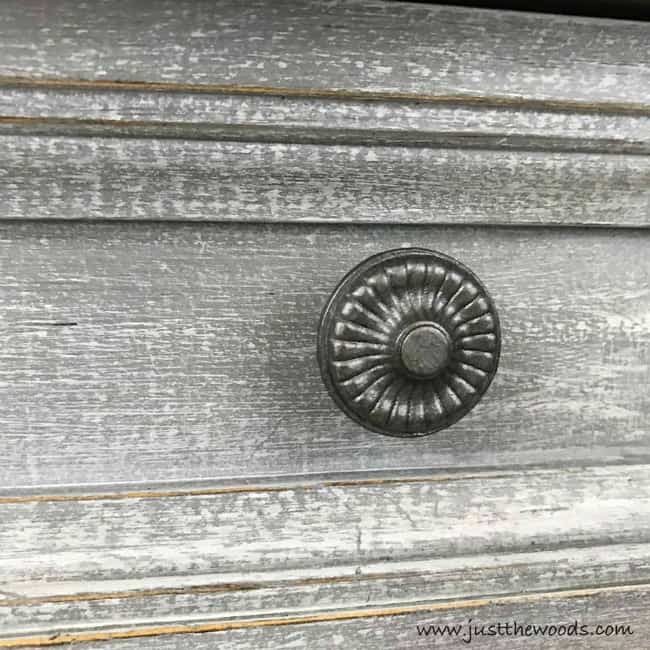 It makes a not so great nail polish color. Oops.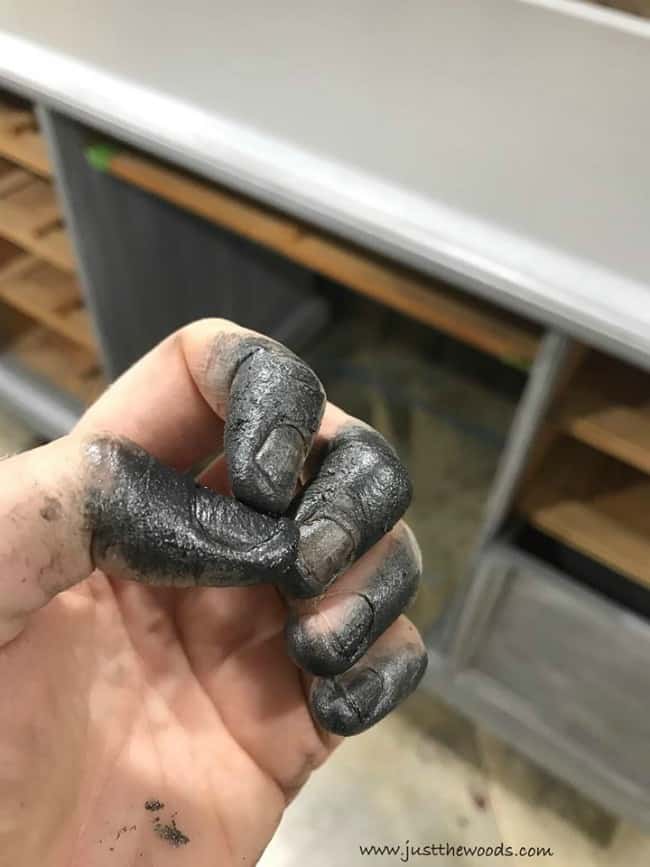 Sealing Dry Brushed Furniture with Glaze
Lastly, make sure to seal your dry brushed painted furniture. If you have questions about sealing your painted furniture project you can find a full tutorial with video on how to apply clear sealer here: Sealing Painted Furniture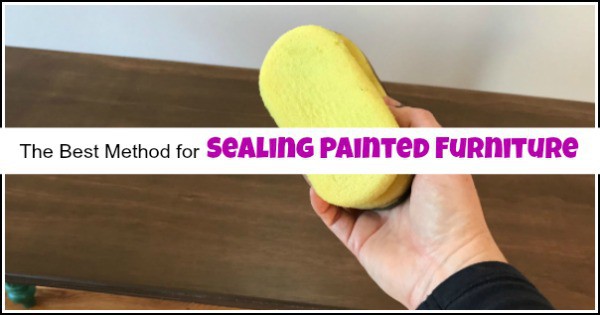 Click here to Pin this post for later
Putting Your Work Back Together
I've mentioned before how old wooden furniture can possibly stick. To prevent the sticking drawers I always grab my ever trusty Daddy Vans all-natural furniture polish. Find it (here)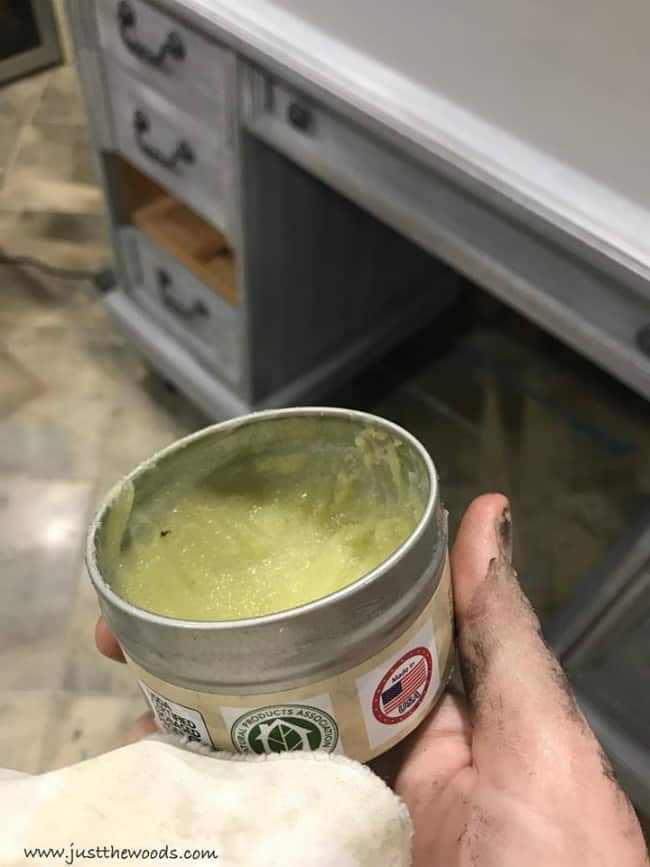 Using an old rag or T-shirt rub the drawer tracks Daddy Vans.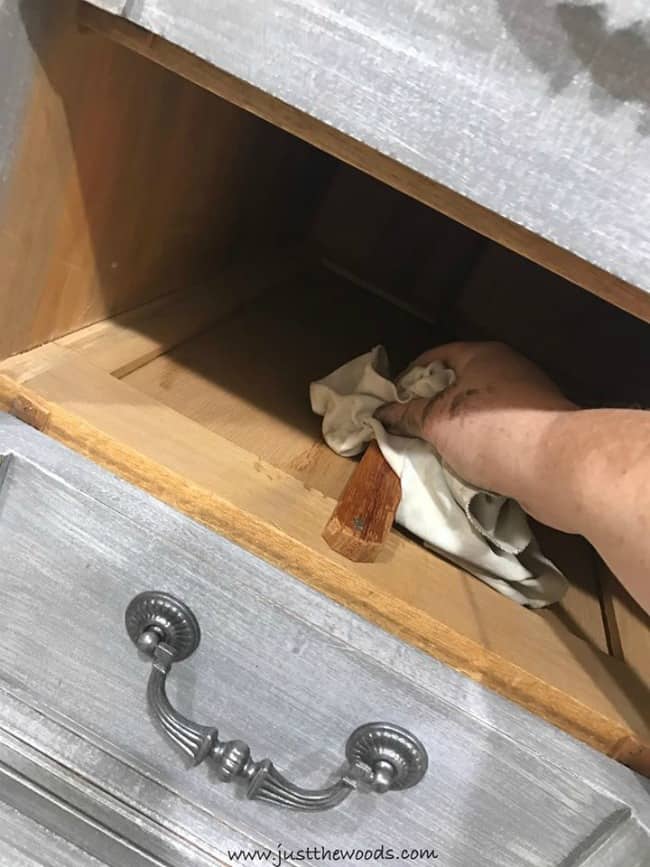 Also, rub the bottom of the drawers and any area where wood would rub against wood. This will allow for the drawers to slide and glide with ease.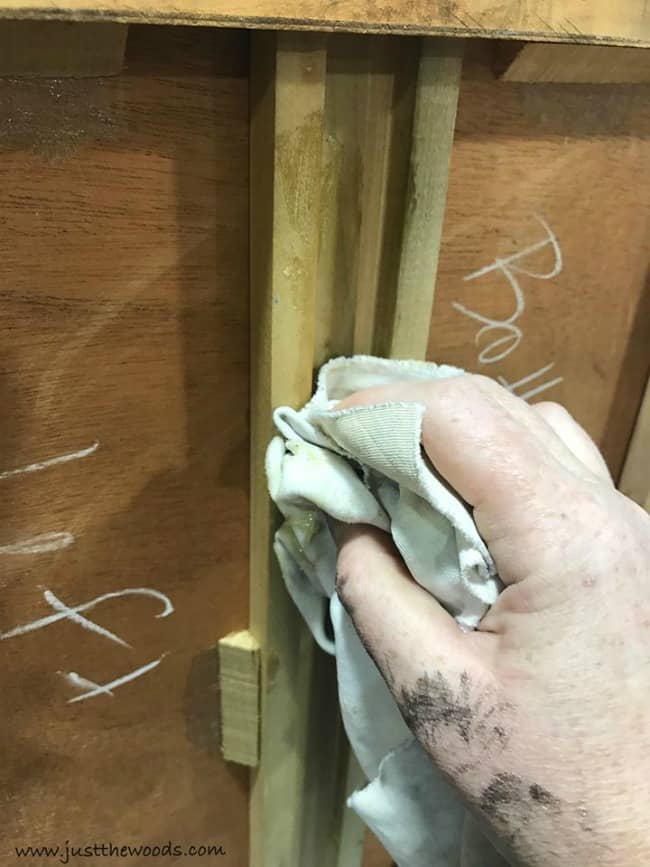 Gorgeous Dry Brushed Painted Furniture Finish
Now that we've finished dry brushing our painted furniture this vintage desk is ready to head to its new home.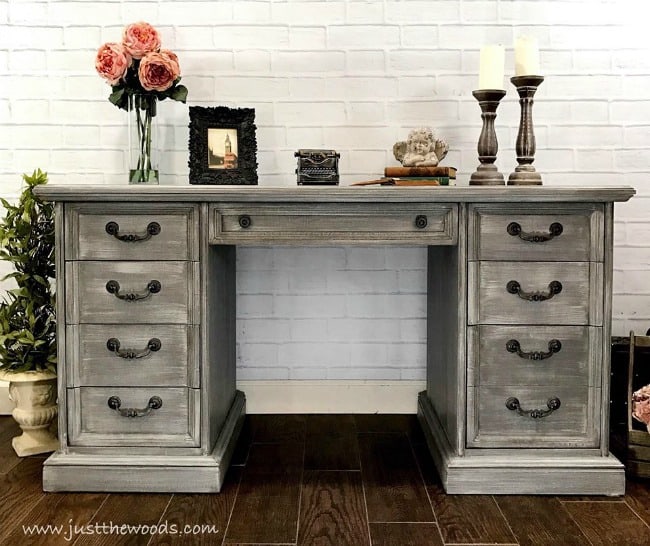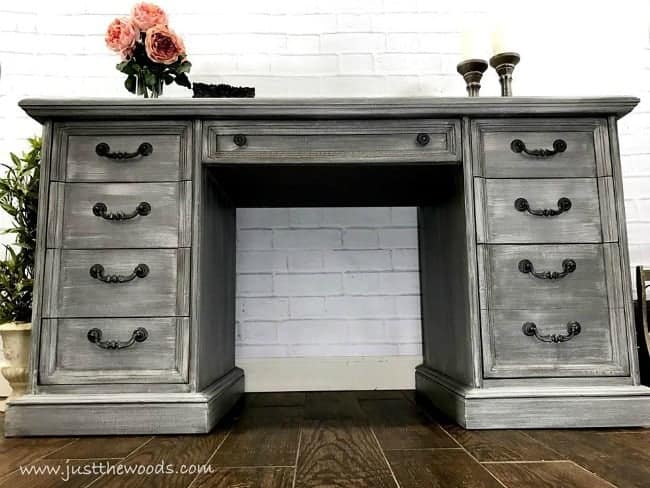 Click here to Pin this post for later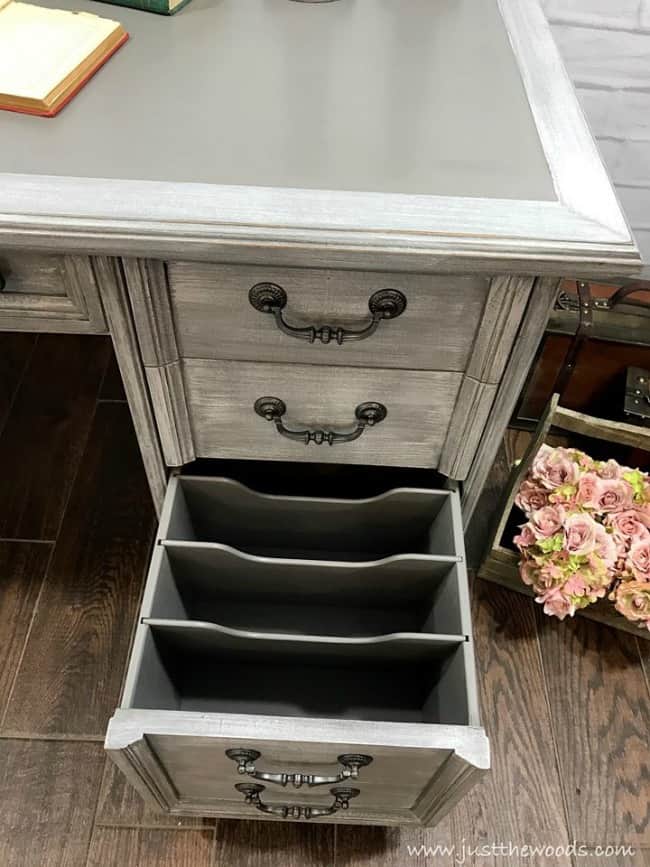 Looking for an executive desk, but prefer not to DIY? There are a wide variety of desks for sale available and able to ship to your doorstep (here)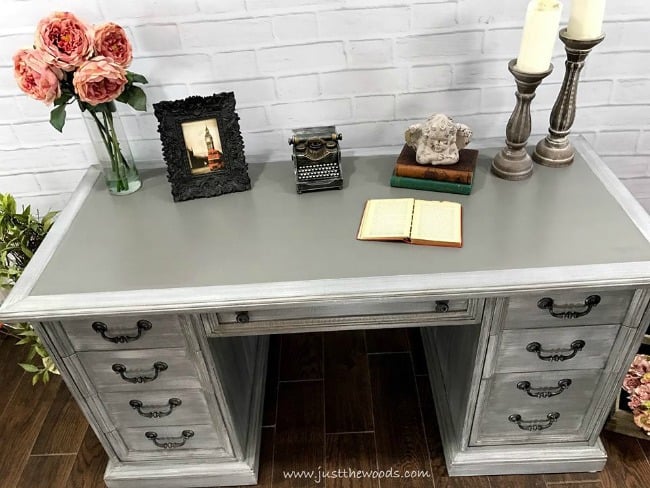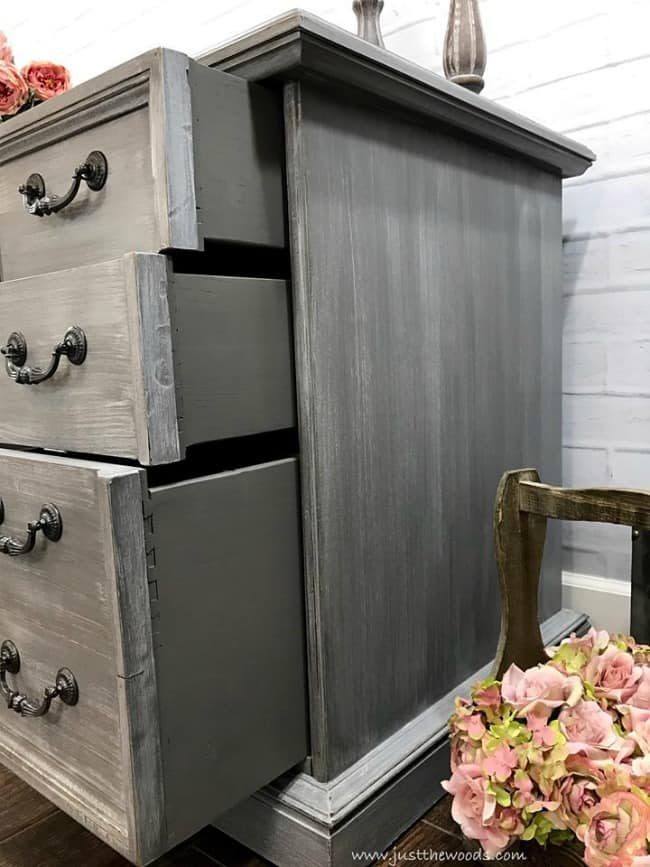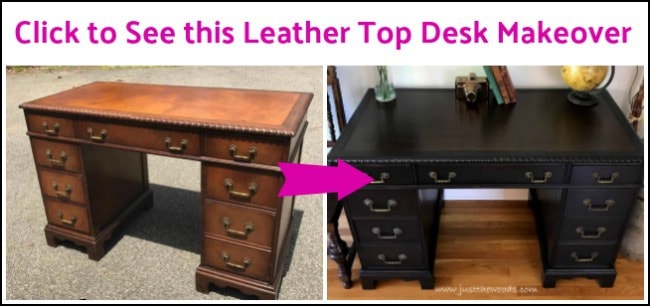 Wait! Don't Go! It's that time of the month again for:
Furniture Fixer-Uppers
A few of my creative and talented blogger friends and I have joined together in our monthly Furniture Fixer Uppers share. Some of this month's projects are new and some are resharing their best of the year. Let's see what my friends are up to! Make sure to click the links below the image to check out all the amazing projects that my bloggy girls are working on this month.
Just the Woods (you are here)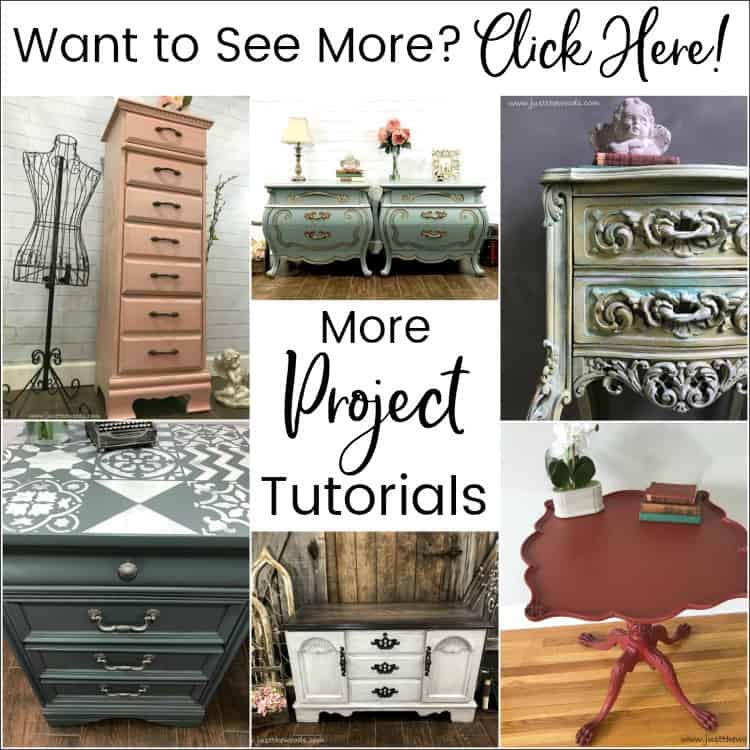 Don't Forget – Follow Just the Woods and Share this post to Inspire others:
FACEBOOK * INSTAGRAM * PINTEREST