Metallic Glaze on Wood Furniture
Looking for metallic glaze ideas for your next painted furniture makeover? Not sure how to glaze furniture? This solid mahogany chest has evidence of being beaten and abused, dented and dinged. There was no telling how it would come out. This is truly an ugly duckling to lovely swan transformation. Make sure to stick around until the end because this is a Furniture Fixer Upper post, which means that you get even more awesome projects in one place.
Disclosure: This post is sponsored by HomeRight. This post contains affiliate links for your convenience. Click here for my full disclosure policy.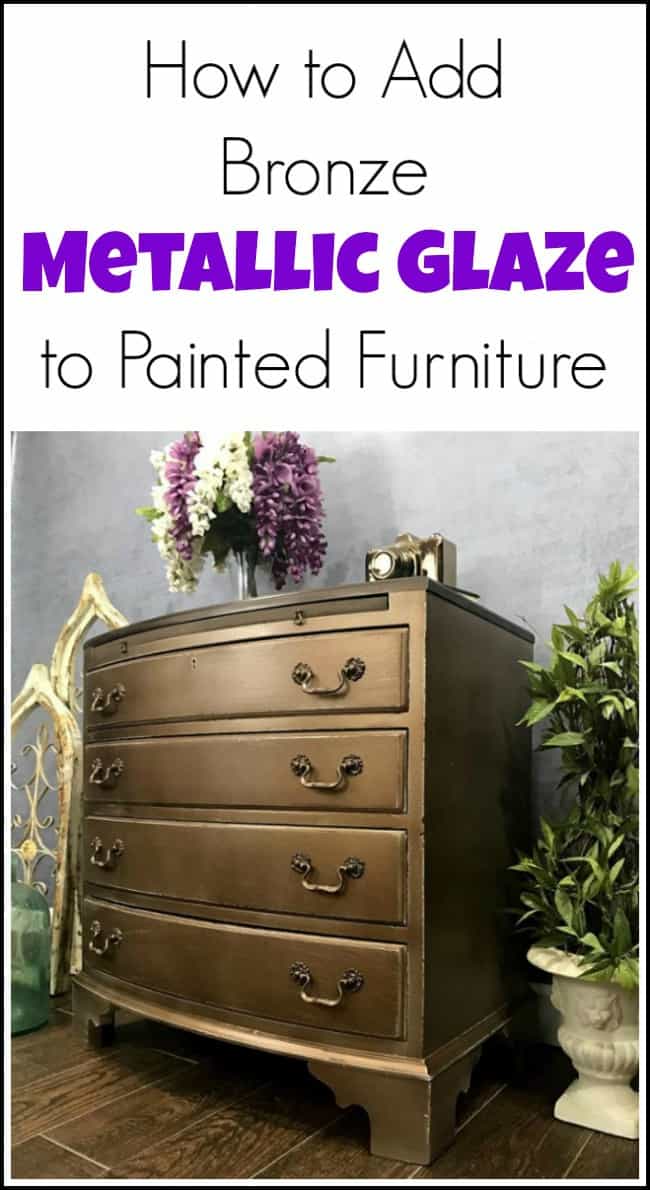 Glazing Painted Furniture
MATERIALS NEEDED / SOURCE LIST
HomeRight Finish Max Super 
Sandpaper
Drop Cloth /Tarp
Kristi Kuehl Pure Home Paint
Preparing the Bow Front Chest for Paint
There is no way that this vintage dresser is making it down into my workshop until after it gets a thorough cleaning and sanding. From afar, it may not look too bad.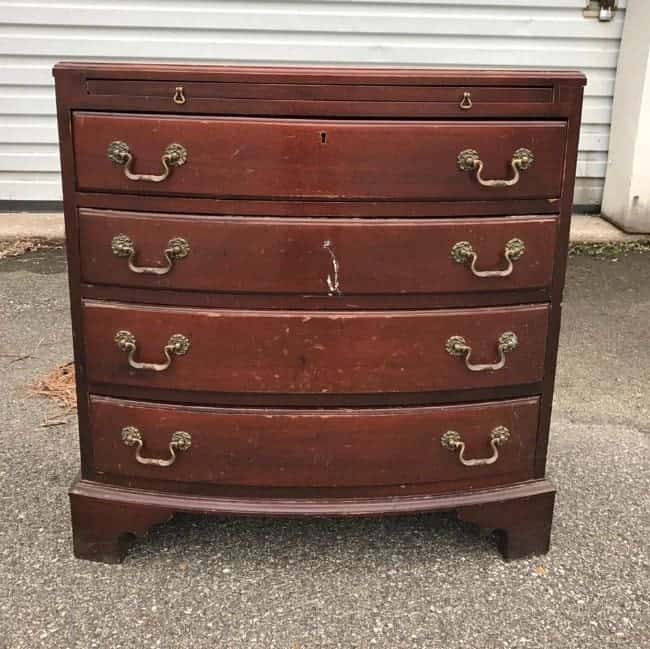 There is a stamp inside the piece that says Solid Wood Mahogany and it has a writing desk pull out drawer of sorts. I have yet to figure out the proper name for it, aside from pull out writing desk thingy. 🙂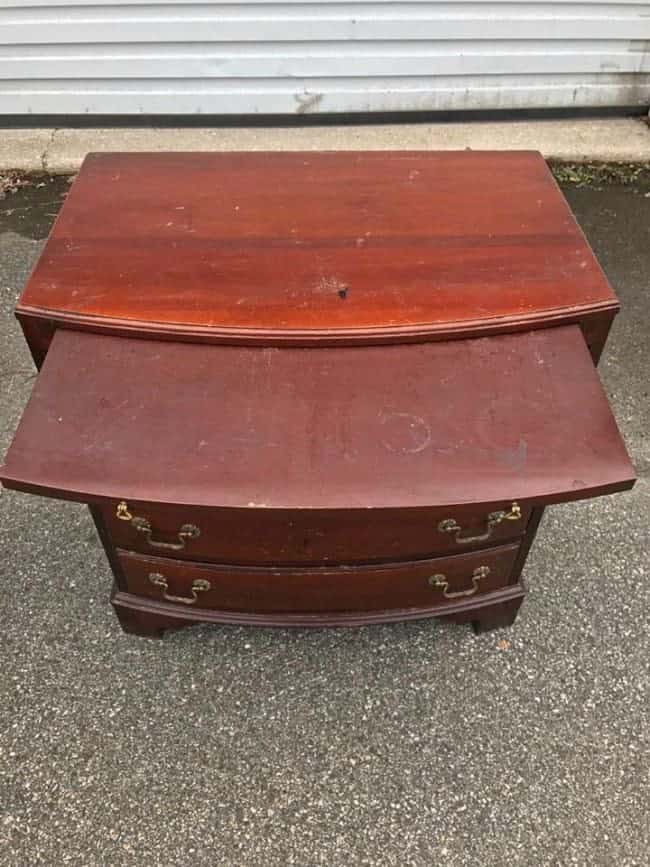 First, remove the hardware and keep it all together in a bucket to avoid losing any pieces. Then sand the entire piece with the electric sander. There is an extensive amount of dents and damage on the drawers of this chest. The damage almost looks like someone beat the chest, specifically the drawers with a hammer or tool. These dings marks all over the piece.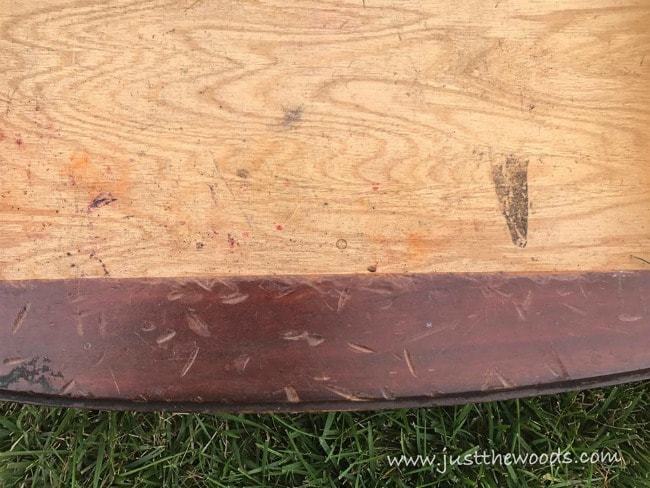 Both the inside and outside of the drawers get a thorough sanding to smooth away the dents and dings.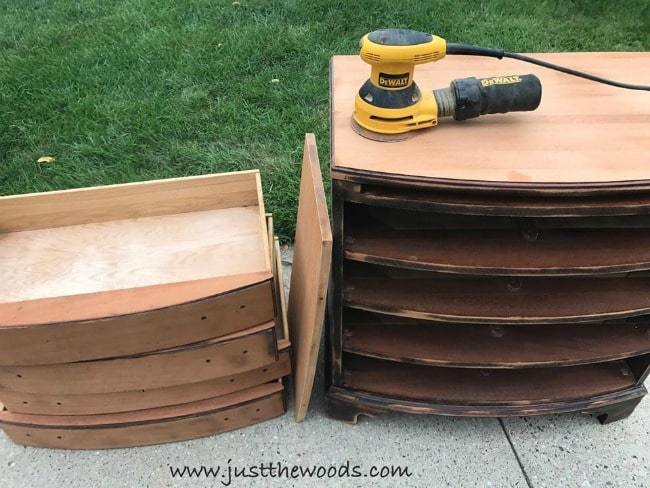 This is my entire process for How to Prep Painted Furniture, but I took the prep process on this piece a little further.
Since the wood is mahogany and mahogany furniture has a tendency to bleed through I opted to add primer. I'm a big fan of better safe, than sorry. Click here to see a previous dark wood dresser that turned Farmhouse White with the help of adding primer to the prep process.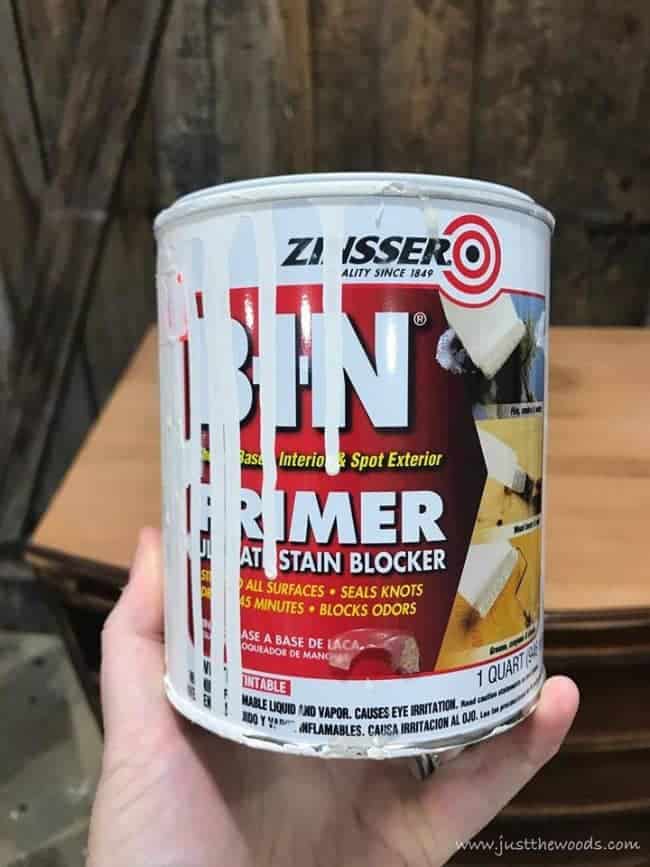 There are many ways to apply primer to your painted furniture:
paint brush
foam brush
clean rag / old T-shirt
My favorite method to apply primer to wood is by using a plain foam roller. The same type that I would use to apply a paint for a stencil. The roller applies the primer evenly and smoothly.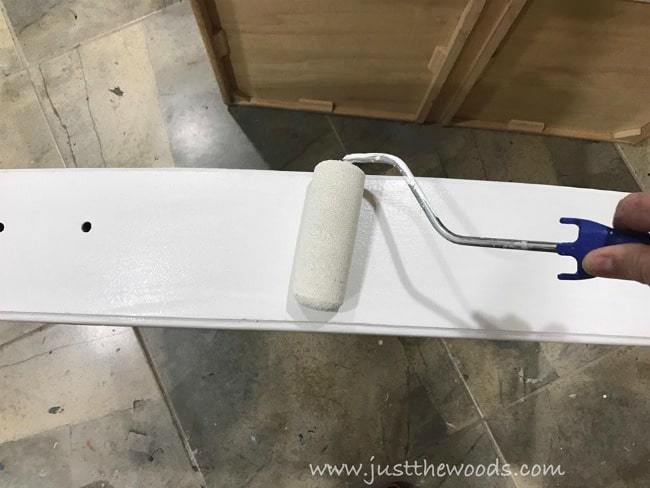 Once sanded, cleaned, and primed the dresser is ready for paint.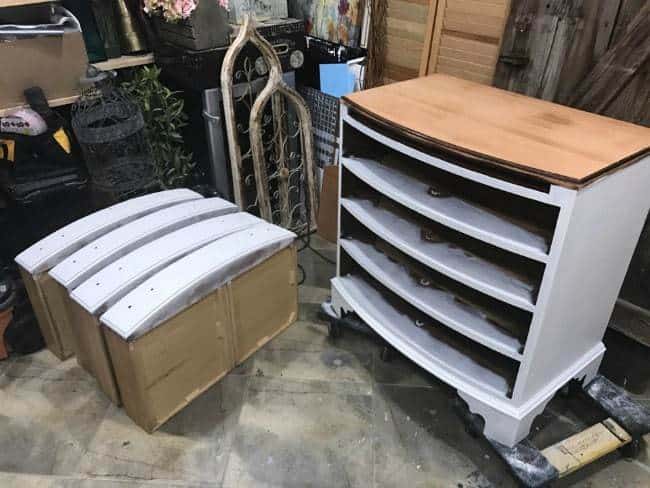 Glazing painted furniture isn't difficult. But if you are feeling overwhelmed or just starting out you can always start at the beginning with How to Paint Furniture – a Beginners Guide.

Adding Stain and Bronze Metallic Glaze to Wooden Furniture
Before moving to the metallic glaze portion of the furniture makeover we must address the top. The top is stained using Teak protective wood stain by Kristi Kuehl Pure Home Paint. Next, a bronze metallic glaze is added over the wood stain using bronze hardware opulence. The hardware opulence can be used for both painting hardware and as a furniture glaze. This creates a rich wood stain with a slightly metallic finish. The same is done on the wooden writing desk pull out 'drawer'.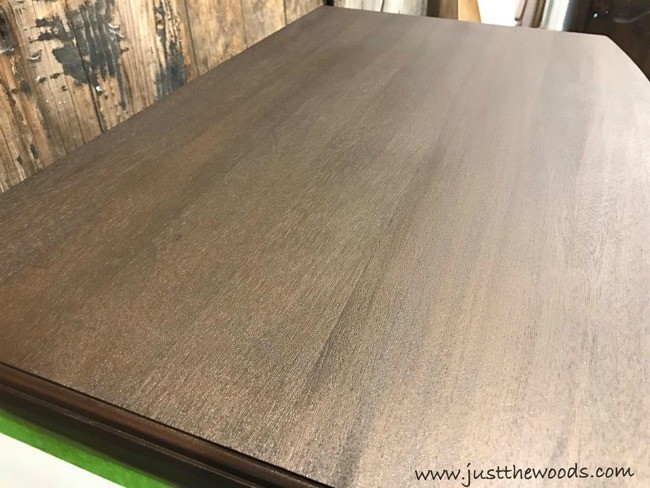 Painting Before Adding Metallic Glaze to Furniture
Inside the drawers and the outer sides are painted in a deep teal blue. You can achieve this color by mixing a 1:1 ratio of Jade and Sailor. After sealing the drawers for protection, they are taped off with green frog tape. Next, the dresser body is painted in Cali Taupe by Kristi Kuehl Pure Home Paint. This is a creamy neutral color in the taupe / beige family.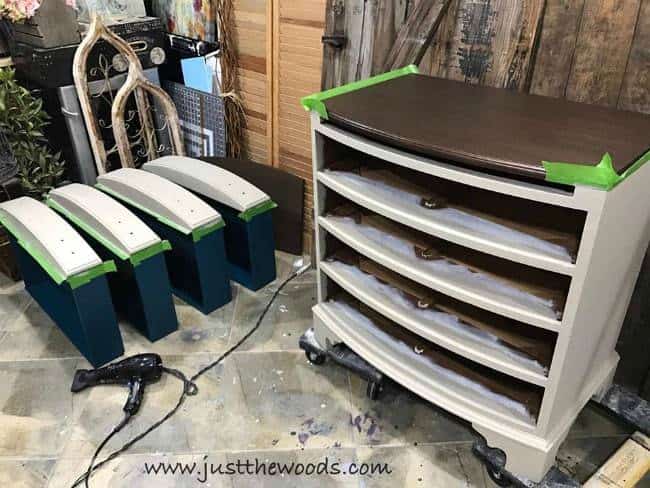 When coming up with a design plan for this metallic painted dresser I compiled a few images for inspiration. These are the inspiration colors that I pulled together before starting the makeover.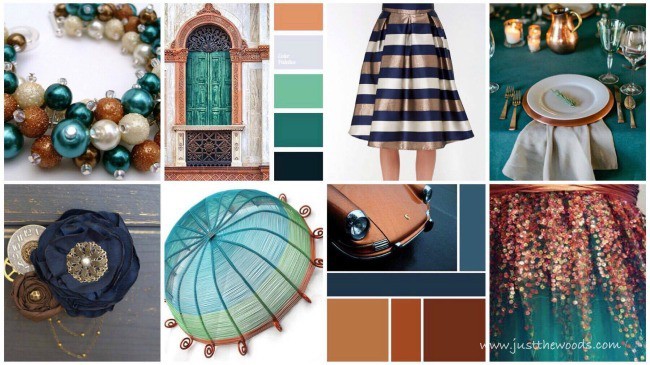 In between coats of paint, make sure to sand the drawers and body with a fine grit sandpaper to achieve a smooth painted finish.
Adding Metallic Glaze to Painted Furniture
To get a super smooth painted finish on this dresser I'm using the HomeRight Finish Max Super. It's a brand new paint sprayer by HomeRight that does not require you to dilute your paint. You can see how I use this same sprayer to paint my outdoor Adirondack chairs. Click here for more paint sprayer projects and tutorials: Paint Sprayer.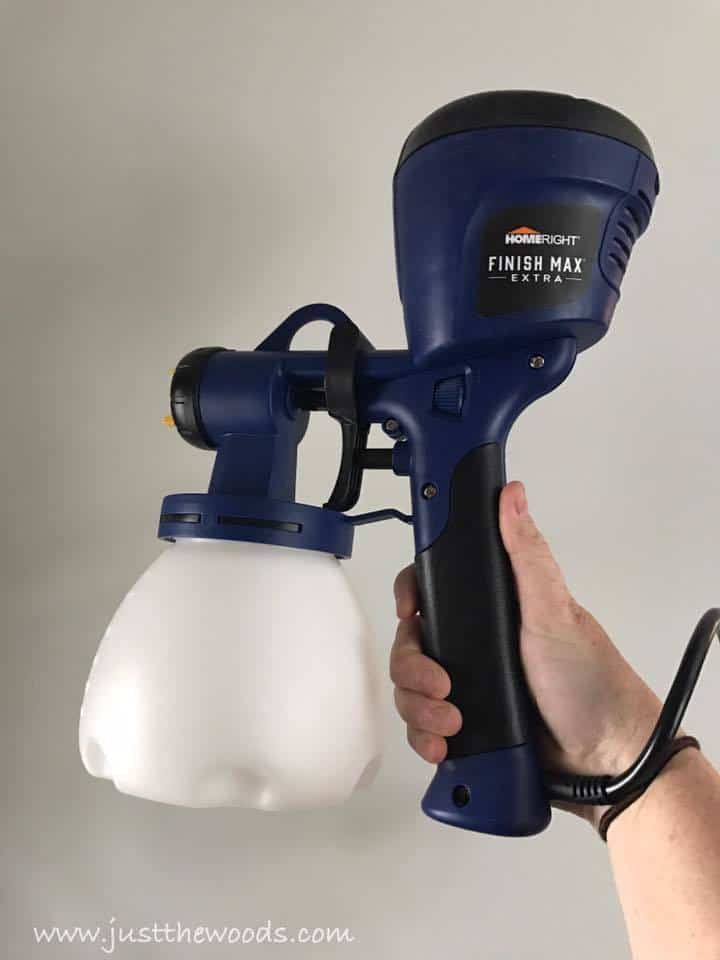 If you aren't sure what products to use when glazing furniture I'll let you know what I use. For this project, I am using bronze hardware opulence as a metallic glaze over the painted dresser. Adding the bronze metallic glaze to painted furniture will create an upscale appearance on old wood. What's could be better than that?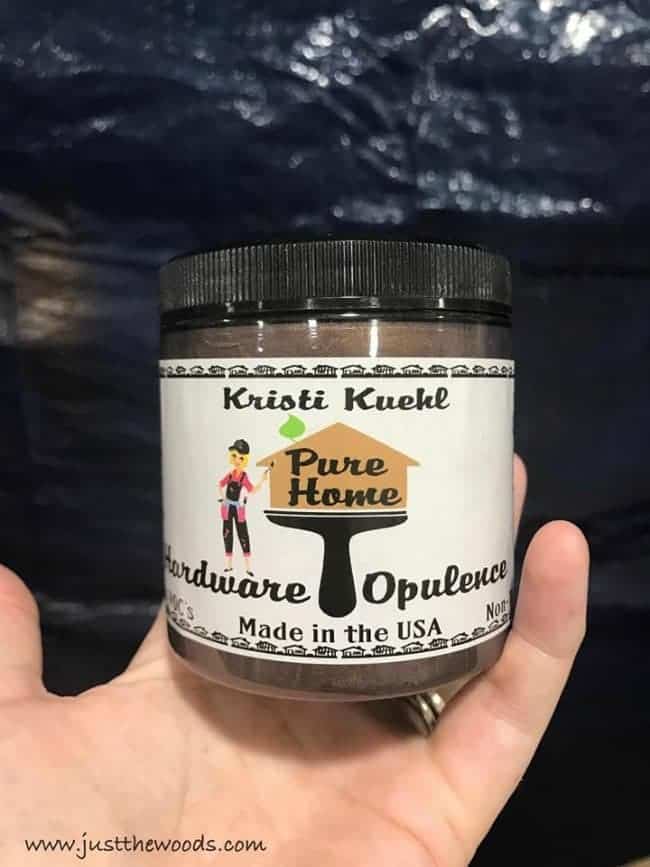 Use whatever you have on hand to protect the areas where you don't want the metallic glaze applied. I use brown paper on top and plastic around the painted drawers. Click here for more glaze involved projects: GLAZE.
When using the HomeRight Finish Max Super you do not normally need to dilute your paint. But, due to the fact that the hardware opulence has a rather thick and goopy consistency, I do dilute it with water. The consistency is more like that of a custard than of a paint. By adding a little water to the bronze it creates a more metallic shimmery appearance.
Here is a little video of the paint sprayer in action. See how easy it is to use. Don't mind my useless paper in the drawer openings.
Creating a Smooth Metallic Finish
In between spraying coats of metallic glaze the dresser is lightly sanded creating an extremely smooth finish.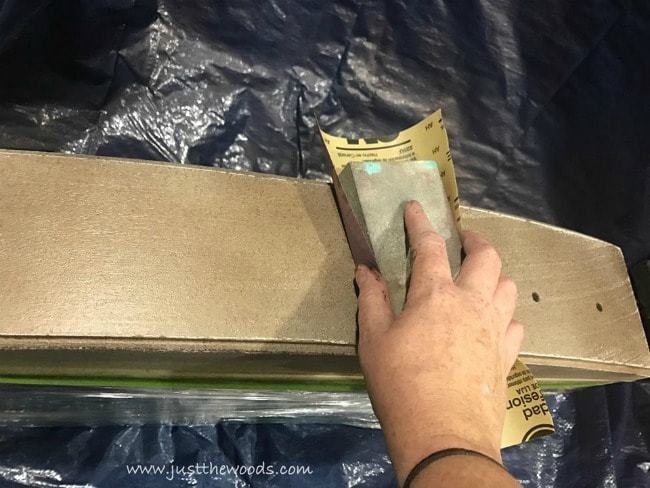 Make sure to wipe away any sanding dust with a lint-free cloth after sanding the drawers.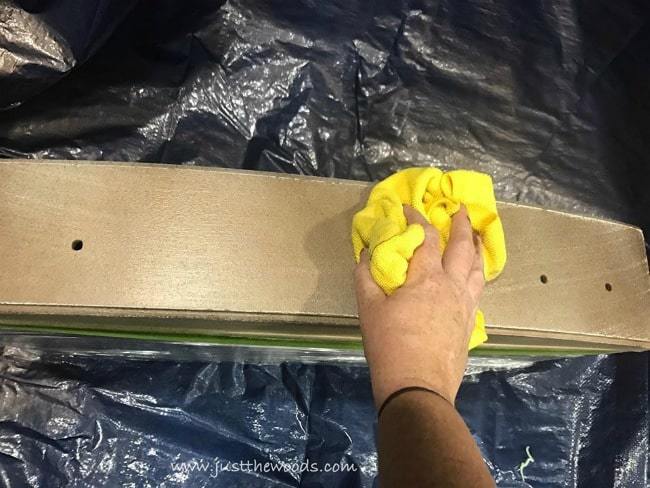 The goal is to achieve a smooth metallic painted finish on your furniture.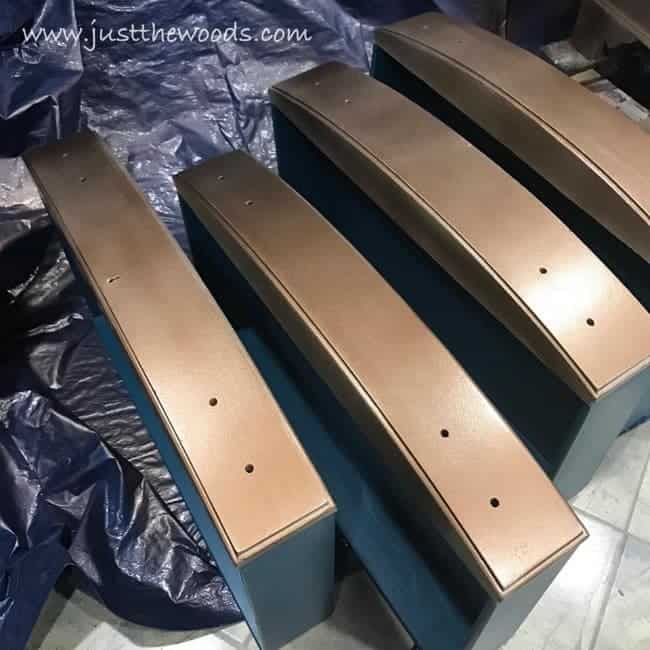 Painting the Hardware

 
The original hardware is refreshed to a metallic bronze using Tanner brown and bronze hardware opulence. Click here to see How to Clean, Prep and Paint Hardware.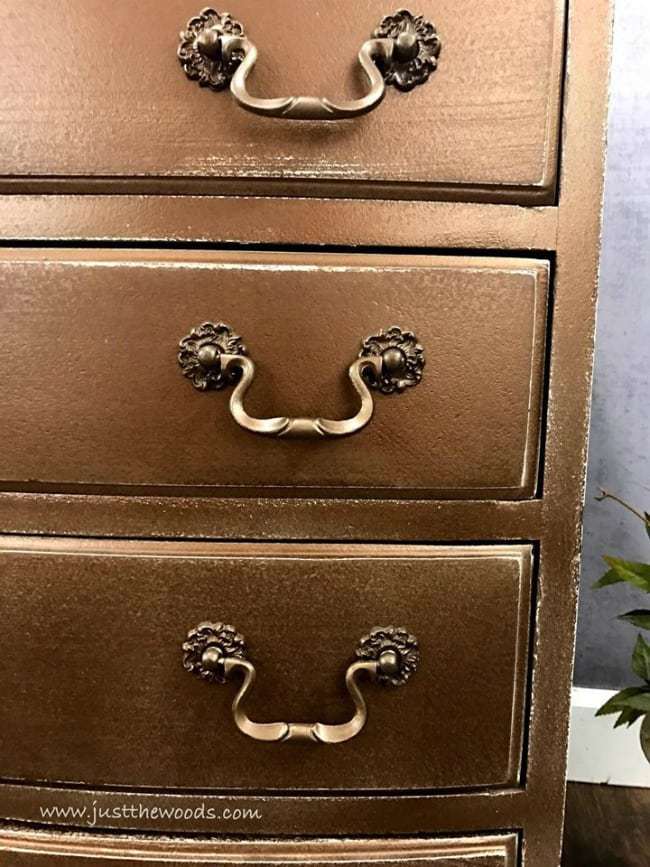 I love my Rolgear screwdriver for putting the hardware is put back in the drawers. Sometimes, I geek out over tools.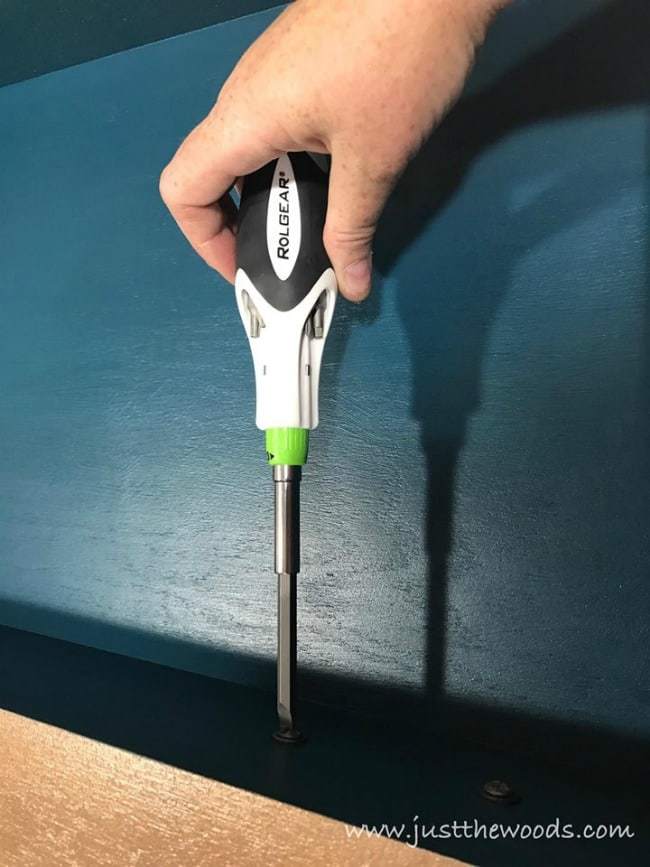 Here I am geeking out over my paint sprayer. <3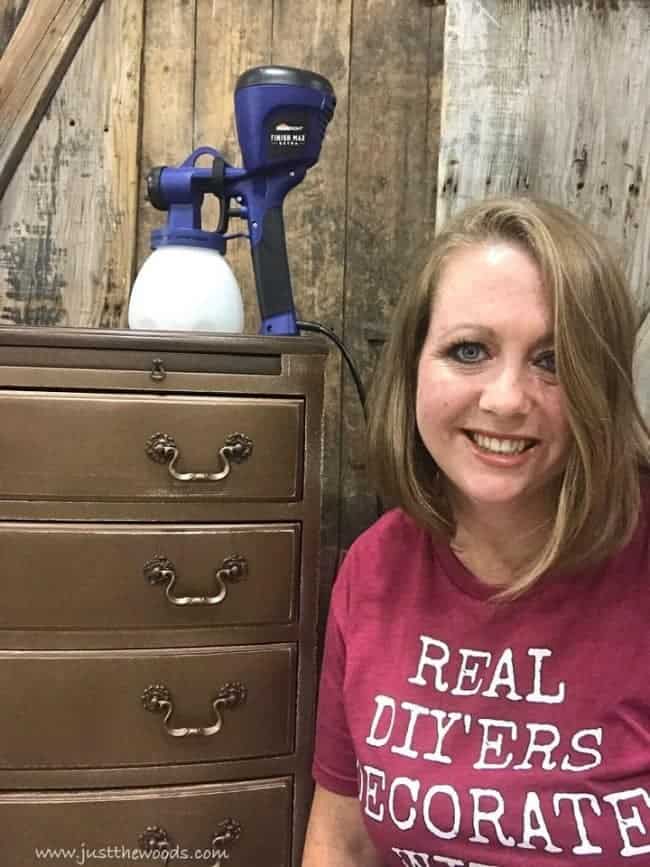 Okay, okay, enough geeking out.

Bronze Metallic Painted Furniture
From dented and dinged to bronze and beautiful with a pop of color inside. This painted chest will be available for sale on my website here: FOR SALE (sold)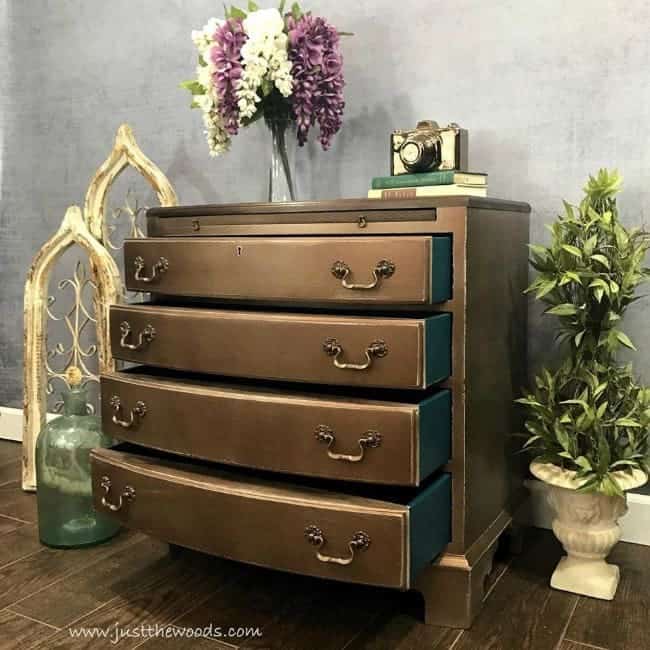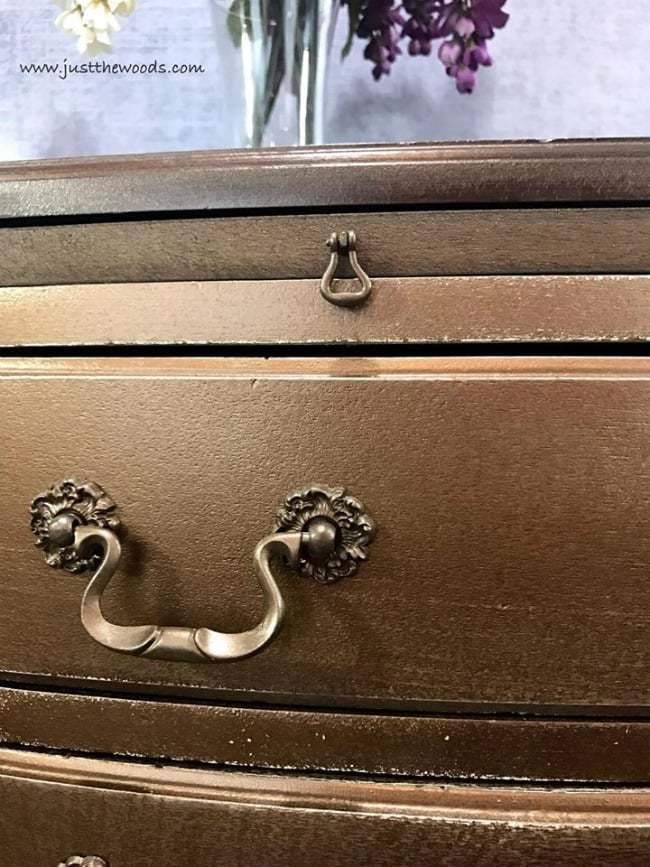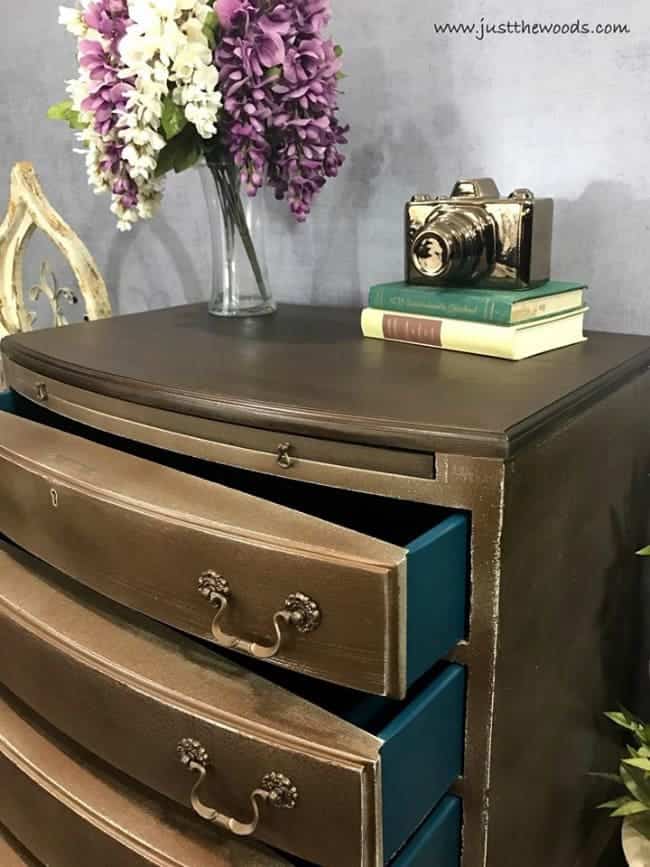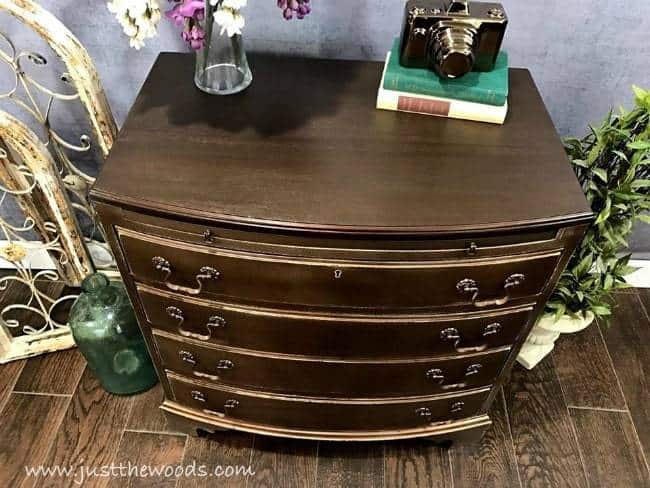 Distressing the metallic finish creates a worn yet elegant look.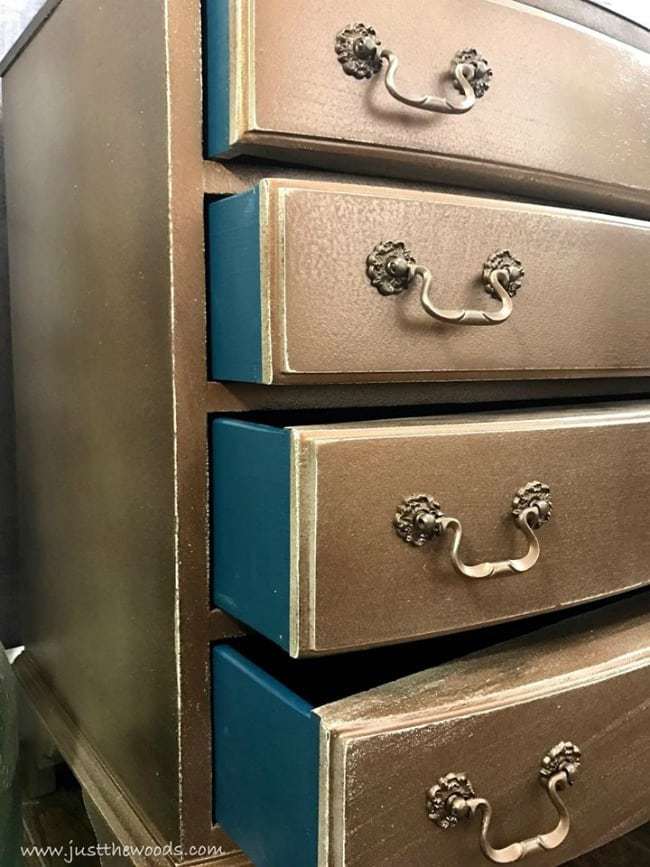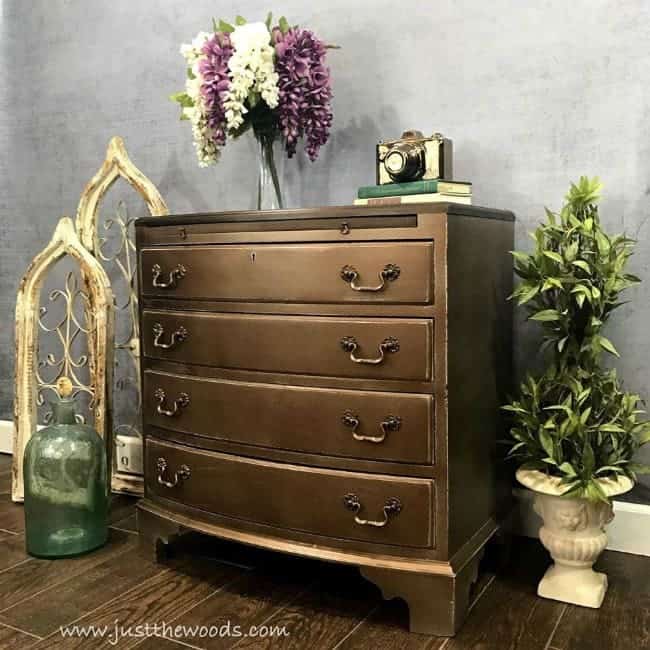 If you love the glamorous touch of metallic furniture then you will adore the Best of Hollywood Glam  Furniture for your Home!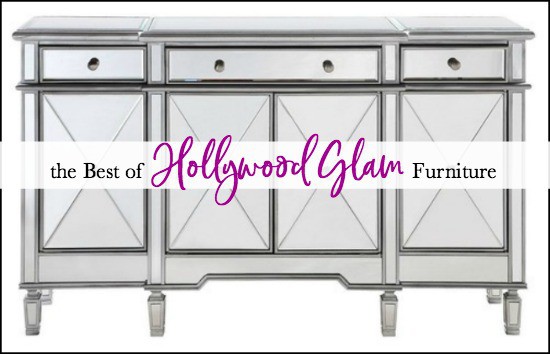 Wait! Don't Go!  It's that time of the month again for:
Furniture Fixer Uppers
A few of my creative and talented blogger friends and I have joined together in our monthly Furniture Fixer Uppers share.  Let's see what my friends are up to! Make sure to click the links below the image to check out all the amazing projects that my bloggy girls are working on this month.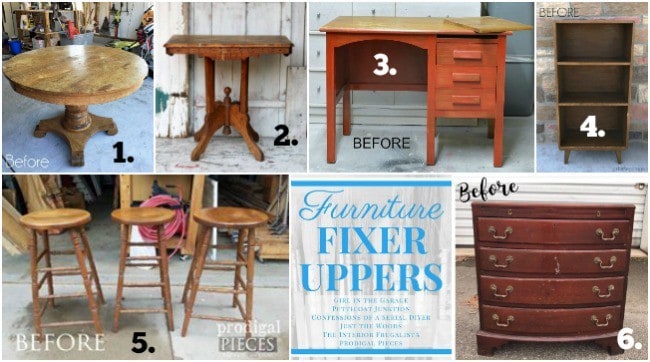 I'll be sharing this post at these fabulous link parties.
Don't Forget – Follow Just the Woods and Share this post to Inspire others:
FACEBOOK  *  INSTAGRAM  *  PINTEREST
Stay Connected and sign up here for tips and tricks: