When it comes to adding decorative drawer liners to your painted furniture projects your options are truly endless. The beauty of being creative is that you can use many different things as drawer liner paper. Let's go over a few options.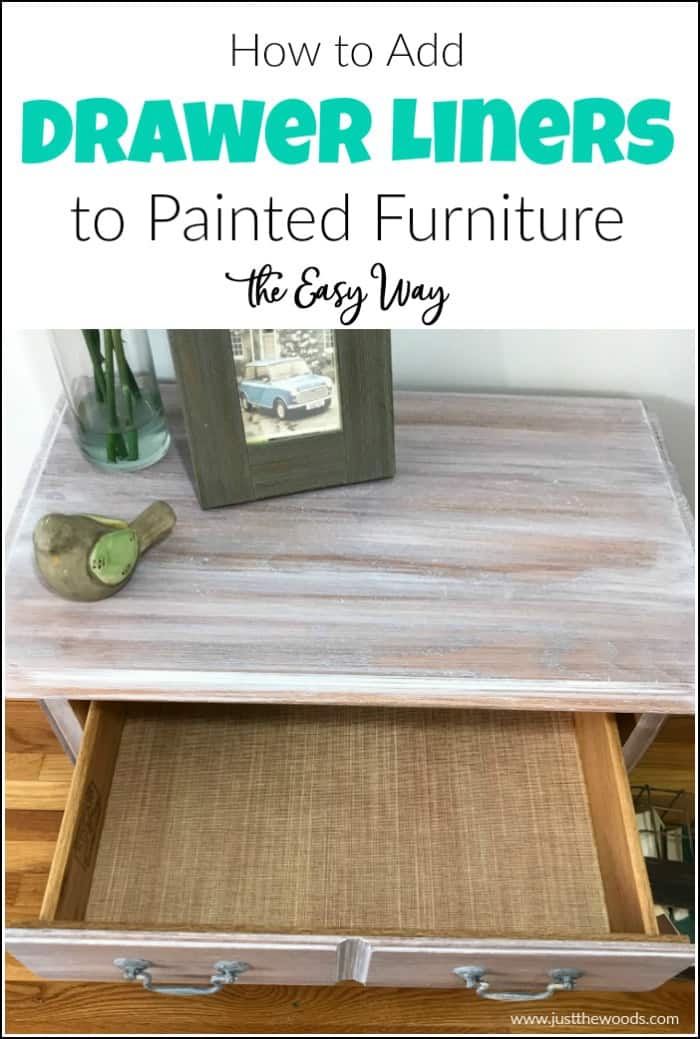 Disclosure: This drawer liners in painted furniture post contains affiliate links for your convenience. Click here for my full disclosure policy.

Supplies & Tools Needed to Add Drawer Liners to Painted Furniture
Materials Needed / Source List:
Tools
Decorative Liner Paper

Find all of my favorite tools and products on my

Amazon Page here
When to Line Drawers with Drawer Liner Paper
With refinishing furniture comes all different types, styles, ages, and conditions of furniture. Some pieces will be in great shape and the inside of the drawers can be left alone. Some may need a little freshening up while others are a mess. The ones that are a mess are more often than not the ones that we need to completely cover up one way or another.
Choosing Your Drawer Liner Paper
Dresser drawer liners don't have to be limited to the shelf paper that you can get at the store. You know the kind of shelf and drawer liners that we grew up with- our mothers and grandmothers all may have used. I admit that I have that rubber drawer liner in my linen closet on the old wooden shelves. They still sell them at your local hardware store and online.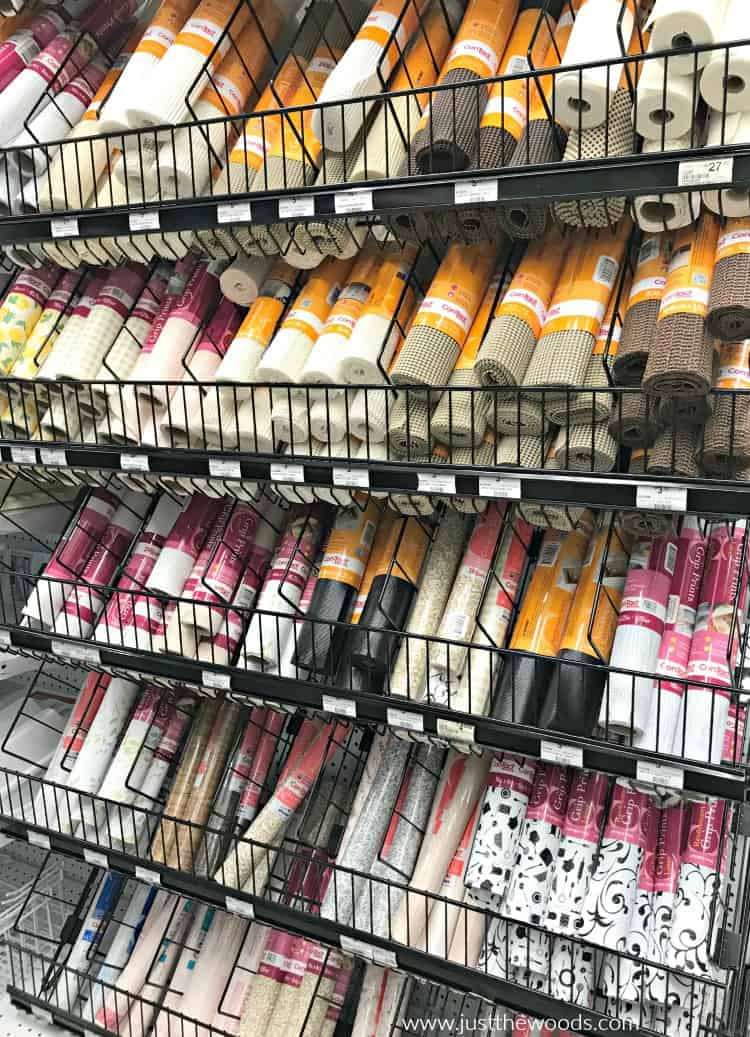 But don't limit yourself! The best part of adding drawer paper to your projects is that you can use a wide array of different decorative papers. Here are a few options that you can choose from:
wallpaper
fabric
felt drawer liner
decorative tissue paper
wrapping paper
Using Wallpaper as Decorative Drawer Liners
One of my favorite methods and the easiest method is to use wallpaper. I find wallpaper to be the best drawer liners because it is the most durable and easiest to work. Take the drawers on this whitewashed chest project. The inside of the drawer isn't horrible, but it's also not great.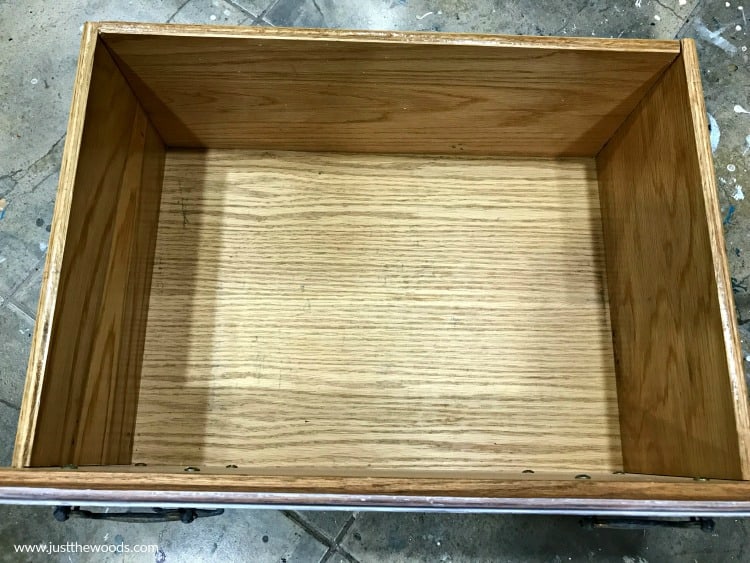 The first thing you need to do, like with all of your DIY furniture projects is to clean and prep the piece. Inside and out. Make sure to give the inside of the drawers are light sanding if needed, and cleaning. Next, choose your print or pattern. I am using a neutral wallpaper drawer liner to create a clean fresh look inside the drawer.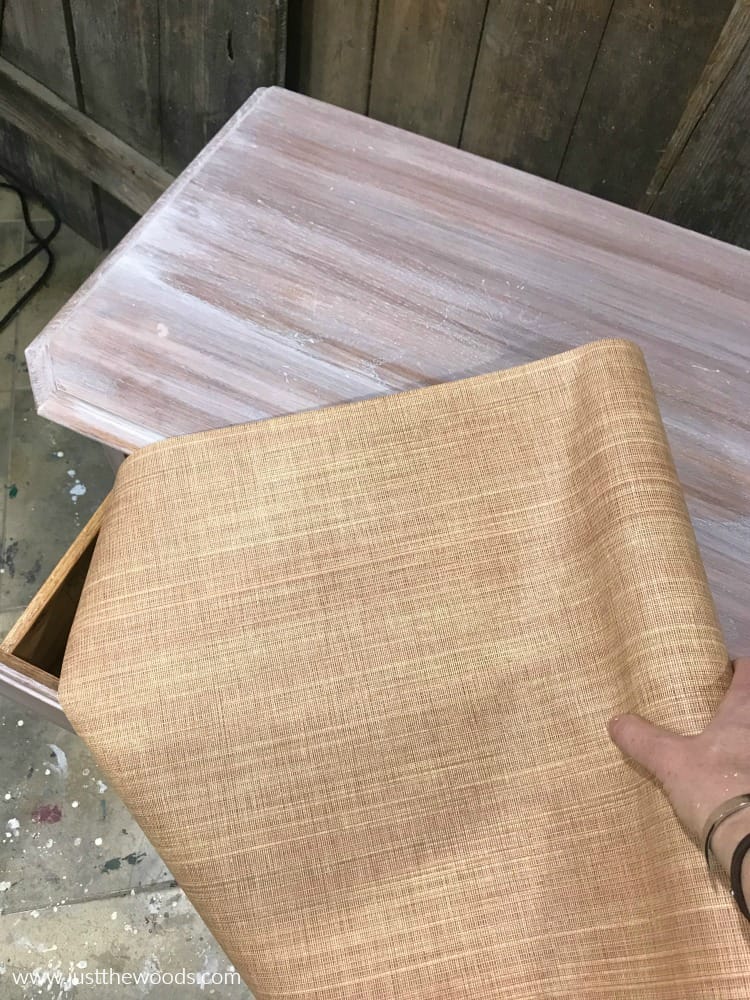 Measure:
You will need to measure the space inside the drawer where you want your DIY drawer liner to go. Make sure to measure as accurately as possible to get a clean fit.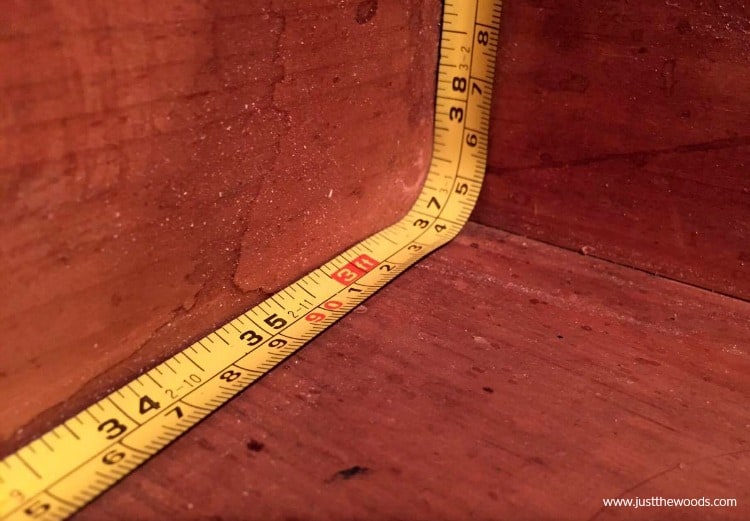 Cut:
With your measurements grab your cutting mat and a sharp blade. This is the cutting mat that I use HERE: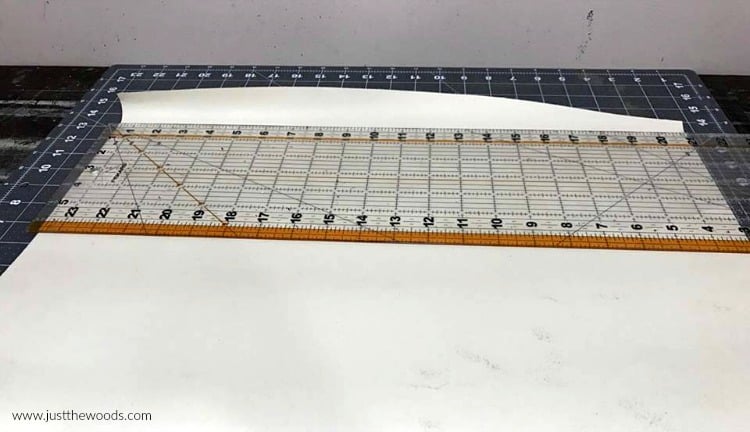 and this is the Exacto knife HERE. I like that the Exacto comes with extra blades so I can always have a fresh blade on hand. Just be careful not to cut yourself. 😉
Measure your drawer liner paper on your cutting mat. The lines make it easy to line everything up perfectly. Then carefully cut the paper with your sharp blade.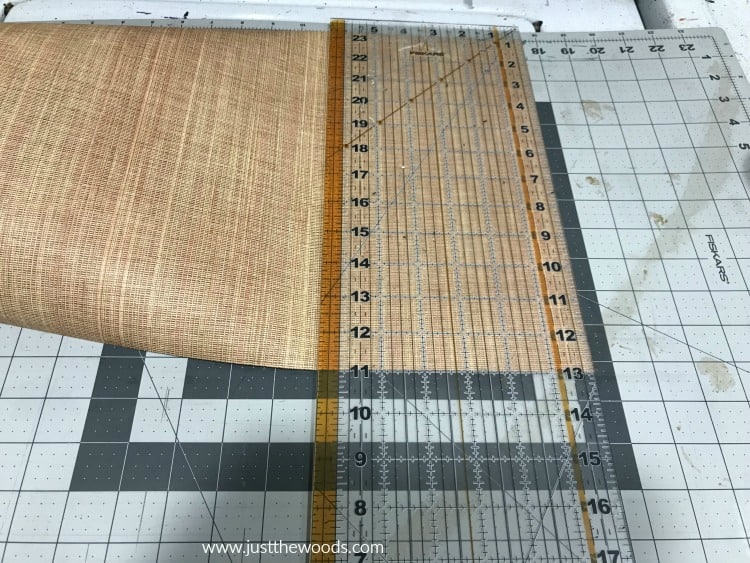 Dry Fit:
It's better to cut your drawer liner wallpaper a little larger if necessary. You can always trim it down until it fits perfectly. If you trim it too much where its really noticeable you may have to try again with a new liner. You can always trim the paper smaller, but you can't make it larger. Continue to place the wallpaper liner in your drawer and trim as necessary until you are happy with the fit.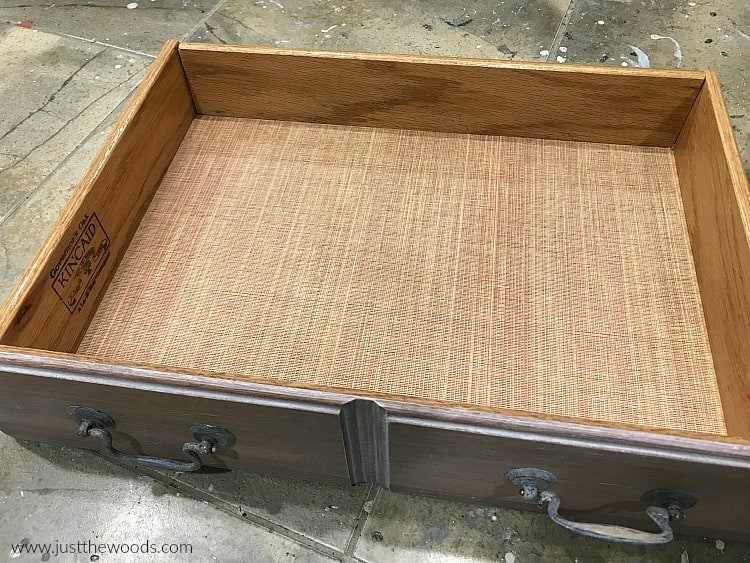 Affix:
Next, grab your spray adhesive. This is the spray adhesive that I love. It is super sticky and I don't wear gloves when using it. Because I don't wear gloves I end up with sticky fingers for hours, even after washing and scrubbing my hands. I've been told that essential oils or mineral spirits can remove the glue but I haven't tried it yet. I just wait it out. 🙂 You can get this online HERE.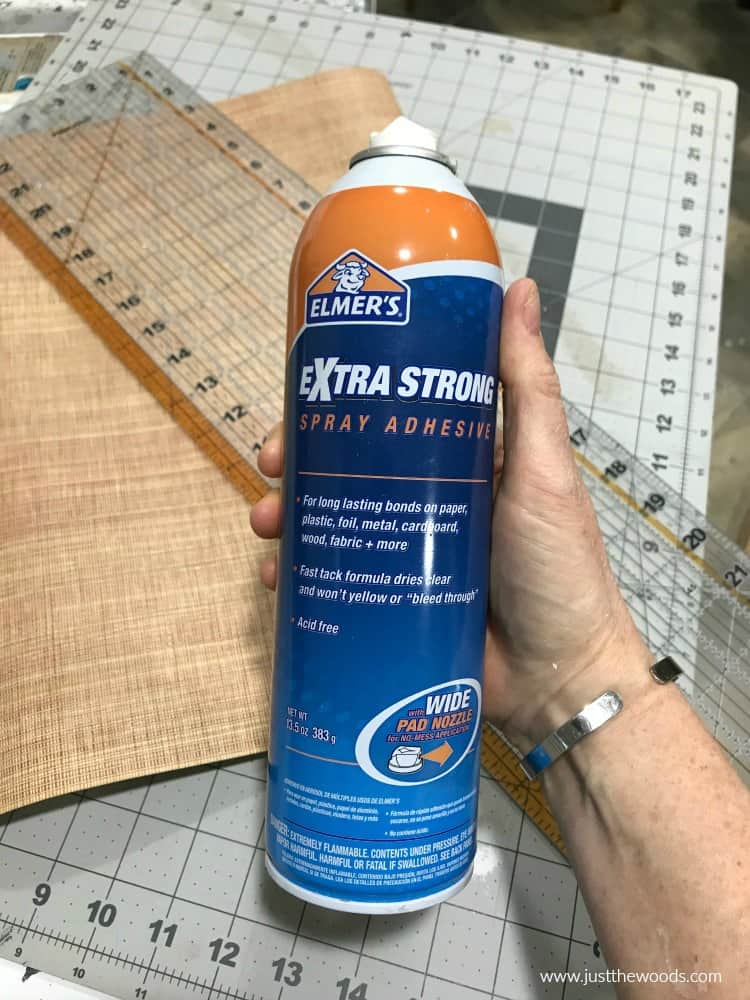 Carefully, spray the back of your drawer liner paper with the spray adhesive. Then gently lay it in place in your drawer pressing down and smoothing the drawer liner wallpaper into the bottom of the drawer.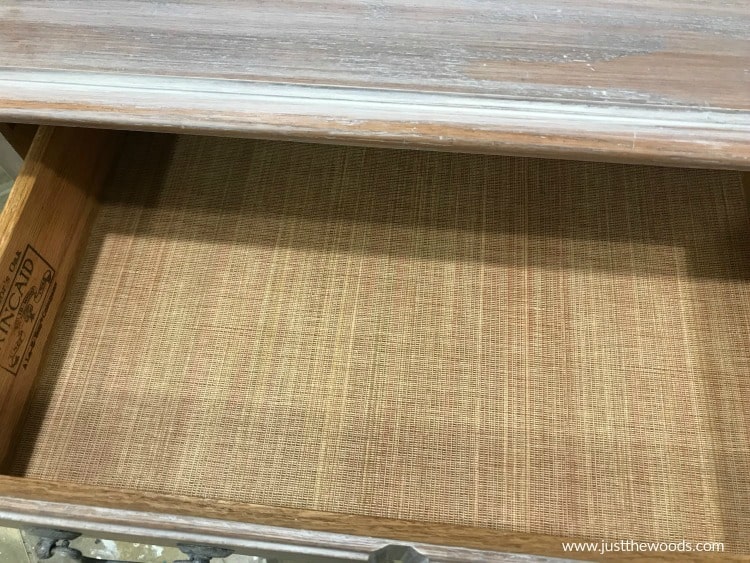 Repeat as needed for all of the drawers on your piece of furniture. You can see the full makeover of this project and its tutorial here: How to Whitewash Wood Furniture.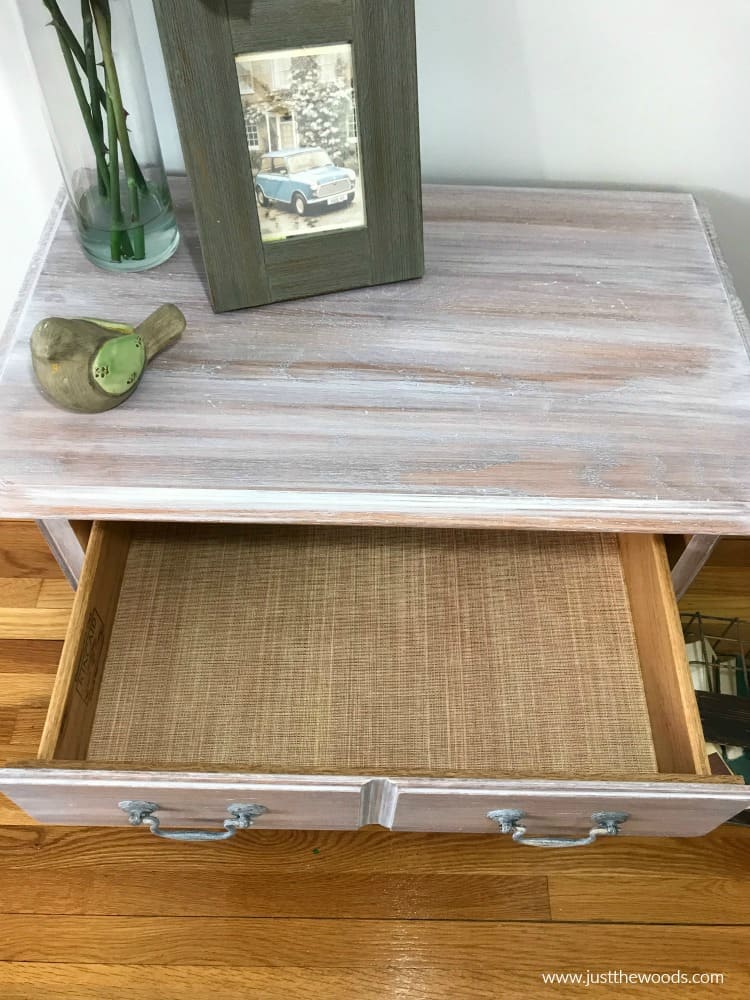 Less Permanent WallPaper Liner Options
You can also use textured wallpaper as a decorative drawer liner, but not make it so permanent. This maple dresser makeover has simple white decorative wallpaper liner in the drawers but they are simply placed in and can easily be taken out if so desired. The corners are weighed down temporarily to prevent curling until personal items are added inside.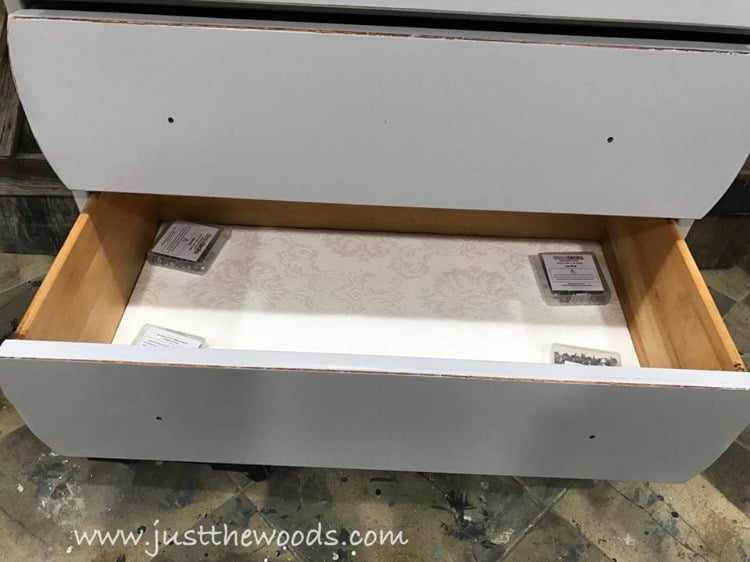 Once the dresser project is complete the drawer liner adds a simple yet elegant touch.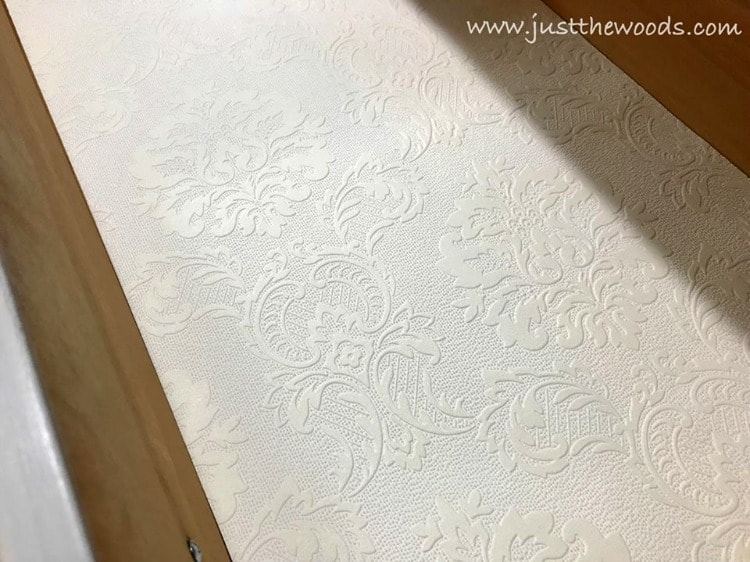 These painted end tables also got a little update inside the drawers. The original drawers are lined with felt and rather than tear out the old felt I find a creative way to line the drawers with removable liners.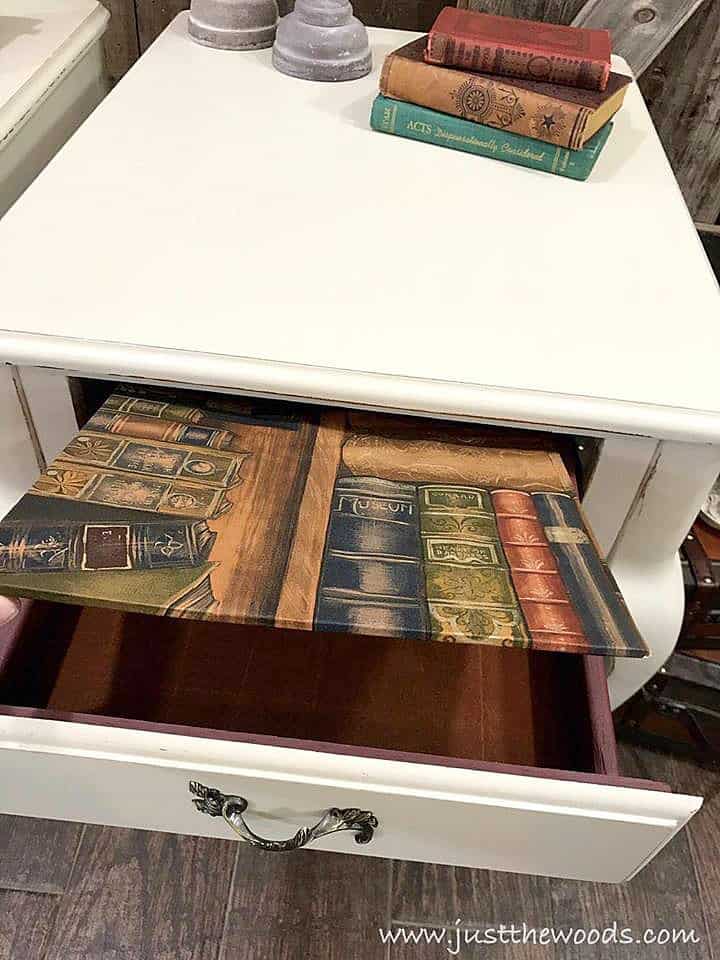 Fabric Drawer Liner
Though wallpaper is my favorite option for lining drawers, you can also use fabric. This antique storage chest started off in rough shape. The bottom drawer is actually planked wood. To give it a clean and sturdy inside the drawer is painted and lined with decorative fabric to compliment the piece.
Felt Drawer Liner
Felt drawer liner comes in handy especially when you have a china cabinet or buffet with a divided cutlery drawer. I have replaced the felt liner in quite a few pieces of furniture.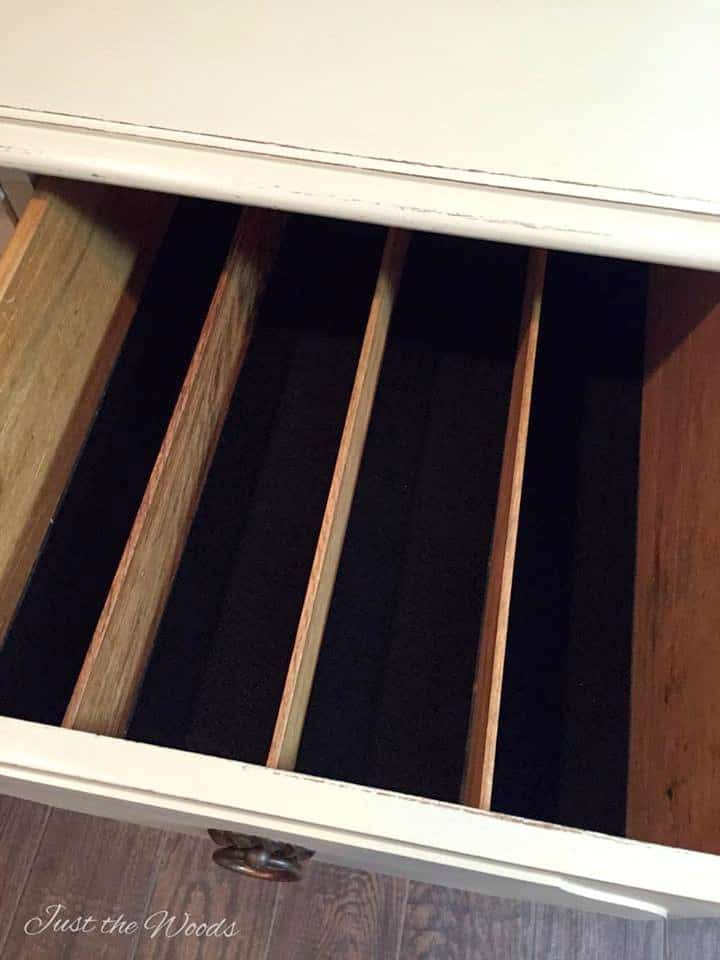 But the felt liner doesn't have to be limited to just cutlery drawers. This glitter painted desk project has so much bling and activity on the outside I opt for a simple black felt drawer liner for inside the drawer. You can get self-adhesive felt drawer liner online HERE.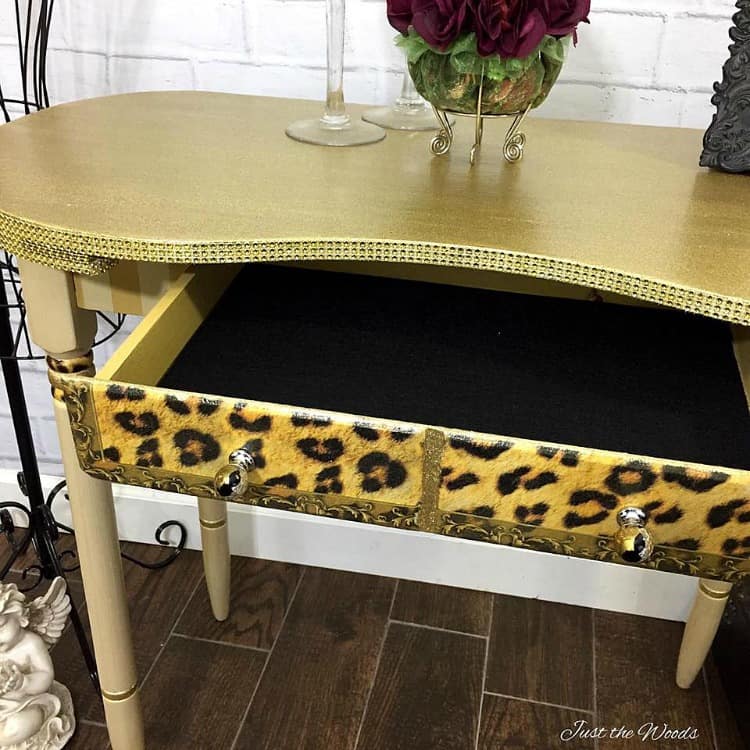 Decorative Tissue to Line Drawers
Though this isn't a lined drawer, per se, the method is exactly the same. Rather than add tissue inside the back of a bookcase you would use the same method to add the decorative tissue into the bottom of the drawer. You would follow the same method as explained in the tutorial here: How to Add Decoupage Paper to Painted Furniture.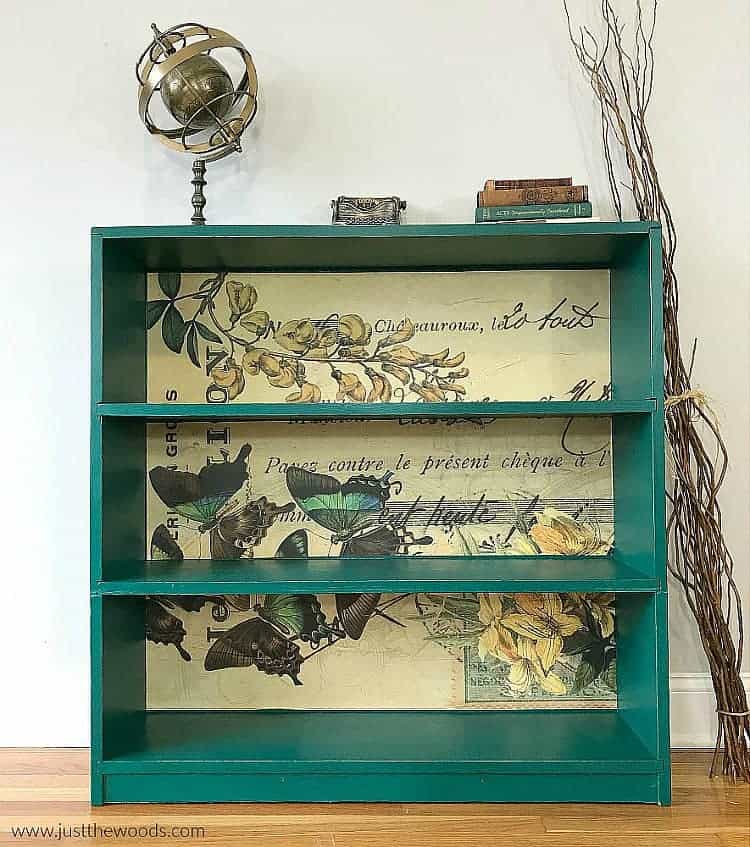 Different Types of Drawer Liners and Where to Get Them
When you just don't feel like taking the DIY route you can get a wide variety of liners online. There are also so many different types and style, who knew?
More Options When You Prefer Not to Add Drawer Liners
When you would like to clean up the look inside your furniture drawers but would rather not use drawer liners for whatever reason you can always opt for freshening up the wood with verbena furniture salve. I get into more detail here: Save Wooden Drawers.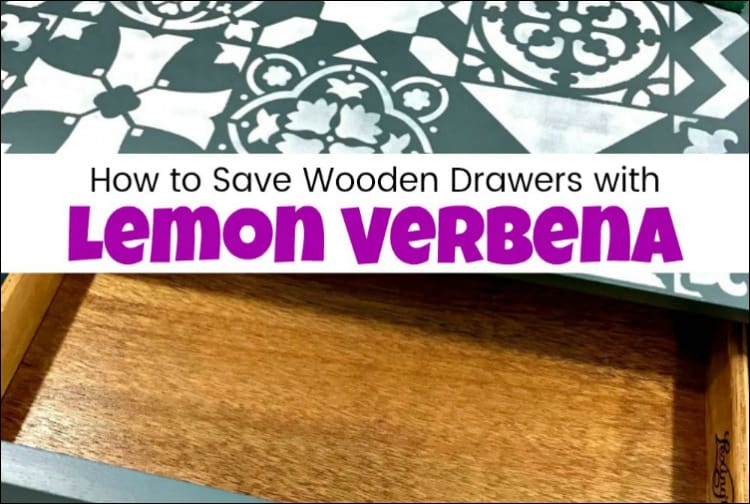 Here are a few project examples where the drawers are freshened up and conditioned rather than lined:
Prefer not to add drawer liners but the drawers are in bad shape? You can always opt to paint them. Here are a few projects where the inside of the drawers are painted for a clean fresh look: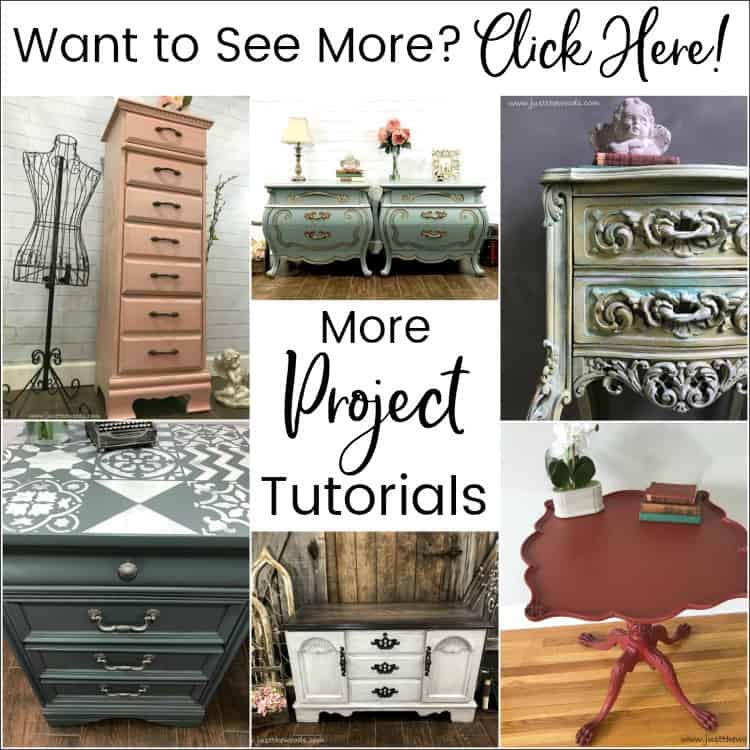 Don't Forget – Follow Just the Woods and Share this post to Inspire others:
FACEBOOK * INSTAGRAM * PINTEREST

Stay connected! For more tips and tricks sign up here :